Fecon, a leading land clearing attachment manufacturer, showcased several products and innovations at the American Rental Association (ARA) 2023 in Orlando, Florida. A notable product displayed at the booth was the FMX28 excavator mulcher attachment, a compact land clearing attachment with a 28-in. working width for roadside maintenance, public areas and navigating worksites with tight spaces.
The FMX28 is the smallest excavator mulcher attachment in the FMX series. It is designed for 3.5-8t excavators.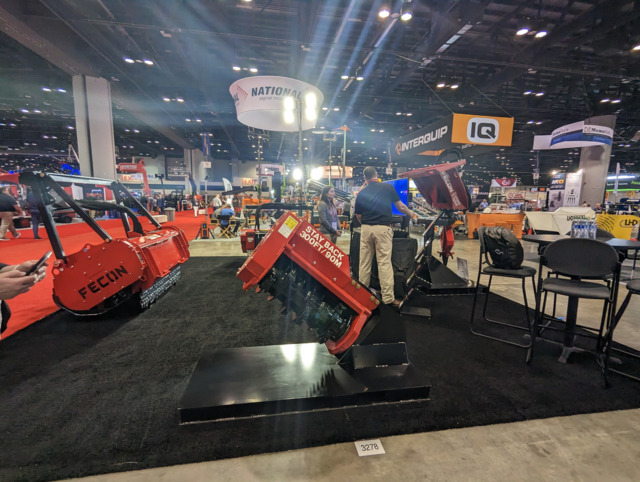 Fecon FMX 28 Excavator Mulcher Attachment.
Q&A with
Fecon
At the company's booth, we spoke to Matt Warfel, director of sales at Fecon, to discuss new products and company developments.
Michael: Can you provide an overview of the company and how it serves the construction industry?
Matt (Fecon): Fecon is a manufacturer of land clearing products that focuses on developing heavy-duty equipment for forestry, construction and rental industries.
Michael: What makes your company unique?
Matt (Fecon): We design our equipment for the rigors of U.S. contractors and the overall market with heavier steel and bearings to withstand high-performance demands.
Michael: What problems or challenges is your company trying to solve for customers or the overall equipment rental industry?
Matt (Fecon): In the rental industry, demand is growing for smaller attachments optimized to perform on smaller equipment. We design this equipment with a special focus on matching the performance of the attachment to the size of the carrier to add value and increase profitability for customers.
Michael: What are some new company developments and updates customers should look forward to in 2023?
Matt (Fecon): The FMX 28 is a new product to help rental centers increase utilization and return on investment (ROI). In addition, we will be introducing a new disc mulcher at CONEXPO 2023 in Las Vegas, Nevada.
Michael: What trends in equipment rental do you expect to see in 2023-2025?
Matt (Fecon): We certainly see a move towards smart technology and adaptive attachments.