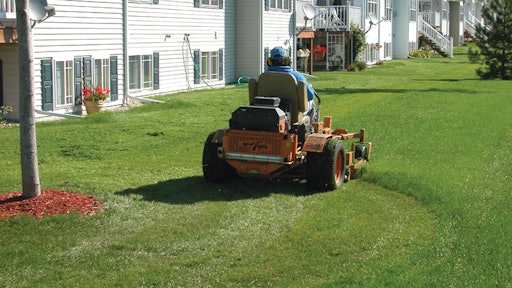 How excited were you when you first started your company? Yes, there were the usual concerns and roadblocks that any new business goes through. Yet those were overshadowed by the degree of excitement that comes with being in charge of your own destiny. If things are this good now, how great will they be as your business continues to grow?
I hate to be the bearer of bad news, but the honeymoon will come to a screeching halt if you do not have a solid growth plan in place.
Many know what must happen, but can't make it happen
Most landscapers begin to realize that they need to bring their businesses to the next level when their sales increase to between $500,000 and $1 million. The business side of their operation starts consuming the majority of their time. In most cases, they see their sales increasing but their profits decreasing. One could refer to this as no man's land.
The emotional struggle of letting go of their "baby" and running their company with sound business practices can be one of the most difficult periods as an owner. This is the time when you must start to understand how all of the different elements within your business drive the wheels that will steer your company toward efficiency and profitability.
Need to develop standard operating procedures
As your business grows, you need consistent policies, processes and procedures. The implementation of standard operating procedures (SOP) is one of the best ways to improve efficiencies and profitability.
These SOPs, along with other operating practices, should be put into a manual that is given to all current and new employees. Management, financial, human resources, administration and contract administration are just some of the SOPs that should be included in this manual. Cater to each division within your company.
Establish and measure your marketing plan
As your business grows, you need to have a well thought-out marketing and sales plan. Too many contractors stop this process when their sales start to increase. For some reason they believe that new work will find its way to them without any effort on their part.
Some new business will continue to flow through by word of mouth. However, the growth process usually forces companies to increase overhead. So they need to consistently market to bring new business in.
A lot of contactors have turned to social media to market their companies. This should be an element of your marketing plan, but not the end all. Social media can be a lot of fun, but can be very time-consuming. Just like phone book advertising, direct mailers, TV or whatever, you need to measure the effectiveness of social media in terms of lead generation and lead-to-sale conversion. In general, you need to measure the success of your advertising campaigns so that you can determine what works best for you.
Refine your estimating process
As your sales increase, you need to have a firm handle on the estimating process. First of all, you need a sound estimating budget so that you fully understand the cost of doing business.
Determining your overhead is key to your survival. Again, as you grow, your overhead increases and you need to be able to recoup this as part of your estimating process. Failure to implement an overhead recovery system will surely lead to financial problems. You cannot determine an hourly wage without having a firm understanding of this process.
Refine your workforce
Growth requires a well-trained workforce. The SOPs we talked about earlier will definitely help your crews work more efficiently. But you also need to hire operations personnel and foremen that can implement your policies in the field. This does not happen overnight.
Additionally, a well-designed training program will help you keep things consistent, and allow you to develop employees that can move up as your company continues to grow.
Develop a plan for equipment investment
As your company launches forward, do not fall into the equipment trap. Many contractors believe that their success is best advertised through the purchase of a new piece of equipment. Equipment purchases need to be well thought-out and should be part of your budgeting process.
When developing SOPs for your company, you need to have a well thought-out equipment policy that focuses on when to make a purchase and when to rent or hire a subcontractor. The initial purchase is only part of the expense; insurance, taxes and repairs need to be included when evaluating this process.
Don't lose sight of customer service
When you begin to delegate many of the day-to-day tasks that you once performed yourself, be careful that you don't forget about your clients. I am not referring to performing the work you have been contracted to perform. I am talking about the intangibles that much too often get overlooked in the growth process.
Quality, service, responsiveness and value cannot be purchased from one of your vendors. This is something that was usually handled by the owner. As your company grows, this must become a culture that is passed down to every person associated with your company. Never lose focus of what has made you successful. The personal touch of working with a smaller contractor can and should be part of your ongoing business plan.
Everything in harmony
The wheels that drive your company forward need to be working in complete harmony once you reach that half-million mark. Your role as owner will change as your company moves forward. If you do not like handling the "business side" of your operation, it's OK—so long as you bring someone in that can handle that responsibility.
To monitor your growth, you also need to establish strong relationships with an accountant, attorney, banker and consultant. Having someone from outside of your company to make recommendations, bounce ideas off of, and review your operation is a great way to remain focused and on track.
Reaching that next level can sometimes make you wonder why you started in business in the first place. Having a sound plan and implementing some of these practices will make it all worth it—while also preparing you for future growth.