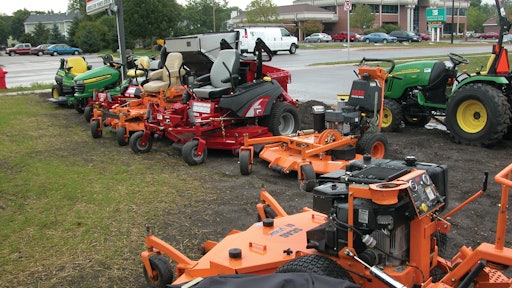 Your business's image projects a message to customers that influences the likelihood that they will purchase goods or services from you. You need to be able to attract customers in order to succeed in business. The exterior or your business can either help or hinder your success at attracting customers.
Advertising and promotions are part of that attraction, but many dealers forget about curb appeal. Simple fixes to the exterior of your business can help draw your customers in. Fresh paint is a good start, but there are many things to consider.
Window and equipment displays
Communicate the products and services you provide from outside the store with product displays and signage. Use plain English and avoid jargon.
Be easy to find with signage and the business address easily legible form the street. An engaging window display helps greatly to attract customers and influences them to enter the business. The display should convey a message to the customer about what they "need" to buy and why.
Consider how you set up a display based on whether your business sees a lot of pedestrian or vehicle traffic. Simple and bold signs are best for eyes viewing displays from far away. More complex and involved signage is better for potential customers walking by.
Dealers benefit from having a product that is easily and effectively displayed outdoors. Take advantage of your outdoor space and display equipment curbside as part of special promotions. It is a great way to call attention to special sales or service promos, as well as highlight new brand or product available inside.
Access and parking
A parking lot with entrances and exits that are easy to spot and maneuver can help your chances at attracting customers through curb appeal. If there is a separate entrance and exit, be sure they are clearly labeled.
Parking spots should also be labeled and outlined. An adequate amount of parking is imperative. You want to be sure there are numerous spots, and some larger parking spots so commercial customers can park their trucks hauling equipment trailers easily. If space allows, designate pull through parking spots for commercial customers. Have employees park their vehicles behind the business or in spots farthest from the entrance, making customer convenience priority.
Your parking lot should also be clean and evenly paved. If a customer has to step over garbage, holes and puddles to get to your door, it is likely they won't come in.
See through the customers eyes
As a dealer spending so much time inside your dealership, it is easy to take the exterior for granted. You and a few of your employees should try this practice. Drive past the business from both directions and assess the following:
Is it clear what your business sells and the services you provide?
Is the curbside presentation of your business clean, professional and inviting?
Is there something specific on the exterior of your business with a call to action that pulls customers inside the dealership?
Try to see the dealership through the eyes of the customer. What would keep you from visiting your dealership based on its exterior? Ask some customers their opinions as well. You want to increase your curb appeal so you don't lose the sale before the customer even enters the dealership.