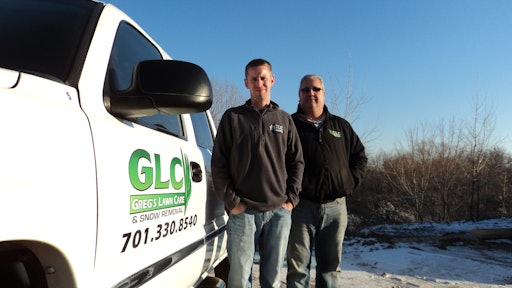 Mitch Nerby was closing in on his high school graduation in 2006, wondering what he might want to do with the rest of his life. He had a pretty good idea, which his dad, Greg, agreed with. So Greg started Greg's Lawn Care & Snow Removal in Grand Forks, ND—a company his son would solely operate for a few years until it became clearer if this venture could prove to become the career Mitch hoped it would.
It has. Greg's Lawn Care was #5 on our 2014 Landscape Industry Hidden Gems list, growing from well under $100,000 in annual sales to well over a half million in just a few years. And the growth just keeps on coming. The company had its best year ever last year, and is already outgrowing a new facility it began renting just a few years ago.
Greg's Lawn Care & Snow Removal provides a variety of services to a variety of residential and commercial clientele. This versatility and flexibility has been a key to growth, Mitch says. The service breakdown is as follows:
75% maintenance – which includes mowing, fertilizing and weed control, aerating and dethatching, tree trimming, cleanups and parking lot sweeping
15% snow removal
10% landscape installation – which includes some hardscaping and irrigation
Roughly 60% of the company's business comes from commercial clients including banks, restaurants and businesses, including a huge corporate campus for Amazon, along with a large hospital. The other 40% is residential, ranging from one-time mowings to first-time homeowners to retired folks. The common thread in this diverse customer portfolio, Mitch points out, is that all clients understand "value" in lawn care and landscaping. "In a smaller town (population around 55,000), you definitely have to keep your options open," Mitch points out.
One-man garage band
In those first couple of years, Mitch was open to just about anything. "I actually started mowing neighborhood lawns in high school," Mitch tells. "I graduated and started full-time in 2006. It was just me those first few years. My dad had a full-time job as an elevator mechanic and just helped me out on weekends. But earlier in his career he'd worked for a facility's groundskeeping crew, so he had experience in this and knew he really enjoyed it. He's been working full-time in our business for about three or four years now.
"I bid on everything I could at first," Mitch continues. "Many times I didn't even realize that I wasn't making any money on a job. But I just wanted the work. We were new and people didn't know anything about us, so it seemed like the right thing to do. That has changed now. We understand what we need to be charging and are able to sell our value. We're a bigger company and have a good reputation. We're able to do what the client needs when the client needs it—which goes a long way in our type of market."
Snowball effect
Greg's Lawn Care & Snow Removal operated out of a garage for its first few years in business. "All of our equipment was locked up in the bed of one pickup truck at night," Mitch recalls. "All of a sudden it was like, we have nine trucks, twice as many employees, five times as much equipment. The growth was gradual for the first few years (2006-9). Then it really took off. We were doubling sales year after year, adding a maintenance crew each season."
Mitch says he could see the growth coming. He had just a single, three-property commercial client during his first two years in business. But after Greg's Lawn Care was around a while, the phone started ringing.
"Commercial clients started calling me, saying that they saw our branded truck end gate," Mitch says. "We picked up a couple more commercial accounts, then a couple more. That's when things started to really change. Everything just snowballed. It was like, OK, this is the real deal now. It was time to figure this business out because, honestly, I really had no idea what I was doing as far as the business side goes."
So Mitch started doing his homework, talking to other contractors and business owners. Two years ago he joined two prominent national associations, PLANET (landscaping) and SIMA (snow removal). As he's continued to educate himself and refine his skills as a business owner, Mitch says one simple creed has helped him and his company succeed: Walk your talk.
"The biggest thing, especially in commercial, is to really get to know your customers so you're comfortable with each other," Mitch says. "Many people around town complain that contractors don't answer their phone, return calls, show up when they say, or charge what they said they would. We're in a small enough town that word gets around. If you screw up, people are going to talk about it."
When visiting with a new account, Mitch has a series of questions he likes to address to make sure he and the client are on the same page. This puts the onus on Mitch and his employees to meet client expectation—which is exactly the opportunity he's looking for. So far, they've been able to capitalize on those opportunities at a pretty good rate.
"The growth has definitely been a cool feeling; like all of our hard work is really paying off," Mitch adds. "But it has been stressful too. It definitely hasn't been an easy road. There have been a lot of bumps, and there still are every day."
Growing with the flow
To lessen the frequency and impact of some of those bumps, Mitch and Greg decided to get out of their garage and into a bigger, more functional facility. They found an ideal building they could rent at a good price. Two years later, though, and they're busting at the seams again. "We've already added onto the office area three times, and even had to put up a couple of outlying buildings so we could continue storing all of our equipment and materials," Mitch says.
Another move is definitely in the cards at some point. For now, though, Mitch and his team just have to continue being really organized. Consistency is the company creed where this is concerned.
"We have a place for everything," Mitch says. "Something we've started doing is making sure the same crews use the same equipment and truck every day. Everything is tagged with the truck number so it goes back where it belongs every night. This helps reduce downtime and create accountability."
Employee accountability can be a tricky thing for contractors as their companies grow. Mitch says he just tries to create a fun place to work that creates opportunity for its employees. Nonetheless, Greg's Lawn Care is by no means immune to this industry's labor problem.
"Finding employees is tough," Mitch relates. "A lot of people want to head to the western part of the state for $30/hour jobs in the oil fields. So I have a bit of turnover every year. I guess the key has been keeping a stable group of guys together. I have three employees who've stuck with me since our first couple years in business. If you keep a nice core of employees together, you can afford a bit of turnover."
One of Mitch's trusted employees, Todd Bullinger, serves as his operations manager, spearheading all of the training efforts. Greg is the fleet manager, applying his mechanical skills as an elevator repairman toward making sure the mowers, trimmers and other equipment remain in good working order.
Two licensed lawn care technicians are helping to grow that line of business. "Interest in our lawn care services has really taken off," Mitch says. "Even with our commercial accounts—a good 95% don't want just mowing and maintenance, they also want fertilizing and weed control. We really think we can grow this part of our business nicely as word gets around town."
The same goes for snow removal. "We landed a couple big accounts for this season," Mitch says. "Right now snow removal is only about 15% of our revenue. But this, too, is going to really grow—we're hoping, at least."
Landscape installations represent one more growth opportunity. Right now Greg's Lawn Care is primarily doing smaller residential jobs. But demand for more intensive hardscape projects seems to be growing. Mitch works with a friend on these types of jobs. "I actually did some work for him in high school," Mitch tells. "He's very specialized in the area of hardscaping, and we work well together."
Greg's Lawn Care & Snow Removal is also doing more work for apartment buildings. During his first five years in business, Mitch provided maintenance for a couple of condo complexes. But he never serviced any apartment buildings. "Apartments have really started taking off over the past couple of years, though," Mitch says. "I'd say half of our contracts are the result of customers coming to me. It is definitely a competitive market to be in. But we're making it work."
"Making it work" is something Mitch and his dad have focused on doing since 2006. Now in business for eight years and still thriving, it looks like they're doing just that.