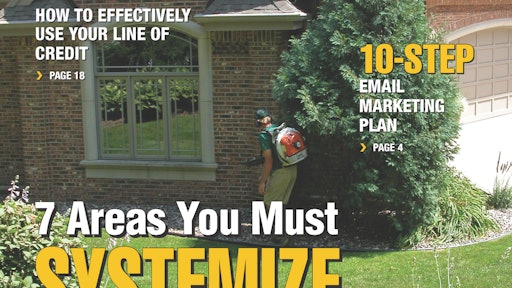 Articles include:
10-Step Email Marketing Plan for Contractors
How To Leverage Online Ratings & Reviews
Water-Based Color Concentrate Can Freshen Landscapes – and Enhancement Sales
How To Build a Thriving Turf Renovation Business
Georgia landscape company has a unique business model that made sense during the recession, and still works well today.
Financial Secrets from Frank Ross - Key elements of a business plan, How to develop your company's information system, How to implement your bottom-up budget, Why break-even matters to contractors
How To Effectively Use Your Line of Credit
Invoicing App Helps Landscaper Save Time, Improve Cash Flow
Tony Bass' Tips for Success in Estimating
How can you successfully fit estimates to the variable needs of each job?
How To Recover Your Equipment Costs
7 Areas That Must Be Systemized
7 tips to help you hire the right kind of employees who can step up as crew leaders when called upon.
4 Ways to Motivate Your Employees
SAFETY TIP: The Slippery Slope of Stand-on Mowers
How To Obtain Personal & Professional Balance