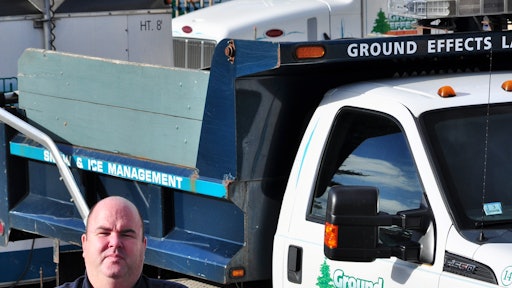 Founded in 1995, Ground Effects Landscaping in Marshfield, MA, has survived a deep economic recession, one of the worst New England winters in history, and a fire at its main facility smack dab in the midst of said winter. They plowed right through it (pun intended), and grew overall company sales to the highest level ever last year. You'd think the worst was behind them. But according to company owner Sean Bishop, that isn't the case at all.
Bishop sees two major trends developing that have him wondering what the future of his company—and the landscaping industry in general—might look like. One is the labor shortage. Secondly, it's getting rather difficult for mid-size companies to compete.
"I think we're going to have to become a $5 or $6 million company to survive," Bishop relates. "At least in our region, I can see it starting to shape up to where there are going to be either really large companies or little one- to three-man operations—with no in between. The 'middle of the road' guys can't afford the benefits that the big companies offer employees. The small companies, once they get a couple employees, that's all they can handle. They can't grow because they can't afford the insurance, benefits and other things necessary for growth."
Big, but big enough?
Bishop's company isn't small, nor is it "middle of the road". Annual sales are right around the $2 million level, putting Ground Effects Landscaping in the top 10-15% of landscape companies nationally in terms of sales volume. They've tripled in size over the past six years. They have a diverse book of business and experienced professionals helping to lead the company, including Bishop's brother Peter who serves as vice president.
Sean Bishop, as company owner, is controlling the controllable as best he can. And as far as becoming a $5 million company, he sees a way to get there.
"Our snow revenue doubled last year," Bishop says. "Construction has been consistent. Maintenance has grown. It's interesting here in the Northeast. It's like, Mother Nature keeps wrecking things and we have to keep putting it back together."
Like many of today's successful landscaping companies, Ground Effects is maintenance-driven. "One of our two core strategies is to grow our landscape maintenance division," Bishop points out. "Secondly, we want to grow our snow division."
There are two reasons for this focus. The biggest is that it puts Ground Effects Landscaping in a much better position to offer consistent, year-round employment to key staff. Secondly, Bishop sees the market for landscape maintenance services as one that will continue to grow.
"Here in the Boston market, we have a lot of affluent people," Bishop explains. "The big industries here are financial, education, medical, biotech and high-tech. People who work in these industries usually aren't taking care of their own houses. So we see the service needs of this demographic as growing, especially with the baby boomers. As they get older, they're going to be able to do less and less around their homes."
Also with respect to these maintenance-based services, Bishop says it's much easier to develop systems and train staff. "It's almost a 'plug and play' type of thing once you have a training program in place. It's easier to get new, green people up to speed—much more so than if you're talking about planting and masonry work and grading and other construction services. This is where it's getting really difficult to find workers with the right skillsets."
On that note, Bishop does want to grow his landscape construction division—just at a mild, controlled pace. "We don't want more than one or two construction crews," he adds. "Construction is great when business is good and you can find workers. But that's not always the case, and it can be difficult to forecast and manage."
Customers seeing value
Ground Effects Landscaping services both residential and commercial maintenance clientele, though the core of the company's business is high-end residential. Construction work is driven by maintenance clients. The snow division, naturally, is geared more towards commercial.
Regardless, the rising cost of labor is becoming an issue. According to Bishop—whether you're a landscaper or a plumber or an electrician or anyone in the trades—labor cost is rising. "That means if you're a consumer, getting your toilet fixed is going to cost a lot more money down the road."
What if you're a consumer looking to have a lawn treated, patio installed, trees trimmed or parking lot plowed? "We have a lot of loyal customers, some who've been with us since we started," Bishop says. "As long as we don't throw any major price changes at them, and maintain consistent quality work, we don't lose them."
Minor price changes, though, have become almost a necessity as costs continue to rise. "We always send a letter to clients notifying them and explaining our price increases," Bishop tells. "They tend to understand where we're coming from, so it hasn't been a problem. The key is communication and then continuing to provide good service so the client sees the value."
Grounds Effects Landscaping touts the following characteristics when selling its value to clientele:
Full lifecycle landscape management from design/install to maintenance and lawn care
Uses best materials available
Insurance protection
Leaders in sustainability
Experienced, professional employees
But everything ties back to labor
As business grows and Ground Effects Landscaping keeps pushing toward its next milestone, the inability to find good, reliable labor is becoming a serious issue. "Like any other growing company, we're fighting the labor shortage so you just can't stop looking for good employees," Bishop says. "It seems like for every one or two guys we keep, we go through 10 or 15. It's an endless cycle of looking for bodies to keep up with the workload."
Part of the problem is what appears to be a decline in work ethic among a large portion of today's younger workforce. Additionally, younger folks don't receive much encouragement from parents and teachers to consider a career in this industry. Further complicating matters, at least for companies like Bishop's in the Boston area, is the high price of housing. "It's really hard to get average people to work here because they can't afford to live here," Bishop says.
To help draw new talent into this industry, Bishop believes a two-pronged approach is necessary: 1) industry-driven public outreach, and 2) grassroots work by landscape company owners such as Bishop.
As a longtime member of the Cape Cod Landscape Association, Bishop has been heavily involved in grassroots efforts. He's worked closely with numerous area colleges and high schools to make sure faculty and students are aware of the opportunities that await them in the landscaping industry. He says his and others' efforts have indeed been successful, but more needs to be done.
"Here's the problem," Bishop says. "Take the University of Massachusetts, for instance. I went in and gave a presentation to their graduating class of landscaping and horticulture students. I think there were like 15 or 20 students. The UMass business school graduated like 600. And I wasn't the only landscape company owner there giving a presentation. I was one of six."
Here's another problem: Many of these graduating students aspire to one day start their own companies. For veteran company owners like Bishop, all he can do is hope that at least some will decide that it makes more sense to simply work for him.
"Something my grandfather taught me years ago was how important it is to make sure your employees understand that what you are trying to build is an organization that takes care of everybody," Bishop relates. "I've never been in this for how much money I can personally make. I want to build an organization that takes care of its customers and employees, and in the end it comes back around to take care of me. But that's what I'm trying to show my guys; we care about them. I've never understood how it can only be about the bottom line. In the 1940s and 50s, what made America great was that companies took care of their employees."
Today in his company, Bishop has created some tools to help employees ascend the ladder and make more money. "If you get your pesticide applicator's license, you get a raise," Bishop says. "If you get your CDL, you get a raise. If you pass our internal Plant ID test, you get a raise. I'm creating vehicles to help my employees self-motivate and earn something. And I know there's more we can do, so we're always bouncing ideas around."
Speaking of new ideas, Bishop says his company can continue growing by simply focusing on their core business of landscaping and snow removal. But that target $5 million level could require some creativity. Bishop is looking at all options to help get there.
"I'm definitely looking at opportunities to acquire other companies, but am also exploring options to buy land and start something from scratch," Bishop points out. "I'm also looking to diversify our company in the process. We'd like to get into other businesses aside from just landscaping—businesses that would help us generate off-season revenue and keep employees year-round. I'm always looking at new and different options; other things we can do with the equipment and people we have. More of a retail-type operation is not out of the question. In my view, we're going to have to become a 12-month operation in order to survive into the future."
In other words, even when business is there for the taking, you need employees to help take it. In order to hire good employees, you need to offer stable employment at a good wage. By becoming a bigger, more year-round organization, Bishop is confident that Ground Effects Landscaping can do just that.