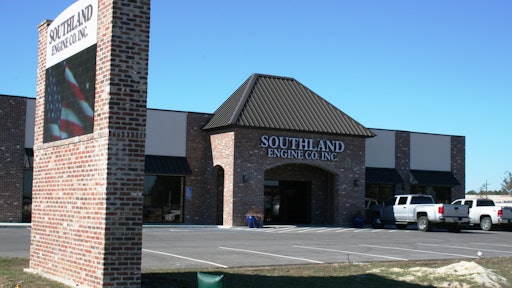 Most dealers who open additional locations are primarily looking to expand their geographic footprint in an effort to grow sales and boost buying power. Sometimes they opt to simply acquire other dealerships. It's not too often, though, that they opt to build three brand new stores—all within 30 miles of one another.
But that's exactly what Louisiana-based Southland Engine has done. It all started back in 2005 when the dealership opened its second location in New Iberia, roughly 25 miles to the southeast of its original store in Lafayette. That expansion was followed by a third store in North Lafayette in 2010, and then a fourth in Broussard last spring.
"The world changed," exclaims Lynn Pesson, president of Southland Engine. "In the 1990s, our company would pull customers from a 50-mile area. But after 2000, we started to recognize that customers wanted to live in a community. They didn't want to drive across town to buy a mower or trimmer—and even if they did, they would not come back to buy oil, line or any accessories. They want to walk to their stores and shop within three or five miles of home."
That is precisely why Southland Engine decided to place its satellite locations at strategic points on the outskirts of the city limits—right where the population was growing the fastest. "There are only 12 miles between our three Lafayette stores (which includes Broussard), giving the customer several choices fairly close to home," Pesson explains.
The big win, Pesson points out, is when you factor in the outlying rural areas. "Each store is pulling customers from 12 to 15 miles from each direction. And these are customers who buy bigger machines and need more ongoing parts and service." So when you look at it that way, Southland Engine really has expanded its geographic footprint in a significant way—even though its four stores are concentrated in a fairly tight area. It's all about smart, strategic positioning.
Product consistency
Each of Southland Engine's four stores carries the same brands and products. "We continue to work with the same manufacturer partners with the same common goals," Pesson points out. "We as dealers need to understand that we don't need six lines of big iron and four lines of two-cycle to take care of the customer."
Southland Engine represents Gravely, Hustler, Kubota Construction, Maruyama, Shindaiwa and Toro. Each store has roughly the same sales mix: 40% residential, 40% commercial landscaper, 12% governmental and 8% construction.
"We just added Kubota Construction in late-2014," Pesson tells. "It's a good line and it's growing well. We anticipate that construction will account for 30% of our overall dealership sales within the next few years, which would put construction in the $3 to $5 million range."
Regardless of whether you're selling to a landscaper, construction contractor or homeowner—or whether you're selling a zero-turn mower, excavator or lawn tractor—it's all about the service and experience you provide as a dealer.
"The door only swings so many times a day, and the customer is coming to your company because of the value you give them—not because of the paint or name that is on your product," Pesson reminds. "Once the dealer expects and understands that he or she is in business to grow a market area, then your manufacturers can fit into your business plan, partnerships happen, and territory is no longer a problem."
Staffing efficiency
Southland Engine's original store in Lafayette serves as the dealership's hub, so to speak. All service repairs run through this location, as do all administrative and marketing functions. Most of the dealership's parts inventory is also stored in Lafayette. "Each of our satellite stores carries about $25,000 worth of parts inventory," Pesson says. That's still ample; the slow-movers that only sell through the shop need to be in Lafayette where the service technicians are anyway.
Pickup-and-delivery is another issue. "The pickup-and-delivery area is divided into a pie," Pesson explains. "Each of our three trucks has a piece of that pie with a satellite store in it. Each truck then handles pickup-and-delivery to customer homes, along with its store's needs. Those needs include pickup-and-delivery of service repairs, parts and office supplies."
The multi-store, market-concentrated approach has been working well for Pesson and the Southland Engine team. "Two of our three satellite stores each do over $2 million a year—with just three employees each," Pesson points out. "That's pretty good, because most dealers need at least five employees to generate $1 million. This had made a huge impact on our profitability."
It sure sounds like it would. Why not replicate this business model in other geographic markets? Well, you can't rule anything out where Southland Engine is concerned. But Pesson says whether or not they open any additional stores is a tough question to answer right now.
"We think it takes about five years to come up with a match to our concept and raise the funding without putting strain on what we've already set up," Pesson says. "As far as geographic footprint, the problem is first establishing a main store. The cost to build and operate a main store takes a bigger investment from the start. It can be done, but would take considerably more planning and time."