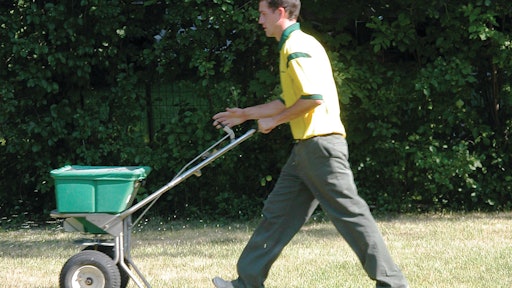 I started my lawn and landscape business in 2003 with my teenage son, Buddy. My goal, like most everyone else, was to build a business I could turn over to my son and that would support me without having to provide any of my own manual labor. We worked our butts off in the beginning and grew our business at a fairly brisk rate for the first few years. Then it seemed like the bigger we got, the harder it was to grow. I kind of felt like I was pushing a boulder uphill. With each step we took, the incline got steeper and steeper until we just couldn't go any farther. 
It seemed like we were always stuck between a rock and a hard place. There was just a little more work than we could handle, but not quite enough to hire another employee. There were times we could sure use another truck, but not enough times to justify buying one. We wanted to grow our business, but sometimes the thought of taking on one more job was overwhelming and I actually dreaded the phone ringing with another potential customer on the line wanting an estimate because we didn't have the staff or equipment to handle more. We were stuck in a place where we wanted to grow, but just couldn't.
Finally I figured out what the problem was. We weren't growing our business fast enough. In order to grow, we had to add employees, trucks, equipment and infrastructure. The revenue wasn't coming in fast enough to do it. All of our money, focus and energy was being consumed on just maintaining our business. I had to figure out a way to make growth happen, otherwise we'd be stuck in this place of business stagnation and I would never realize my dreams of owning a business where my manual labor was not required.
Looking back, I can identify five specific things we did that enabled us to grow and push our business to the next level. Here are the five growth strategies we used and I hope these can help you do the same!
Five key strategies to turbocharge your growth rate
1. SHRINK YOUR SERVICE AREA. When we first started our business, I was willing to take work no matter where it was. Hey, any work was better than no work! So what if we had to drive a little ways? At least we were making something to put food on the table. However, I later found that having customers spread out all over the globe caused us and our crew to spend more time on the road than actually doing work. By shrinking our service area and refusing to travel beyond a set distance, we were able to literally give ourselves more work hours per day, which in turn made a significant impact on the growth of our business.
2. CHOOSE TO DOMINATE ONE SPECIFIC SEGMENT OF YOUR MARKETPLACE. When we first started our business, we did everything for everybody. If a customer asked "Do you...?" The answer was "yes" before they even finished the sentence. I figured that was a good way to grow business.
There are a couple  problems with working like that, though. First, not all types of work produce the same profit margins. If you want to accelerate  the growth of your business, begin to focus on the type of work that has the highest profit in it and pass on everything else. Another problem with doing all different types of work is that every time you switch gears between one job and another, you lose momentum, have to retool and rethink, and start all over. If you concentrate your business on just a few services instead of many, you become extremely proficient at those few things and consequently much more profitable.
3. USE MULTIPLE MARKETING TOOLS. We started out the way many businesses do: distributing flyers. This worked well and I could count on a certain number of new jobs every month from those flyers. However, the time came when we needed more new business than the flyers alone generated, so we started doing advitorials in the newspaper. These also brought a predictable number of new clients each month, but it still wasn't enough. So we started doing Facebook, then television and then hosting community events. What we found was that each marketing tool we engaged brought its own predictable number of new clients each month, which all added up to a significant number and allowed us to quickly grow our business and add employees, equipment and infrastructure.
4. RAISE YOUR PRICES. I cannot overstate the importance of building extra profit into each job you do. Growing a business is extremely expensive. Adding staff, equipment, office machines and personnel all take a lot of money. If you don't have the extra money in your business to add those items as you go, your cash flow will be strained, your growth will fizzle, and you won't get your business to the next level.
You must charge a premium for your service if you intend to grow your business. You are the biggest obstacle to getting more money for each job, not your competition. Everybody, in the back of their mind, has a tendency to price jobs with their own wallet. "What would I be willing to pay for this job?" What you would pay has nothing to do with the value your customer sees. You must build extra value into your service—and charge for it. And you must set the prices for your services based on the margin of profit you need to grow and maintain a healthy company. No other criteria really matters.
5. BECOME THE LOCAL EXPERT IN YOUR FIELD. It really doesn't take much to become a locally recognized expert in your service field. All you have to do is put out useful information in the local paper and/or online, and answer people's questions on a regular basis.
How does that help you grow your business? It will deliver customers to you who are pre-sold on you and your company. When people are pre-sold on you, price is not an issue. What your competition has to offer is not an issue because your buyer has already become familiar with you and trusts you know what you are doing.
Do these strategies work? Absolutely! As I sit here and write this article, our crews are in the field serving our customers. I am in the position I'd always dreamed of, and I continue to run our business using all five of these growth strategies every day.
Skip Orth has been in the landscape industry since 1987 and is the author of the book, "The Ultimate Guide To Building A Million Dollar Pest And Lawn Service Business" as well as other books and articles. Visit fatherandsonlandscape.com for more.