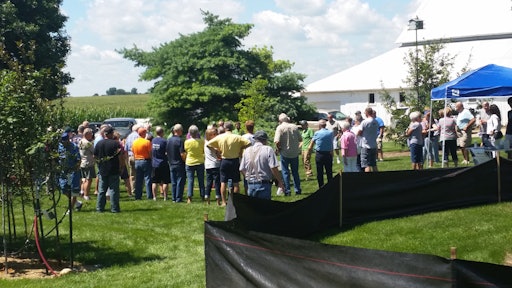 The Taylor family in Princeton, IL, has been involved in the landscaping industry for 50 years. With that kind of staying power, you must be pretty good at what you do and have a deep passion for it. The Taylors definitely do—enough so that it pulled a couple of them away from exciting careers in the aviation industry.
Clarence "Buster" Taylor is celebrating his 50th year in the landscaping business this year. He got his start as a mower operator at his father's company in 1966 before buying it and taking over in 1973. At the young age of 22, Buster immediately began shifting the company's focus from mowing to lawn care, earning his Illinois pesticide applicator's license which he has maintained every year since.
"I come from a big family, one of 11 kids," Buster tells. "We learned how to work hard at a young age." Buster partnered with one of his 10 siblings—his brother, Al—in 1977 to launch a full-service landscape company, Elite Landscape. Buster eventually sold his share of the company to Al in order to break back out on his own with a company dedicated to lawn spraying. That company is Taylor's Trees & Turf in Princeton, IL.
Another brother, Dennis, came to work for Buster about 10 years ago. Dennis had been working at Al's company for many years, but the intense demands of hardscaping were starting to wear him down. He wanted to stay in the industry, but was looking for a change of pace.
With Dennis now on board, Buster decided to make a push into tree care and really try to grow the business. Both he and Dennis became ISA Certified Arborists in 2009 (International Society of Arboriculture). Doing so has given the company a solid business model that has helped it to rapidly grow sales and deepen market penetration over the past few years.
"We approach plant health care from a holistic perspective," says Buster's son Josh, who joined the business four years ago. "Tree and shrub health is tied to lawn health, and vice versa. Our certified arborists and expert lawn specialists work with our clients to develop a comprehensive plan to not only address the problems that are present, but improve the health of the lawn and trees in a proactive fashion."
From plants to planes, and back again
Before joining the family business, Josh worked as an aerospace engineer for 10 years in Chicago. It was a highly stressful career, though. Plus, he and his wife, Jamie, weren't sure they wanted to continue raising their two children in Chicagoland. Buster was starting to see retirement on the horizon, so he asked Josh to move back to Princeton and join the team.
"I had worked summers for my dad in high school and college," Josh tells. "I always liked it, and am happy to be back where I grew up. I think we are doing some pretty innovative things, which is exciting."
You'd expect nothing less than innovation from an aerospace engineer. Buster also has a background in aviation. He'd received training as both an aircraft maintenance technician and a pilot. But for both father and son, the passion is for turf and tree care—not to mention the opportunity to build a great company with great employees, which Taylor's Trees & Turf is definitely blessed with.
Change, innovation drive growth
Since Josh joined the company in 2012, sales have nearly doubled. Employees have jumped from four to 14. The addition of Josh, who focuses on marketing and field operations, has played a pivotal role in the growth. So has a much stronger local economy. The majority of credit, though, must go to the company's employees—and their willingness to embrace innovation and change.
Taylor's Trees & Turf prides itself on being among the first companies to adopt new approaches to lawn and tree care. Buster was one of the first contractors in the area to implement engine-powered spreading and spraying equipment back in the 1990s in order to increase efficiency and application precision. More recently, the company was among the first to transition to stand-on riding machines.
The company was also one of the first to begin using a season-long fertilizer. "We use a product called One-Ap with eNGevity," Buster points out. It's a controlled-release fertilizer that feeds nutrients all season long, allowing for a single spring application. "Now the majority of our customers are on the season-long fertilizer program," Josh adds. "It reduces the total amount of nitrogen applied in a season by at least half, along with the number of trips to a property and the carbon footprint of our applications."
Taylor's Trees & Turf has also been innovating in its tree care business. "We have established a 'root invigoration' service using an air spade," says Josh, who points out that the concept was actually developed by the U.S. Military as a way to sweep for roadside bombs in Iraq. "The air spade connects to an industrial-sized compressor," Josh continues. "It clears the dirt away from the tree's root system without harming that root system. Then we can go in and do some deep root pruning to relieve stress and compaction.
"This service is great for very old trees, and really any tree that is showing signs of stress or deteriorating health. In an ever changing urban landscape with growing issues such as EAB (emerald ash borer), BOB (bur oak blight) and ALB (Asian long-horned beetle), it is more important than ever to protect and save as many established trees as possible."
Speaking of tree survival, another relatively new service is helping Taylor's Trees & Turf rise to the top of the industry. "We've started pushing bare-root plantings over the past few years," Buster says. "The process is resulting in faster-growing, healthier trees that are much easier to maintain. The survival rate has been nearly 100%, and the cost savings to both our company and the consumer has been enormous. Another win-win."
The bare-root process starts at the Taylor's Trees & Turf facility. A long row of young trees from a variety of species is planted in what is called a Missouri Gravel Bed System. A trench measuring roughly two feet deep and four feet wide is filled with gravel. Staff cut the roots back on the young trees and plant them in the gravel. Some fertilizer is added along with a drip irrigation system.
"This process allows us to plant trees in the gravel bed in mid-April, and then uproot them and replant them for customers in late-July and August," Buster explains. "The trees can survive the mid-summer planting because of the amazing root system they've develop in the loose gravel bed. It's an extremely fibrous root system that takes up water very quickly. We plant the trees with about five gallons of water and a spoonful of bio-nutrient. The trees take right off."
Appreciation and expertise
All of this innovation was on display back on July 16 when Taylor's Trees & Turf hosted its first ever Open House, which was half educational event and half client appreciation party. Roughly 300 people attended from throughout the company's 60-mile-radius market.
"Our employees talked the entire following week about how wonderful it was for them to meet many of our clients in person," Josh says. "The event was a huge success because of our customers' willingness to come out and ask questions, participate in our demos, converse with our staff and support what we do."
The Open House featured demonstrations of planting a bare-root tree, along with operation of the air spade and stand-on sprayers. Door prizes, including complimentary trees, took place throughout the day. A nice lunch of BBQ pork and sweet corn was prepared by a caterer—along with the help of Buster's wife, Kay, and her wonderful team of volunteers. Kay runs the company's administrative department.
Lunch and entertainment aside, the main purpose of the event was to connect employees and clients in order to build comradery and share information. Taylor's Trees & Turf takes its role as educator—and innovator—very seriously.
"We have worked with local businesses, park districts and governments in educating the community on tree and lawn health care for many years," Buster says. "We have hosted local demonstrations and various educational events. We are now working with several smaller communities in our area to develop EAB plans.
"On the tree care side, we have remained informed on the diseases and pests in our area through continued education," Buster continues. "This has also allowed us to implement multi-functional spray units capable of treating with up to six materials and combatting hundreds of diseases while on the same route. We have implemented several of our own developed techniques in tree enrichment to reduce uptake times by as much as 50% while increasing the amount of beneficial product taken up in the tree by 30%."
This unrelenting desire to pursue and embrace innovation has helped Taylor's Trees & Turf thrive in business for more than 40 years. Buster has had an amazing run, but is now looking to back off a bit and begin turning things over to Josh. Josh says he's ready.
"I don't have the experience in this industry that my dad and uncle (Dennis) do," Josh admits. "But I've had the privilege of learning from them over the past four years, and there's nobody better I could have learned about horticulture from." Plus, Josh is a quick learner. After all, he's an honest to goodness rocket scientist.