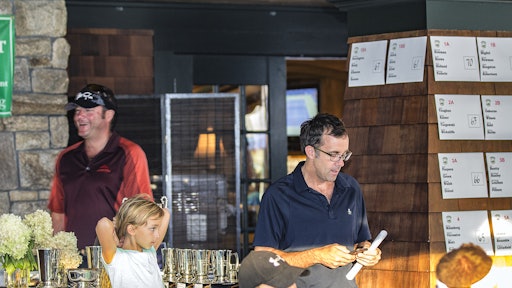 Many landscape companies give back to their communities, donating to various causes, participating in various groups, and frequently donating goods and services. YardApes in New Milford, CT, is definitely one example.
"Giving back to our community and to the landscape industry is more important to us than becoming the largest landscape company," says Shayne Newman, YardApes owner. "Our culture has a strong foundation of giving back to those who need help."
One unique thing the company has been doing is organizing a charity golf tournament. The Quad-Am Golf Classic was founded in 2006. The 11th annual outing just took place on September 6. The event raised roughly $7,000 for the Community Culinary School of Northwestern Connecticut. It was the best turnout yet, with the maximum number of golfers possible (120) participating.
"We decide on the non-profit from year to year," Newman says. "It can be tough because there are so many great ones. When we pick one, we like to stick with it for a few years. Most of the legwork on the tournament is done by myself, my wife Jennifer, and our office manager Elaine Lord. We also ask our managers to help get players to sign up; some have really good relationships with clients and vendors."
On the day of the tournament, additional employees volunteer to help out. "We've been doing this a while now, and it's really becoming a well-oiled machine," Newman relates. That said, YardApes also considers the role a potential non-profit could play in drumming up interest. "Our team wants to do 90% of the planning and work on the event, but we do look for a non-profit that wants to play a role in making the tournament a big success, helping to encourage players to sign up and businesses to get involved as sponsors," Newman adds.
Run it like a landscaping project
The tournament is normally held in early September. This way it doesn't significantly disrupt YardApes' landscaping operations; planning isn't taking place during the frantic spring months, and the event itself takes place before leaves start falling.
As far as event planning goes, they're signing up golfers, coordinating with the golf course where the event is held, and lining up sponsors.
"We have different sponsor levels," Newman explains. "We have a gold-level sponsor and then a silver. We have sponsors for tee signs and carts. We have sponsors for a couple of holes-in-one; this year we had a prize of a Nissan Maxima or a Caribbean cruise. Nobody hit either hole in one, though."
Numerous area businesses also donate items for raffles and silent auctions. "We try to leverage our relationships with vendors for some of this," Newman points out. It makes sense. The tournament helps to paint the landscaping industry in a more positive light, and industry suppliers have as much of a vested interest in that as anyone.
The Quad-Am Golf Classic raises some serious money for local non-profits. But as the saying goes: You have to spend money to make money. This has required Newman and his team to approach the tournament very similarly to how profit-conscious contractors approach landscaping projects.
"I have a spreadsheet to help manage everything," Newman says. "I've learned a lot about running a charity tournament from talking to others. We have a certain amount of 'overhead' we need to cover: player fees, trophies, food, etc. We know that based on our tournament entry fee, we cover our overhead once we sign up 90-100 golfers. So first and foremost, our objective is to sign up that certain number of players to make sure we break even. From there, all of the sponsorships and raffle items generate our 'profit'—all of which is given to the organization we're raising money for."
Newman adds that he wants this to be a very nice, high-end event. Each participant gets a sleeve of Titleist Pro V1 golf balls. The event itself is held at a very exclusive course. Everyone is treated to both a BBQ lunch and classy dinner banquet.
"It's funny to think back at how this all started," Newman says. "It started as simply a company outing. A couple of employees got the idea of turning it into a charity event." It has continued to build year after year.
What does YardApes get out of it? A couple of local newspapers provide some nice editorial coverage. The event makes for great Facebook fodder. But most importantly, the company is doing something good for its community.
"Whenever you do something for charity, you'll probably get some good PR out of it," Newman says. "But the goal is to raise money for something important. This kind of grassroots activity—by more landscape companies in more communities across the country—can really make a positive impact on how this industry is viewed. That's why we do it. We want to do our part—for our community and for the industry."
Team Effort
Shayne Newman wants to make sure that all of this year's volunteers are recognized for their hard work on the 11th annual Quad-Am Golf Classic:
Jennifer Burks
Brian Burks
Diane Collentine
Grant Dupill
Jacqueline Fresenius
Greg Kaiser
Jeff Kilberg
Elaine Lord
David Schrang
Giles Vaughan
Jason Von Reyn