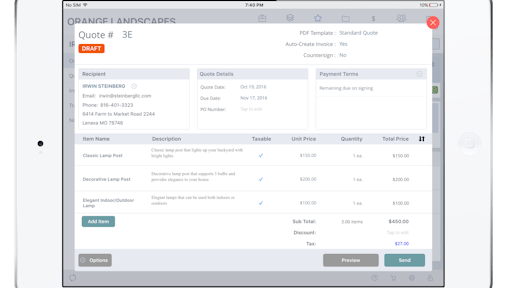 As competition intensifies, landscapers need to find innovative ways to stand out from others. Improving client experience across various touch points can not only gain customer trust, but also help you streamline your overall business processes.
Using a tablet device in an innovative way can enable your sales team to present better and close the sale during client meetings. This in turn can help them finish their work quickly and efficiently instead of carrying it back to office.
Here are a few best practices that can help your sales team close the sale quicker using tablet devices.
Showcase your work – Even if you have a pretty and comprehensive website, your sales teams meet new prospects who haven't seen your website. Instead of directing them to your website, empower your sales team to visually showcase your business portfolio on their tablet devices. This allows them to control the customer experience and share a story while talking to them.
Collaborate on ideas – Use the camera on the phone or tablet to take pictures that can be used to convey concepts, ideas or storyboards. Take pictures and videos of not just what works, but also things that don't; before and after; the minor details that can explain a point; and more. Then use these images to collaborate with customers during the meetings. Now, instead of treating client meetings as a sales pitch, your team is collaboratively working with customer to solve their problems. This helps them gain immediate rapport and trust with the customer and close the deal quickly.
Create and share quick estimates – Depending on the type of projects, estimates may be simple or complex. But in either case, being able to create a rough estimate while with a customer is one step closer to the sale. Providing a digital catalog of products and services to your sales team via apps like MyBusinessGenie can help your sales team to add items to the cart, create quick estimates on their tablet devices and share them with customers.
Capture signature – If the client agrees to the estimate, a signature can be captured and the deal sealed! Tools such as MyBusinessGenie allow your sales team to visually show and sell images, videos, product and service catalogs, as well as create estimates and contracts and capture signatures in-the-field using an iPad. Additionally, the administration portal provides the ability to manage these tasks online and send detailed estimates or invoices to customer for online signature and payments.
Take payments – With tools such as Square card reader, your sales team can also charge customers the amount immediately in the field and take the payments via their credit card, thereby completing the end-to-end sale.
By mobilizing the sales workflow, you're eliminating competition by not allowing your customers to seek alternatives – your team is in complete control. Additionally, all the back-and-forth emails, phone calls, document changes and follow-ups are being avoided. This means you're not only saving money, but also streamlining your team's day-to-day job.
As you implement these steps for your business, you'll see more deals closed faster, which in turn brings you more revenue. With tools such as MyBusinessGenie, show and sell in the field and backend business processes are significantly streamlined.
Venu Gooty is the founder of Genie Labs and has helped SMBs and enterprises with technology solutions. MyBusinessGenie is its flagship product that helps small businesses in managing their day-to-day businesses online via tablet devices.