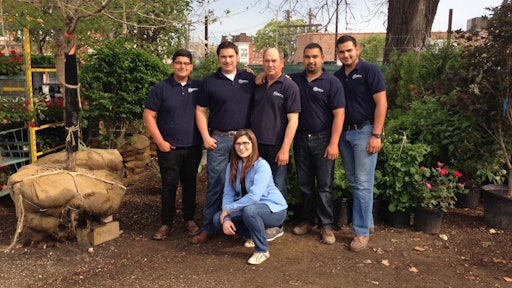 Ruben Diaz Sr. worked landscaping in the Chicago area with his brothers for the better part of two decades. He worked hard, as did his two oldest sons—Rafael and Ruben Jr.—who often helped out in the field since the young age of seven. To say they loved landscaping is putting it mildly.
It was always Ruben Sr.'s intention to start a company with his sons one day. That dream came to fruition 10 years ago. Rafael had just completed his collegiate studies in landscape design and landscape management. Ruben Jr. was coming down the home stretch of earning his degree in landscape management and business. The landscaping industry was going up and up and up. The timing seemed perfect.
Ruben Sr. took his shares of Diaz Brothers Landscaping and started Diaz Group LLC with Rafael and Ruben Jr. in 2007. He'd left his brothers on good terms. "They hated to lose their brother as a business partner, but they knew he wanted to start a company with his sons—and they respected and supported that," Rafael recalls. "In fact, my uncles were our biggest allies in our early years."
After a strong first year in business, the Great Recession began to take hold and things got tough from 2008-2010. "My uncles wondered if we were going to make it with our new company," Rafael says. "Honestly, we wondered that too. There were a lot of tears and a lot of yelling those couple of years."
"But we knew we had to make it … we didn't have a choice," Ruben Jr. adds.
The Diaz's passion for landscaping—and love and respect for each other—has allowed them to make it. In the years following the recession, sales gradually rebounded and ultimately began growing at a steady annual clip. Last year the company topped the $5 million mark. The Diaz family is now working with consultant Domenic Chiarella to develop three- and five-year plans designed to propel the company to the $10 million mark. It's not going to be easy, but in a market like Chicago, it is definitely possible.
"The biggest thing about these guys is that they are coachable," Chiarella says. "They have a mindset that allows for improvement. They are willing to take ideas from others and work to implement systems and process improvements. Plus, they are a rarity in that they are very employee-driven; they want to create opportunities for their employees and also their community. This is not just about money to them. Success in business means a lot more."
Nurturing the leadership gene
At the age of 62, Ruben Sr. serves as the company's figurehead, mentoring employees and acting as kind of a spiritual leader. "He's the glue that holds everything together," Rafael says with a nod from his brother.
That innate ability to lead is something dad has passed along to his sons, both in their early 30s. Rafael runs sales and the business side of the company while Ruben Jr. oversees operations. Together they work on strategic planning and systems development. In 2011 they were joined by another younger brother, Robert, who serves as landscape management director and is also a co-owner.
Hard work and paying one's dues is an important hallmark of the Diaz Group culture. "With the company my dad and uncles had—which we grew up in—you always started at the bottom and worked your way up," Ruben Jr. says. "That's something that always stuck with us. We want to provide a way for employees to move up."
That's why the Diaz brothers are laser-focused on growth. A pivotal moment came in 2010 when the company earned its Minority Business Enterprise (MBE) certification. This soon led to government contracts that helped propel growth. As welcomed as this new revenue stream was, it was not without its challenges. The Diaz brothers learned very quickly about the importance of cash flow and collections.
The core of the company has also been growing. Diaz Group now employs 60 year-round employees who help generate around $5.4 million in annual revenue. The company expects sales to grow considerably more this year. Roughly 45% of revenue is from snow removal, 25% from installation, 20% from maintenance, and 10% from municipal installation, most of which is road restoration work comprising topsoil, seeding and tree planting.
As pointed out, the Diaz brothers have a lofty goal of doubling in size and growing to $10 million over the next few years. The Chicago market provides for plenty of opportunity in both landscaping and snow removal. Chicago also provides for plenty of stiff competition. Some of the industry's largest companies are in Chicago.
"To be honest, we love that," Rafael exclaims. "We love to know these great companies. Yes, we're competitors. But many have helped us over the years. We've tried to do business the right way and build relationships with them."
When it comes down to it, though, they are competitors. Rafael and Ruben Jr. concur that it took a while before they were comfortable in their own skin and capable of selling the company in a consistent, confident manner.
"We always felt like we were a little fish in a big bowl," Rafael says. "Then we started to learn that being the 'little guy' is actually our strength. Being an Hispanic-owned business, knowing our work from our many combined years of experience, and having a culture of professionalism and friendliness ultimately opened a lot of doors for us—especially when we started to feel comfortable about who we were."
As the Diaz brothers' comfort level increased, so did their business discretion. Rafael says he'd chased any work he could get his hands on during those first few years in business. Not anymore. "We're actually refining the profile of what our ideal customer looks like in each service division," he points out. "As we develop our three- and five-year plans, we want to grow market share in those areas." Right now the company is almost exclusively commercial and HOA in maintenance and snow removal, and about 70% residential in installation.
From big to really big, and good to great
Along with being more selective with respect to certain projects and clientele, the Diaz brothers have also evolved their approach to systems development. Consultant Domenic Chiarella is helping to facilitate it, drawing upon his decades of experience as a successful contractor himself. Some of the systems he'd utilized can be implemented at Diaz Group. Others need a bit of tweaking. The point is that the Diaz brothers are putting in the necessary effort to develop systems that work for their company.
"You don't just create systems out of the blue," Chiarella reminds. "It takes some real work, time and patience."
The focus now is on two primary things: 1) developing systems that connect one department to another, i.e. sales to production to accounting, and 2) developing systems that allow for more delegation as the company grows. Once you get to the multi-million-dollar level, as Diaz Group has, this becomes paramount.
"A good example is how we've improved our work order process by division," Rafael says, adding that doing so has created predictability and consistency. "We're also working to better define our sales process. This will help us create consistency in how we qualify leads, generate estimates and contracts, and maintain our pricing and profit goals. New salespeople we hire can then follow this process and there will be no surprises."
Last year the systems focus was in the snow removal division. "We'd doubled our snow operation in 2016," Ruben Jr. tells. "When Domenic came in, he'd helped us to set up a better routing system, along with a better system for tracking invoices and making sure we got paid. Had we not done this, I don't know how we would have gotten through last winter."
Well, just as the Diaz family did back in 2008-9 on the heels of the Great Recession, they got through it. Now they are looking ahead to this year and beyond with a transformed sense of optimism.
Speaking of optimism, they just signed a lease-to-buy contract with John Deere for 30—yes, 30—skid loaders. "We mainly use them in snow removal," Ruben Jr. explains. "We also use them on landscaping jobs to improve efficiency, and use them a lot around our yard to load trucks and move things around. Once in a while we'll even rent them to other contractors if we don't need all of them."
That deal between Diaz Group and John Deere was struck through their joint involvement in the National Hispanic Landscape Association (NHLA). Rafael says he plans to also become a member of the National Association of Landscape Professionals (NALP) this year. "It is great to meet other successful business owners," Rafael shares. "It can really open your eyes."
Diaz Group's now 10-year track record has opened the eyes of its marketplace, particularly when it comes to employees. The company has become something of an employee magnet. "My brother and I love to go and talk to people about working for us because we have a story to tell," Rafael says. "Employees have the opportunity to be developed and grow with us."
The intention is for that opportunity to continue well into the future. Rafael, Ruben Jr. and Robert—along with their 18-year-old younger brother, Tony—represent the second generation. Numerous nieces, nephews and cousins also work in the business who represent the third generation. For instance, 19-year-old nephew, Rene, joins Tony as the company's top-performing managers. "Tony and Rene are attending the same college Ruben Jr. and I had attended," Rafael points out. "Their goal is to one day take over for me and Ruben Jr."
It doesn't stop there. Rafael's 15-year-old son works summers with his grandfather in the field. Ruben Jr.'s son is only three years old, but it's just a matter of time before he takes an interest in the business too. After all, his dad and uncle started their careers at age seven.
Crime doesn't pay … opportunity does
The Diaz family moved into a new facility late last summer. Robert played an instrumental role in establishing the line of credit to make the purchase.
"It's a 6.5-acre property in the Back of the Yards Neighborhood, a low-income area," Rafael Diaz tells. "Many people advised us not to do it because of the high crime rate. We decided to take a chance and it has paid off in dividends. We have created lots of jobs for people in the neighborhood. Also, we only employ local contractors when performing work in the community."