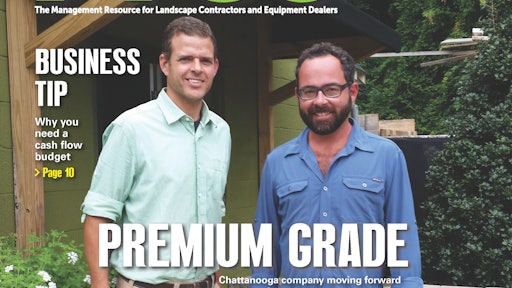 In the fall of 2015, when Phillips|Creasey was originally featured in Green Industry Pros, the company was on the verge of landing a couple of lucrative commercial installation jobs for a well-known national retailer. The jobs came through, were completed in splendid fashion, and have since led to numerous other projects throughout the South. In fact, the company has now formed a "traveling crew" to tackle this steady stream of work.
Those two original jobs were near Phillips|Creasey's home base of Chattanooga, TN. The developer then asked if the company could travel around the region to landscape some other projects they were doing. That led to work in Knoxville, TN (100 miles away); Athens (170 miles), Augusta (260 miles) and Valdosta (340 miles) GA; and most recently a large project even further south in Lake City, FL, roughly 400 miles from Chattanooga.
The Lake City project just took place in January. "Now we're looking at more work in Tampa, FL, Savannah, GA, and also in South Carolina," says Phillips, who is overseeing the traveling crew while partner, John Creasey, keeps an eye on things back in Chattanooga.
Since Lake City is about an hour and a half from Valdosta, GA, Phillips says he was able to secure many of the same materials vendors. Materials management has been among the most challenging aspects of this traveling work. Phillips relies as much as possible on SiteOne Landscape Supply, a huge distributor with outlets all over the country. But sometimes he must source other suppliers and growers. Furthermore, he has to get a feel for pricing. "It seems like a lot of things are priced a bit lower down here (North Florida), and I don't want to be pricing and bidding too high," Phillips points out.
Labor can be another challenging aspect when expanding your geographic footprint. Fortunately for Phillips and Creasey, it hasn't proved to be much of an obstacle. When the opportunity to establish a traveling crew first presented itself, Phillips and Creasey presented it as an opportunity to employees—an opportunity to gain some valuable experience and also make more money (i.e. per diems for time away from home). As expected, a couple of employees weren't interested, choosing to simply continue working at the home base. But many employees were eager to volunteer for the traveling crew. Regardless, Phillips and Creasey wanted it to be a choice.
"The real key to all of this is having enough good managers in your company so you have people you can rely on as you expand," says Creasey. "Fortunately for us, we do."
When assembling a traveling crew, Phillips|Creasey typically grabs three or four of its key employees and then supplements with local labor. "We've put temporary help wanted ads on the internet, and often work with local staffing agencies to find workers in whatever city we're in," Creasey explains. Some of those temporary employees did a good job and ended up staying on with the company after the project was completed.
Most traveling projects last six to eight weeks, but some last as long as three months. Employees might be gone for two weeks, return home for a long weekend, and then drive back down to the jobsite. "We're still experimenting with how to handle travel costs," Creasey says. "Sometimes we've negotiated long-term room rates with hotels, and other times we've rented houses off Airbnb.com. That has worked out pretty well from both a cost and comfortability standpoint, because we want what's best for our employees. It really depends on the situation and what options we have."
A bit crazy, but not out of control
This past summer, Phillips|Creasey was actually running several traveling crews. It was unchartered waters, for sure, but Phillips says things never felt like they were getting out of control. That's important, because "regaining control" was the main reason Phillips and Creasey merged their companies in 2013.
"Aside from buying another (and bigger) truck to handle these larger commercial jobs, we really haven't had to do anything else or change anything," Phillips says. Payroll as a percentage of sales has held steady, and they are hitting their profit goals.
Prior to the 2009 recession, Phillips and Creasey were running separate companies that were each cruising toward the million-dollar mark. That changed, obviously. It has been a steady climb back ever since, particularly since 2013 when the two merged. Sales doubled last year. Now the partners are looking to more than double them again over the next few years.
As pointed out in the original Sep/Oct 2015 feature story, that growth will have to happen naturally—as it has been over the past few years. Phillips and Creasey are focused on being the best, not the biggest. That focus has allowed the company to also continue growing its core business back in Chattanooga.
"We have a good amount of residential design/build work around Chattanooga," Creasey points out. "We've also done a few large commercial bid/build jobs over the past year as the revitalization of Chattanooga continues." Phillips adds that the typical residential design/build project is now of a size and scope similar to what was happening in the mid-2000s before the housing crash. That is helping to drive both top and bottom line growth.
Customer retention and bioretention
Speaking of bid/build, one area Phillips|Creasey has broken into is bioretention systems. With so many municipalities needing to meet stormwater requirements and adopting landscape ordinances, bioretention ponds and swales have become a growing opportunity—and an opportunity that presented itself suddenly to Phillips|Creasey.
"It was a general contractor we already had a good relationship with who helped pull us into this service," Creasey says. "They had a project underway where the existing landscape contractor was behind schedule. They called us to lend some additional manpower. That project had a lot to do with bioretention ponds. We had to get up to speed on that very quickly. Luckily we have good, competent people in our company who can learn a lot in a short amount of time. They did, and we demonstrated it on the job. Then another good-size project came up that was entirely bioretention, including native plantings and a lot of excavation and grading. We got that job. Now we're known for having proficiency in this area."
These bioretention projects are heavily engineered. "We have to look at drawings and specs, so we'd reached out to some experts to gain a better understanding of this type of work," Creasey says. "We also had to send one of our managers up to Nashville to get certified. You have to have a certified person on the jobsite because there is a lot of documentation and inspections that have to happen; you have to keep a lot of logs on rainfall, stormwater mitigation data, etc."
As for equipment, Phillips|Creasey is a big believer in rentals. "Renting allows us to articulate a specific need to a specific project. Depending on the size of the project, we'll typically need two or three track loaders, along with a mini-excavator or maybe even a mid-size excavator if the project warrants. You also need several dump trucks, which is something we sub-out. The sheer volume of material that needs to be moved in and out is significant."
Next big steps
Also in 2015, Phillips had received his general contracting license, allowing the company to oversee complete construction projects. The company's focus is still on landscaping—such a bioretention ponds and large-scale retaining walls—but the license gives Phillips|Creasey the ability to tackle other projects if need be.
On that note, the company hired a full-time construction manager last year. Phillips' wife's uncle was a homebuilder before the recession. He was looking to get back into the trade and took the job with Phillips|Creasey. "He's basically a project manager, but he has built multi-million-dollar homes in the past," Phillips points out.
"We've modified our thinking a bit on this part of our business," Creasey adds. "Yes, our focus is still on landscaping. But our new construction manager, together with our general contracting license, gives us the ability to offer construction and home remodeling services. We're already starting to design and bid on this type of work. It makes sense."
Another thing that has proved to make sense is landscape maintenance. Phillips|Creasey hasn't aggressively tried to grow this division, but has maintained a steady base of customers. High-end residential maintenance now accounts for roughly 10% of total revenue; it was more like 20% a couple of years ago before design/build sales took off.
Phillips and Creasey are now in the process of spinning off their maintenance business into a separate company. They're also bringing on another partner in that new company—a local landscape maintenance provider who will assume a 50% ownership stake. "This guy has been in business for about 10 years and has a good reputation," Phillips says. "We expect 2017 to be a very successful first year and we expect to grow fast."
Read the original profile on Phillips|Creasey Landscaping from the Sep/Oct 2015 issue at greenindustrypros.com/12109127.