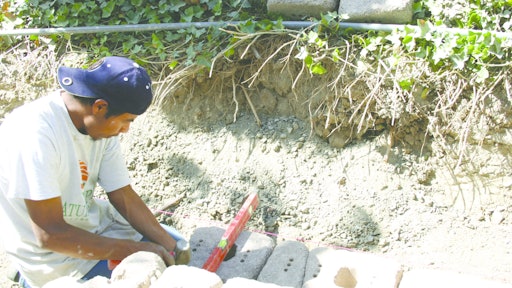 There are two emerging trends you must get a handle on very quickly. First, the economy is likely to pick up steam and begin to resemble the mid-2000s. The good news there is that selling will not be a problem for most. The bad news has to do with completing the work, which leads to trend number two: an ever tightening labor market that's creating a severe shortage of talent across many industries, not just landscaping.
Nobody is going to fix this problem for you. If your reputation is for poor pay, bad treatment and high turnover, whom do you think will show interest in joining your company?
On the other hand, what if you became the "employer of choice" representing a profession that makes a difference and provides an opportunity to grow? That requires an understanding of what good talent is in search of. By the way, today's generation wants what we wanted and what our parents wanted:
An employer that makes a positive impact in the community and positions itself as a market leader
An employer that solicits and values each employee's contribution
An employer that inspires excellence throughout the organization, rewarding good people and refusing to tolerate slackers.
Research continues to show that most employees at most companies feel like they only need to give a 30-40% effort to secure their job. With many, that's all they give. Researchers have also discovered that some employees say they give an 80-90% effort. Why? They work for a company that makes money—but also makes a positive impact. The company demands excellence and treats employees accordingly.
We recently used this approach in turning around a $6.5 million company that was losing money. It had many problems, half of which were people-related. Its reputation as an employer stunk. There were no processes for attracting, hiring or on-boarding new people. Because of that, we had to tolerate poor performance.
Step one was dealing with the turkeys nobody wanted to work with. We redefined our standards. Then I gave the turkeys a chance to prove everybody wrong. About half did. The half that didn't had their positions designated for replacement.
Next, I stopped using our traditional hiring sources and went direct on craigslist. Our ad copy reflected our new values and focused on more than starting salary. It didn't take long before there was a line outside my door that didn't look like a police lineup.
How you can get started
Action #1 – Add to your company's identity the good it does in the community. Then make it true by sponsoring something that makes a difference and receives publicity.
Action #2 – Raise your operating standards and hold everybody accountable, including family members. Raise the level of play so people feel pride of accomplishment. Remember, eagles want to kill and eat turkeys.
Action #3 – Improve quality and decrease costs by having people fix their processes. With training on how to identify the causes of problems, make fixing them part of their role. Push them to rise to your level of expectation.
Typically, an author closes an article with something pithy. Here's something different. Stop treating people as if they are stupid no matter how hard they try to prove you right. Demand professionalism and a level of toughness required to be successful in life. Send those who can't handle it to your competitors. This has been a formula for success—and given the upcoming job market, it may be your only choice.
GreenMark Consulting Group's unique three-pronged approach to coaching appeals to landscape/snow companies of all shapes and sizes from around the country. Regardless of which phase your company is going through, GreenMark's offering of Business Toolkits & Virtual Coaching, Live Business Bootcamp Workshops, and Deep-Dive One-on-One Consulting can provide the insights and direction your company needs to thrive. Visit greenmarkgroup.com for more information.
Companies in this article