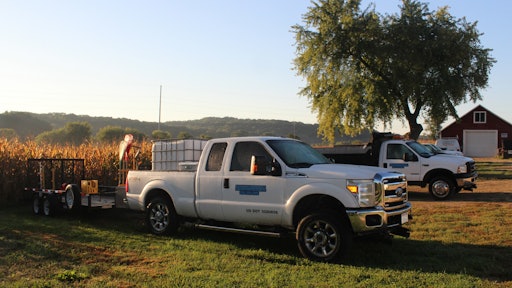 Company Name: EB3Snowremoval
Owner: Edwin Bublitz III
Location: Madison, Wisconsin
Years in Business: 10 years
Geographical Coverage: Madison, Baraboo and Randolph, Wisconsin
Type of Clients: Primarily property management and residential
Services Rendered: Lawn maintenance, landscape installation, lawn care, and snow removal and ice management
Edwin Bublitz III started EB3Snowremoval in 2008 as a spontaneous snow removal business, but he now offers a full menu of landscaping services to keep him and his crew busy the rest of the year. His four current employees cover five or six property management companies during the landscaping season and around 50 customers. He has pockets of accounts in and around Madison, including his grandparents and five of their neighbors nearly 40 miles away in Randolph, Wisconsin, which he services all in one day to save on fuel costs. (Plus, he gets a free lunch from his grandma.)
While EB3Snowremoval's most popular service is snow removal, it's an approximate 50/50 split between all of the services he offers in regard to landscaping versus snow management. His landscaping services menu includes:
Mowing and edging.
A weed and feed service, which includes a five-step fertilizer program.
Mulching.
Lawn installations.
Hedge and bush trimming.
Pruning.
Rock bed installation.
Hand weeding.
What's on your Trailer?
Go online to see a 360-degree view of one of EB3Snowremoval's trailers now at https://bit.ly/2xNLFgX. The interactive tour offers more information and insight on the equipment the company uses, how and why.
Bublitz says his equipment is what differentiates EB3Snowremoval from its competitors. His stable of landscaping equipment enables him to take on more laborious landscaping jobs, such as installing mulch. Though he offers all of the services mentioned above, he says lawn installation seems to becoming the business' niche. Some of these more labor-intensive jobs only take a day between his favorite piece of equipment—a Bobcat S185 skid-steer loader that he uses at least weekly—himself and one other employee. While he sometimes bids for larger jobs, he steers clear of retaining wall and tree installation. He's done them before, but it's not his focus now.
Bublitz owns three Ford 3/4- to 1-ton trucks and just purchased a fourth, although it eluded him for a while. As soon as he found exactly what he was looking for, it was already sold. "Everybody wants a crew cab nowadays," he says, then points to the Ford in the driveway of his home, "That one's the extended cab with the short box. I didn't want an extended-cab short box because I just kind of like them for plowing."
EB3Snowremoval is located across the street from Bublitz's house, with some storage areas and room to grow amongst farmland. He gestures to all of the equipment in his garage at home: "All of this stuff over here is stuff I don't like to share. Like this 2018 BOB-CAT, I don't like to share this mower." Bublitz says he's not necessarily brand-loyal to any equipment manufacturer. Rather he is often on the prowl for the best deal when it comes to purchasing landscaping equipment. That being said, he thinks BOB-CAT makes a great mower.
On his 16-foot Sure-Trac trailer right now, Bublitz is packing a BOB-CAT 61-inch Predator-Pro zero-turn, two FastCat zero-turn mowers (a 52 and 61 inch) also from BOB-CAT, three 223L Husqvarna trimmers, a 130BT Husqvarna backpack blower, a 150BT Husqvarna handheld blower and more. While he prides himself on using the best equipment, Bublitz especially prizes the trailer itself. Without it, after all, he wouldn't get very far. "It's critical for what I can have and do," he stresses. It's outfitted with several racks and other organizational features, so he has an ideal place for everything. He uses a 12-foot Sure-Trac and a "little old dilapidated $500 Bobcat trailer that I put $500 into" as well.
When EB3Snowremoval is in need of a new piece of equipment, Bublitz begins his online research by specifically looking for information on equipment functionality, repair costs, quality and longevity. Then he checks out some YouTube videos of equipment in operation. But he is also constantly observing what competitors are using when he's out and about. While he doesn't notice a lot of BOB-CATS around town, he notes, "Everybody has a Scag or Exmark. That's all the big-box stores have. And Ferris has a very nice machine—its stand-ups are like the Cadillac of standing mowers—but it does actually come down to price because the BOB-CAT can still mow as well as a Scag."
Bublitz cares about the environmental sustainability of his equipment, too. He says he's ready to go even greener "if and when the technology reliably reaches 8 hours of use. As soon as there is a lawn mower that I could go completely green with, I'd use it. I mean all of it. I'd replace everything if there were green weed whackers, blowers, mowers, whatever. I'm in."
Nothing without Honesty and a Trusty Workforce
Bublitz also thinks tactfulness differentiates EB3Snowremoval from the competition, in addition to being able to reliably fulfill his end of the customer/service provider partnership. He says that, within his power, he gives his customers exactly what they ask for, striving to either meet or exceed their expectations. Oftentimes, that's honesty. He says, "A lot of times, it's telling them what they don't want to hear. I'm honest with them if I can't do something."
For example, his lawn care program functions as well as anyone else's, but it's not perfect, so he explains to customers that they're not going to see an immediate result, but they are going to see a fantastic change for the better within three years. "I'm not True Green; I'm not Weed Man," he emphasizes. Most of EB3Snowremoval's lawn care regiment consists of preventing crabgrass, using a granular for weeding and feeding, applying fertilizer and spot spraying with a TZone broadleaf herbicide from PBI-Gordon. He follows a five-step lawn care program he learned about at Reinders, a regional distribution company targeting the green industry.
Bublitz says he often hears about prospective employees "through the grapevine" and that he handpicks EB3Snowremoval employees. To that end, they have about 40 years of lawn care experience between the four of them. To retain his employees, Bublitz pays them well. "Pay them what they're worth," he advises. "If you're a greenhorn, I'm going to find out really fast if you make the cut or not."
Of his management style, Bublitz says there's no mistake he's the boss, yet he likes to emphasize working as a team. "I took a lot of leadership classes. I don't flex; I'm the boss. But I also say we're a team. I might write the checks and hand them out, and give you the schedule," but at the end of the day, he couldn't do it without his employees. He suggests other landscape contractors drop their egos at the door, too. "This business seems to have a lot of them," he jokes.
Bublitz and his wife have five kids. His youngest is currently in training, working with his dad while he can. Bublitz concludes, "Just join me or get out of my way because I'm out to conquer. I'm not out to be a monopoly, but I'm out to grow." His next goal is a storefront—preferably "a big old building with the neon sign" he's dreaming of. He thinks it could be a reality within two years.
For more information on the snow removal side of the business, please visit www.greenindustrypros.com/21023637.