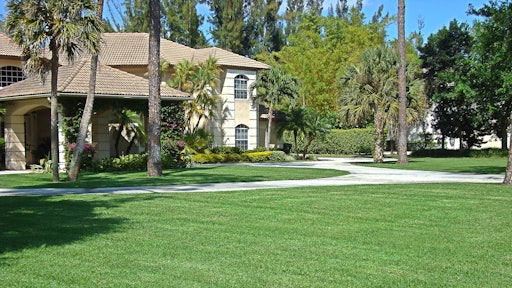 NALP Philippe Nobile Photography
Starting a lawn care business can be a demanding but rewarding experience. Whether you want to establish a small-scale business that offers services to residential homeowners or a large-scale business that offers services to commercial property owners, you have to create a solid business strategy to ascertain that each segment of your enterprise runs smoothly and efficiently. You also have to consider the needs of your staff and clients, carefully choose the services you want to offer, utilize digital tools to manage information and communication, and find ways to publicize your business and build its reputation. Moreover, you must acquire and maintain your lawn care equipment. Doing all this while keeping your staff and clients content can seem daunting, but there are ways to streamline the process of starting your own business.
Engage in Branding & Marketing
Be sure to choose a creative but practical name for your brand and design a logo that reflects this name. A catchy name and attractive logo will propel your brand's level of recognition. You can put your brand's name and logo on clothing, accessories, and professional documents; doing this will increase brand awareness and attract clients. Also, be sure to engage in marketing activities to promote your brand. If your budget is large, you can take the more expensive route and invest in things like mobile billboard ads. However, if your budget is small, you may want to take the less costly route and invest in things like sandwich board ads. Additionally, consider creating a social media business page to disseminate information about your brand.
Address Legal Concerns
When starting a business, it is best to take care of legal matters as soon as possible. Identify the structure you want for your company (i.e., sole proprietorship, partnership, LLC, or corporation) and register accordingly. Consider hiring a lawyer to deal with more complicated contracts and to walk you through how to obtain licenses and permits you need in order to start your business. After completing the registration process, be sure to obtain commercial insurance for your business. Commercial insurance will help you make the distinction between your professional and personal assets. It will also help protect you and your workers if on-the-job errors or injuries occur.
Communicate with Clients
To communicate with clients, you must inform them of when and how they can reach you and your team. You can add your lawn care business's email, phone number, and operating hours to advertising materials, social media pages, listings, or websites. You can purchase a domain name and create a branded email address, or you can create a professional standard email account. It is vital that you offer clients the chance to review your business after you provide them with services. You can use social media or survey sites to collect reviews. Moreover, you can use online platforms to respond to any of your client's concerns and rectify any issues they experience.
Manage Equipment
It is best practice to conduct research before purchasing lawn care equipment. Doing so will give you a sense of the type of equipment that will meet the needs of your business without breaking its budget. It is not wise to only purchase extremely expensive equipment because it could result in financial problems down the line. On the other hand, it is also not wise to only purchase cheap equipment because it could affect the quality of your company's services. Ultimately, you must use discretion when choosing the types of equipment to buy. Be sure to also develop an equipment maintenance plan. This will help you and your team monitor the condition of each piece of equipment you purchase and make note of any damages.
Utilize Business Software
Make use of business software to help you and your team organize work and coordinate communication. Software systems can be used to manage clients since they store each client's information and automatically generate quotes and invoices. Such systems are also great for time tracking; once linked to a software system, team members can clock in and out using a mobile device. Team members can also use these systems to schedule jobs and callbacks. Many software systems allow team members to communicate with one another via chat and communicate with clients via automated reporting.
Prepare for Seasonal Work
Summer is the perfect time to focus on your lawn care business since you will likely receive many requests during this time; be sure to stock up on equipment and ascertain that you have enough available staff. During the fall, consider adding extra services like leaf removal to your list of offered services; this will attract more clients to your business. Likewise, during the winter, consider adding extra services like weed and snow removal; this will help you generate revenue and maintain income.
While starting a business can seem daunting, following these practices is a great way to create a business plan that will work for you. If you spend more time preparing on the front end, you'll have a much easier time setting up your business and ensuring a great entrance into this billion-dollar industry.