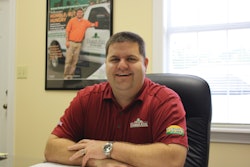 Landscape Contractor and Business Advisor
Jason Fawcett is a landscape industry leader with extensive experience managing multi-faceted business environments, including the delivery of sensible and customer-focused satisfaction in both the commercial and residential markets.
Jason has spent the better part of the past decade building companies that focus on operational excellence within the landscape and snow industries. He has utilized leadership strategies with a focus on revenue growth, change management, operations and process management, finance, human resources, safety compliance, branding, business development and inventory management.
Currently Jason is the president of Elizabeth River Landscape Management, primary manager member of Chief Irrigation, vice president of operations for Evergreen Turf Management, and managing partner of Fawcett Consulting Group.
Jason's landscape companies have achieved remarkable growth since 2005. Read his company profile as it appeared in the October 2011 edition of Green Industry Pros magazine.
You can email Jason at jfawcett@elizabethriverlawn.com.