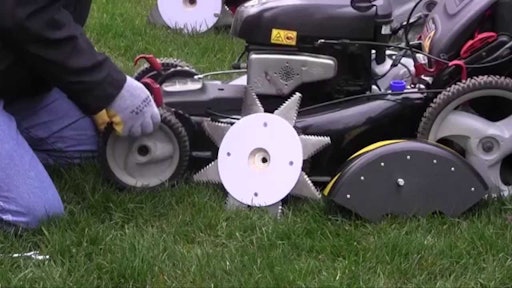 Every time Thomas Francis mowed his lawn, his wife requested that he edge it as well. He constantly had to pull out another piece of equipment to edge the grass after cutting it. Finally, in the summer of 2009, he got an idea.
Why not combine two steps into one?
That's exactly what Francis, 68, did with his invention, the Shark Tooth Edger. The Shark Tooth Edger attaches to front-wheel-drive lawn mowers, edging as the lawnmower cuts grass. It's promoted as a tool that saves money, time and space in the garage. According to a video promoting the tool, it features a guard protection for safety and operates at 300 RPMs, unlike most edgers that run at 3,000. The video also shows the tooth collecting debris as it edges, shortening the cleanup process.
The Shark Tooth Edger won a gold medal in the lawn and garden division at the Invention and New Product Exposition (INPEX) in June, and Francis took another step toward getting his invention in stores. INPEX took place in Pittsburgh, and gave more than 300 inventors an opportunity to showcase their inventions to potential manufacturers, marketers, distributors and licensees. INPEX was also an opportunity for inventors to educate themselves with advice from professionals in areas like manufacturing.
To read the full original article, please click here.