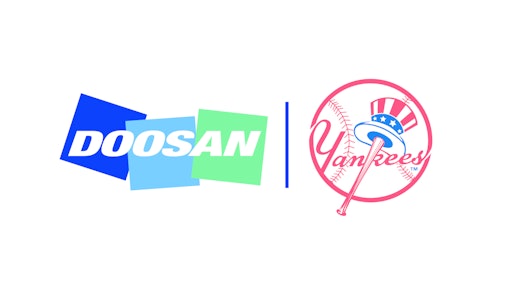 Doosan, a global contributor in the Infrastructure Support Business, announced a multi-year partnership with the New York Yankees. The partnership adds to Doosan's sponsorship portfolio, which includes multi-year relationships with Major League Baseball and The Open Championship.
"We are excited to grow our overall commitment to baseball through the New York Yankees, an organization with which we share a respect for tradition and an eye toward the future," said Edward Song, CEO of Doosan Infracore North America, LLC. "We are honored to be partnered with the Yankees, and believe that our partnership with a marquee sports brand such as the Yankees gives us the ability to continue to grow our brand in the critical U.S. marketplace."
The partnership will provide Doosan with branding and marketing benefits including permanent branding at the visiting team's on-deck location, exclusive VIP hospitality experiences throughout the season and other experiences with players at Yankee Stadium.
"We're very excited that Doosan, a company with such an international presence, has chosen to partner with the Yankees," said Bryan Calka, Vice President of Partnerships for the New York Yankees. "We believe that the combination of branding and experiences will assist in sales growth for all business segments globally."
Doosan's multi-year MLB partnership began in the 2017 Postseason, where the company saw significant brand exposure across national broadcast and MLB-owned channels, and was the first brand to be presenting sponsor of the American League Divisional Series (ALDS).
Doosan's subsidiaries—reside in the U.S. and account for $3 billion in annual revenue with approximately 4,000 employees—participated in this partnership in hopes of elevating Doosan's brand awareness in the U.S. market and closely communicating with customers. While Doosan's presence can be found in the infrastructure support business, Doosan's subsidiaries including Doosan Bobcat, Doosan Infracore, Doosan Industrial Vehicle, Doosan Fuel Cell, Doosan Turbomachinery Services and Doosan GridTech are strengthening their presence in the U.S. market in the areas of construction equipment, logistics equipment and energy.