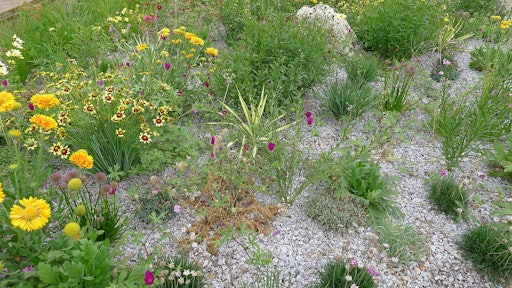 It's high season for landscapers, lawn care and backyard parties, and already, just a couple weeks into summer, many homeowners across the country are wondering, "Is my lawnmower going to make it through summer? What about my flowers? How often am I going to have to get the landscapers out here?"
California, Texas and Kansas are just a few states with large regions under strict water restrictions, making it difficult, if not impossible, to give grass and heat-sensitive plants as much irrigation as they need. And you don't have to be in a water-restricted zone to want less yard work. In pretty much any climate, homeowners constantly consider the notion of switching out their lawn and perennial plants for a less thirsty, lower maintenance landscape.
The name for this kind of landscaping is xeriscape, which literally means dry landscape. And increasingly more people are looking into it as a convenient and environmentally responsible alternative to the traditional American lawn.
Xeriscaping: The Basics
Xeriscape is synonymous with the terms drought-resistant landscape and dry garden. All three terms refer to a landscape style that conserves water through using a combination of native plants, non-organic material, hardscaping, common-sense garden design and efficient irrigation.
To read the full original article, please click here.