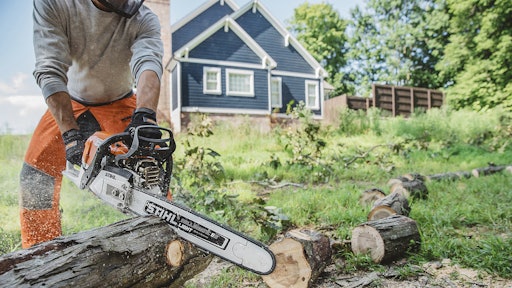 STIHL recently unveiled its expansions in its line-up of battery and gasoline products for 2021.
Light It Up
Product manager Mike Poluka says the 135 platform products features the same drive shaft, cutting attachments as their gasoline-powered brethren. Professionally running STIHL professional trimmers will recognize the components from the motor down.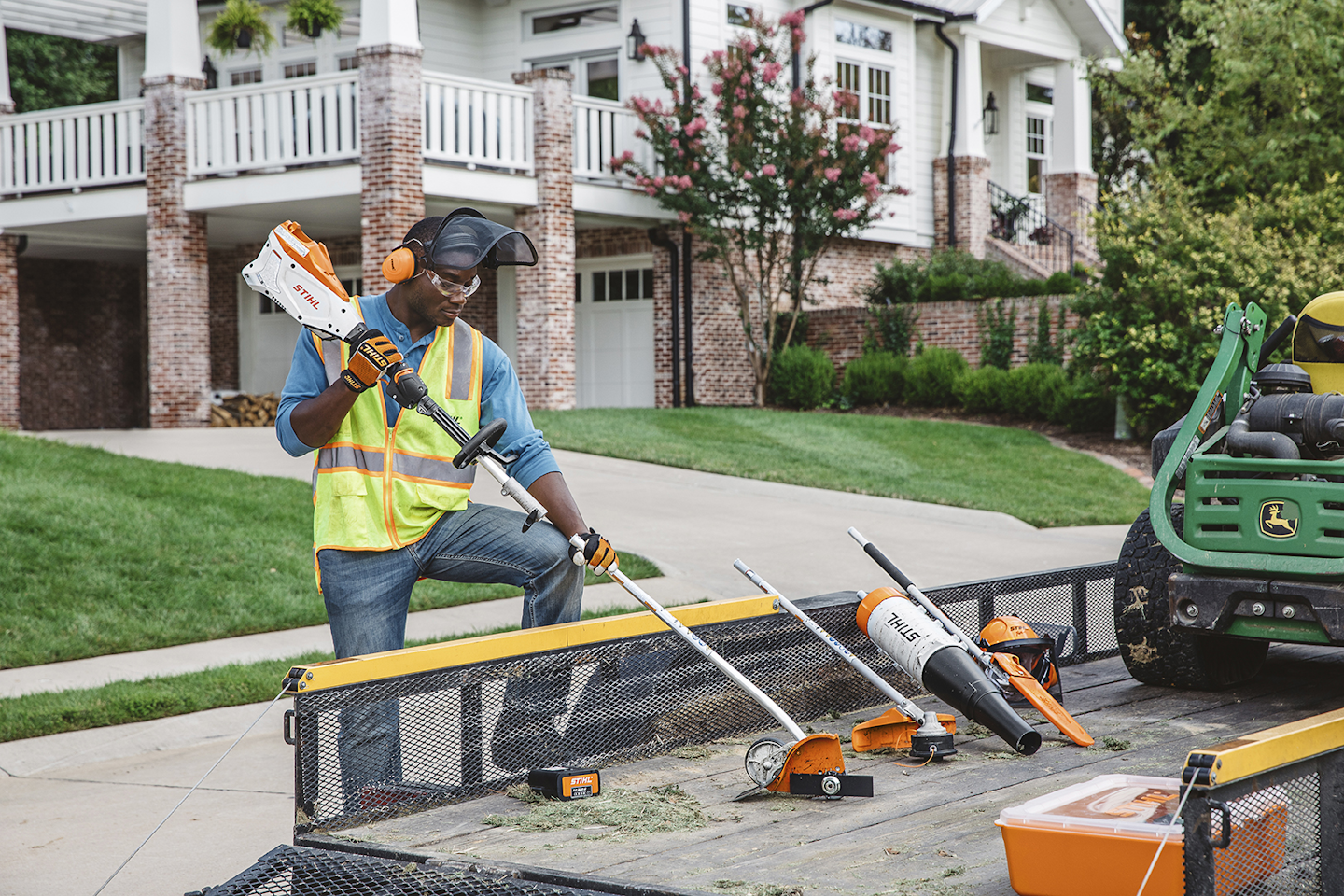 He says the products feature a weather-resistant design, brushless motors, variable speed triggers. The equipment takes cartridge-style batteries, giving it an overall sleek design that is still easy to maneuver and handle throughout a workday.
Highlighting the 135 platform is the STIHL KMA 135 R KombiMotor, a split shaft design that can accept over a dozen attachments like the gas-powered Kombis.
Poluka also cites the introduction of the FSA 135 R and FSA 135 trimmers. The 135 is the bike-handled version of the R. "For your professional landscapers running FS 91  ones or FS 111 units this would be a comparable machine to those products," he says.
Also, on the 135 platform is the HLA 135, an extended reach. hedge trimmer that features a 24-inch hedge trimmer blade adjustable in 13 different positions. It features the same blades and drive shaft as the HL 94. Poluka says the HLA 135 is available in three versions, two short shaft versions and one long shaft version.
Lastly, is the HTA 135 telescoping pole pruner. Poluka says it gives the users the ability to reach up to 16 feet when its fully extended.
"The difference between the gas and battery products relates to convenience and ease of use," Poluka says, adding that there are sometimes regulation requirements that come into play. Noise or emission regulations can be factors at schools, hospitals, HOAs or other locations.
"If they're not regulated to do so and they want to switch, some reasons for doing so include ease of use convenience and no gas or oil maintenance," he says.
Lastly, Poluka notes that the 135 platform features a zero-emission equipment rating. Relatively new for STIHL, it is a certification granted by the California Air Resources Board
The battery powered STIHL products feature one last highlight on these three products that we just discussed is
They feature a zero-emission equipment (ZEE) rating. It's relatively new for STIHL. It is a certification granted by the California Air Resources Board.
For professional customers in California,  he says they often look for that certification, which means it meets that requirement.
"In my mind, it's relevant for all landscapers because in order to achieve that it has to undergo a 300- hour durability test," Poluka says. "If I'm a professional customer, and I can relate to that durability test it gives me confidence that I'm buying a quality piece of equipment."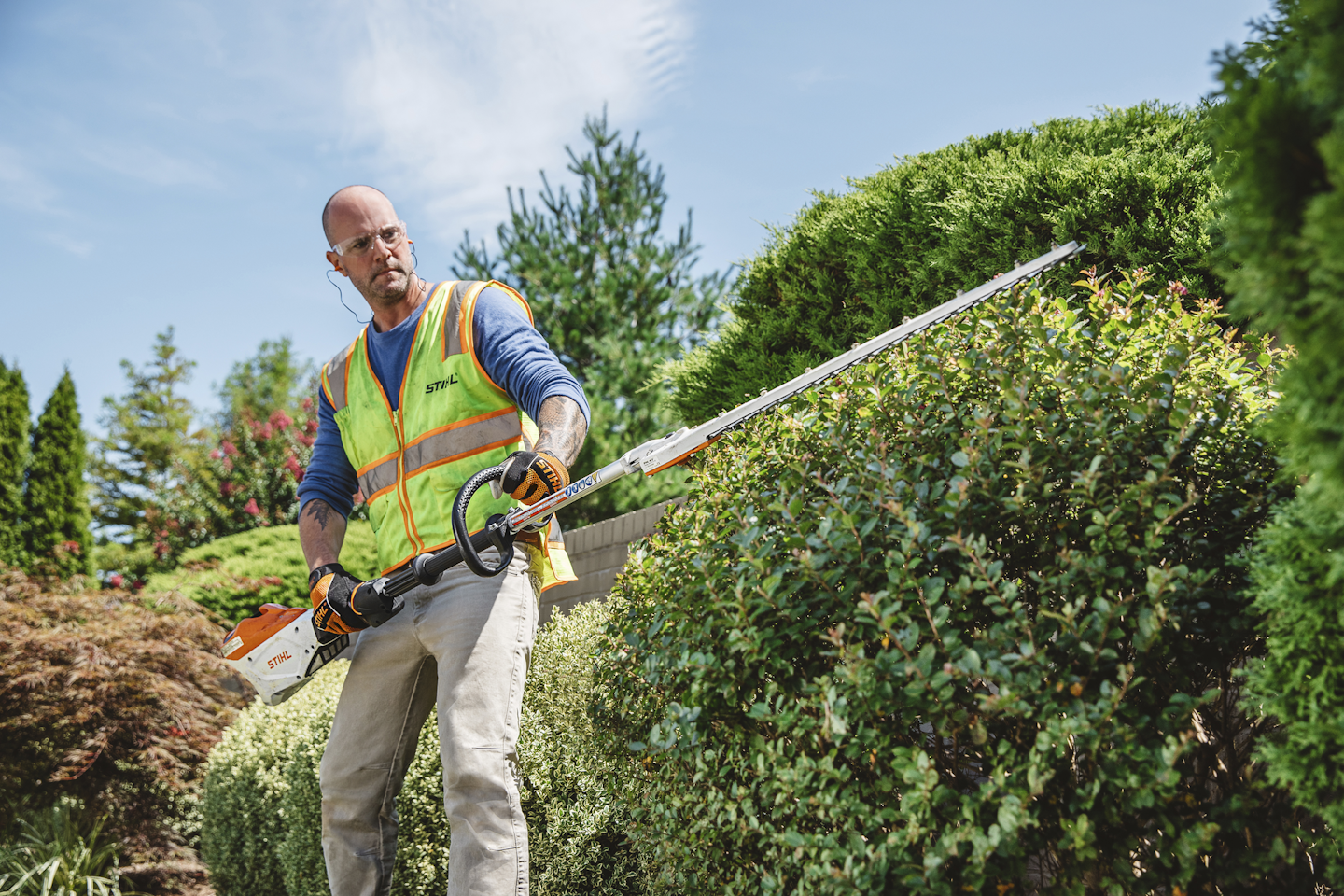 From a weight perspective, he says the battery-powered units are about 10 percent heavier compared to the gas. Users get the equivalent of a full tank of gas out of one charge. "If you're a landscaper and you're working all day, certainly, you're going to want to have a couple batteries on hand," Poluka says.
In addition to the 135 platform, the STIHL GTA 26 garden pruner will be adding a holster accessory for this already popular product.
Additionally, Poluka says 2021 will be an introduction of the HAS 26 garden shears, which is a battery-powered unit that accepts a hedge trimmer attachment for maintaining ornamental shrubs, as well as a grass blade.
"To me this makes perfect sense where you don't want to hold a large hedge trimmer all day long, this is a lighter, way easier to maneuver product," he says. Also, he notes the GTA certainly comes in handy when you don't have something to handle some of those thicken branches that don't quite warrant a chainsaw.
Pour in On
In July 2020, STIHL release the MS 500i chainsaw, an electronically controlled fuel injected chainsaw, to the market.
For the professional user you're probably thinking, why does that matter? According to product manager John Allen, it matters for three reasons:
It gives the saw, an excellent power-to-weight ratio.
It gives the professional user a simplified starting procedure. To start the saw basically you just purge it a few times and then pull, there's no choke for the user to engage.
It gives the saw awesome acceleration. When users pull the throttle, the chain accelerates from zero to 62 mph in a quarter of a second, one of the fastest acceleration times in the outdoor power equipment industry.
Allen says it is a large professional chainsaw recommended for tree care professionals, forestry professionals or landscapers that are dealing with large trees.
He says STIHL is discussing whether to offer the electric controlled fuel injection on future products in the STIHL line-up.
"The supply of this saw is not limited but the demand is very high," he says. "We're producing these as fast as we can produce them throughout the marketplace. They may or may not be on the dealer shelves just due to the incredible demand."
Next in the line-up is the MS 400 C-M chainsaw, which features the first magnesium alloy piston in a chainsaw.
Allen notes that the magnesium alloy piston, is 13 percent lighter than the piston out of the MS 362 and it allows 14 percent more displacement. "What does that mean for the professional user, we get a better power-to- weight ratio, out of this particular saw and we still have professional level power," he says.
Currently the magnesium alloy piston is only in the 400 C-M saw. This magnesium alloy has been used other places in the outdoor power equipment industry such as snowmobiles and dirt bikes and some racing applications. STIHL has taken the technology and incorporated it into a chainsaw.
In addition, Allen says the MS 400 features the STIHL M-Tronic engine management system which adjusts the carburetor to ensure peak operating conditions regardless of where the saw is being used.
With the 400 , STIHL is going after a very particular market of users in the US. Allen says they are targeting the professional tree care industry and those seeking a saw for commercial firewood applications.
"If you're a professional user that wants the most powerful saw that you can get but in a small package. If you're a professional landscape service and you need just a little bit bigger saw to deal with a little bit bigger of tree, then this is the saw for you," he says.
 Also, in 2021, Allen says STIHL is making some changes to the gas-powered pole pruners. Specifically, he says STIHL is launching a new, more durable metal gearbox on the end of the shaft with a durable metal branch.