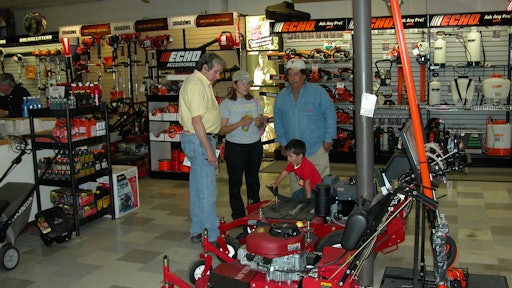 Echo Inc. and Kubota Tractor Corp. have announced a U.S. Dealer Alliance aimed at growing their combined sales within the commercial turf and consumer lawn and garden markets. As part of the alliance, Echo and Shindaiwa will become the "preferred brands" of handheld power equipment within the Kubota dealer network. The alliance also names Echo Bear Cat as a preferred brand of chippers, shredders, log splitters and wheeled trimmers.
Quite a few Kubota dealers have already been selling/servicing the Echo, Shindaiwa and/or Echo Bear Cat brands. But this alliance does three things:
Creates opportunity for more Kubota dealers to sell Echo, Shindaiwa and/or Echo Bear Cat
Creates incentives for Kubota dealers to emphasize the Echo, Shindaiwa and/or Bear Cat product lines in their dealerships
Establishes Kubota and Echo Inc. as marketing partners, to some degree, allowing the companies to pool resources to increase brand exposure and drive more consumers to Kubota/Echo Inc. dealerships
"There is a tremendous amount of synergy between our companies and brands," says Mike Best, Echo Inc.'s VP of sales and marketing. Echo Inc. and Kubota both have parent companies headquartered in Japan, and both are known for engineering and manufacturing professional-grade products that target both commercial users and large land owners. "By leveraging our common strengths, both companies will be well positioned for future growth in the months and years ahead," Best adds.
Opportunity to accelerate sales growth
From Echo Inc.'s perspective, the alliance creates an opportunity to sell its products through an additional 900-plus servicing dealerships. That's because just 160 or so of Kubota's roughly 1,100 dealers currently sell Echo, Echo Bear Cat and/or Shindaiwa products. Echo, Echo Bear Cat and/or Shindaiwa products have already been available at more than 6,400 dealerships.
From Kubota's perspective, the alliance helps its dealers to more efficiently and profitably provide additional types of commercial-grade power equipment to both current and potential new customers. "We are excited about the opportunity to bring Echo, Shindaiwa and Echo Bear Cat products into the Kubota dealer network," says Todd Stucke, Kubota's VP of agriculture and turf equipment. "These brands are well-known in the market and allow Kubota dealers to position a complete lineup of products to commercial landscapers and homeowners alike."
Setting up the new dealers
With more than 900 Kubota dealerships now eligible to become Echo, Bear Cat and/or Shindaiwa dealers, Echo Inc.'s opportunity is vast. "We are working with the Kubota sales team and our nine U.S. distributors to determine which dealers should be targeted first," Best points out. "It will be a collaborative effort to determine the targeted dealer list and make joint sales calls on those dealers." (Note: Echo Inc. products are shipped to regional distributors that then place those products in servicing dealerships. Kubota, on the other hand, ships product directly to servicing dealerships.)
A variety of criteria are being used to determine which Kubota dealers to approach first. "It's a combination of many things," Best explains. "We look at whether or not a given Kubota dealer is already selling handheld equipment and, if so, what that equipment is. We also look at the dealer's location and territory. We obviously want to target dealers that will allow us to see more immediate sales gains."
If a Kubota dealer does decide to take on Echo, Shindaiwa and/or Echo Bear Cat, that dealer can also sell competing brands of the same products if it chooses. "However, we expect that the future opportunities for cross promotion and access to Kubota retail financing will make the Echo, Shindaiwa and Echo Bear Cat lines more appealing for Kubota dealers," Stucke says.
Joint marketing
A series of joint sales and marketing programs will be rolled out this year. "Joint distributor meetings are ongoing," Stucke says. "As they are completed and details are finalized, the integration will begin and joint programs will be offered congruently. Kubota dealers that elect to take on the Echo contract through this alliance will have an opportunity to offer their customers financing through Kubota Credit Corp. Additionally, Kubota will support promotion of the Echo, Shindaiwa and Echo Bear Cat lines through a variety of joint marketing efforts."
"This alliance allows us (Echo Inc.) to leverage some of Kubota's marketing resources to build even more interest in Echo, Shindaiwa and Echo Bear Cat products," Best adds. "That helps us drive more consumers to our dealers—all of our dealers."
Effect on existing dealers
When manufacturer alliances like this are formed—as was the case in 2008 when John Deere and Stihl forged a similar alliance—not all dealers are overjoyed. For example, a dealer that has been selling/servicing Shindaiwa handheld equipment for years could now have another dealer across town, the Kubota dealer, also selling/servicing Shindaiwa equipment. In other words, the original dealer feels like he is "rewarded" for years of service by having another competitor placed in his market.
When you look at it that way, the strong emotions some dealers feel are understandable. One "Echo Inc." dealer expressed frustration that the Kubota-Echo announcement was made after he'd placed his spring inventory order. Now he, as a relatively small dealership, will likely have to compete with a big Kubota dealership in a small town with only so much market potential. Had he known that, he may not have ordered as much inventory for this year.
But Best says the geographic areas seeing dealer overlap will be few and far between. "When an issue does come up, we will work with our area distributor and the Kubota territory sales manager to work through it," Best says.
Additionally, Best adds, "Our distributors will be offering the Kubota dealers access to the same great programs they offer all dealers in their territory. Customers who shop in Kubota Tractor dealerships are typically very different than the customers who shop in a normal outdoor power equipment dealership. We expect very little channel conflict."
Some dealers tend to agree. Two that spoke with Green Industry Pros see this alliance as something that makes a lot of sense.
One Kubota dealer said, "I'm a believer that outdoor power equipment can play a large role in lifestyle, homeowner-type tractor dealerships. I don't see this arrangement as having as much of an effect on existing Echo dealers as the alliance with Deere had on Stihl dealers. In our market, Echo is typically being sold as a second or third handheld line at most dealerships. This alliance might make it easier for a Kubota dealer to get into handheld equipment, but I think most Kubota dealers that want to offer handheld already do." This dealer sells Kubota and Echo Bear Cat, but not Echo or Shindaiwa. With Stihl as this dealer's primary handheld line, the likelihood of adding Echo or Shindaiwa is slim.
Another dealer that sells all four brands (Kubota, Echo, Echo Bear Cat, Shindaiwa) doesn't see a downside. Of course, this dealer doesn't run the risk of getting a new competitor in town. "Maybe there will be some additional benefits and resources through the relationship that I'll benefit from," the dealer added.
Why this alliance, and why now?
Seeing major handheld equipment manufacturers align with major big-iron manufacturers makes one wonder if the existing dealer network has maxed out its potential. There is nowhere near the number of dealerships in existence today as there were 20 or even 10 years ago—and that number will likely continue to shrink. Those dealers still around today certainly have room to grow, but manufacturers looking to primarily sell through dealers undoubtedly have limited options. Thus, manufacturers like Echo Inc. must take steps to ensure that their products are placed in the best dealerships with the brightest futures.
"Independent dealers get to choose which brands they carry," Best reminds. "It's our job as a manufacturer to make dealers want to carry our brands. The way we do that is by offering great products with solid margins, along with breakthrough marketing that gets end-users going into dealers asking for our products. Nobody is forcing any dealers to do anything here.
"Echo Inc. has been growing steadily in the dealer channel over the last several years," Best continues. "In fact, we achieved record U.S. sales in 2013—and the majority of that growth came from the dealer channel. We certainly expect that this alliance will help us accelerate the already strong growth we have been experiencing in the dealer channel. We make great products. By putting these products in the Kubota dealer network, we will be able to give them more flexibility with farmers, ranchers, municipalities and landscapers who already shop at Kubota dealers."