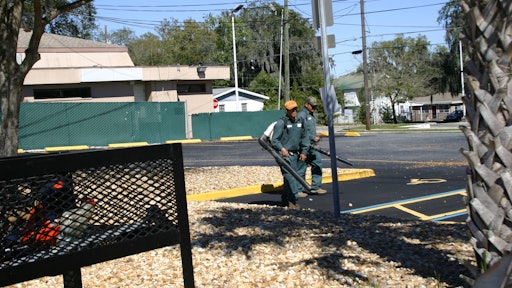 May 13, 2015 – A public hearing on the proposed amendments to the Fairfax County, VA, noise ordinance was held on May 12. A final decision on the amendments and their potential implementation has now been deferred until the June 23 Board of Supervisors' meeting.
Brian Worthy, of the Fairfax County Office of Public Affairs, said there was a relatively strong turnout at the May 12 hearing. Most of the roughly 30 people who attended were private individuals, along with a few community groups, who were voicing concerns and/or asking questions about the new ordinance. To the best of Worthy's knowledge, no one representing the landscaping industry attended the hearing, or at least voiced any opinions at the hearing.
Should the Board now vote to move forward with the amended noise ordinance at its June 23 meeting, the new rules will go into effect immediately that day. Due to the heightened interest from Fairfax County citizens, the Board wants to take its time and make sure everyone's concerns are taken into consideration, Worthy says.
---
Background on the proposed noise ordinance – The Board of Supervisors in Fairfax County, VA, has authorized a public hearing, set to take place on May 12, to examine a proposed noise ordinance for the County. The intent of the ordinance is to balance daily life with quality of life, limiting certain noises to specific hours, prohibiting them at night, and setting maximum decibel levels.
In a residential setting, the maximum allowable decibel rating would be 60 dB(A) from 7 a.m. to 10 p.m., and 55 dB(A) from 10 p.m. to 7 a.m.
Commercial-grade backpack leaf blowers are generally in the 70-plus range.
In looking specifically at lawn equipment, which would include lawnmowers, leaf blowers and string trimmers:
Prohibited from 9 p.m. to 7 a.m. when within 100 yards of a dwelling
Prohibited from 9 p.m. to 6 a.m. when beyond 100 yards of a dwelling
No leaf blowers could ever be used from 9 p.m. to 7 a.m.
Civil penalties for violating this proposed ordinance would start at $250, rising gradually to $500 for subsequent offenses.
Fairfax County is a wealthy county in Northern Virginia near Washington D.C. Average median household income is six figures. Visit the Fairfax County Website for more information on the proposed noise ordinance and tentative May 12 public hearing.