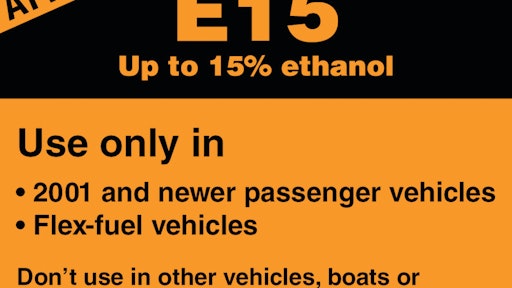 UPDATE FEBRUARY 25, 2013: The OPEI has issued another stern warning about E15 ethanol and its potential adverse effects on lawn and garden equipment.
A bulletin from OPEI says: Using E15 gasoline can cause engine failure and may void warranties. This restricted engine fuel is coming to a gas station near you, and this pump label (see photo) may be your only warning.
STORY ORIGINALLY PUBLISHED APRIL 2012:
The door has been opened for E15, fuel containing 15% ethanol, to make its way to the marketplace as early as this summer. Lawn equipment operators and their servicing dealers must remain diligent and work together in order to avoid potential equipment problems as a result.
According to the Outdoor Power Equipment Institute (OPEI), small engine-powered equipment is not designed to run on anything greater than E10. Improperly filling your lawn equipment with E15 could result in irreversible engine damage, in addition to exposing operators to a variety of safety risks.
The EPA has approved the first round of applications for registering ethanol use in making E15. As of April 9, there were 22 companies on the approval list. "This is the last federal hurdle before a fuel can be brought to market," says Kris Kiser, president and CEO of the OPEI.
E15 has essentially been approved for a subset of the auto fleet; model year 2001 and newer. However, a partial waiver has been issued and E15 is not approved for any non-road use. This includes boats, ATVs, and, of course, lawn and garden equipment. "The EPA knows this because when they tested it, it all failed," Kiser points out. "And by failed I mean (E15) destroyed the product."
It's up to you to avoid it
Although E15 is not approved for off-road use, consumers could still mistakenly put it in their lawn equipment. A label at the pump (see photo) is designed to warn consumers, but will likely prove to be largely ineffective, according to Kiser. Secondly, E15 will be less expensive than E10, encouraging today's more price-conscious consumer to go for the E15.
"For the first time in history, the paradigm has changed," Kiser says. "It has always been that whatever was safe to put in your car was safe to put in your equipment. Suddenly, in one fell swoop, that is no longer the case."
Not quite a done deal … yet
The OPEI, along with automakers and marine manufacturers, have vehemently opposed the introduction of E15. They even filed a legal challenge last fall. The case was heard on April 17.
"This case will probably be settled by late June," Kiser says. "If the court decides to vacate the partial waiver decision and send it back to the agency (EPA), the sale of E15 will be stopped. But it's technically available already."
Regardless, registration itself does not mean E15 can immediately be sold. The misfueling mitigation conditions of the waiver must be met before E15 can be lawfully sold. In addition to proper labeling at the pump, those conditions include:
Proper product transfer documentation that accompanies fuel shipments
Survey of compliance at retail dispensing facilities (gas stations)
In addition, other federal, state and local requirements must be addressed. For example, since a number of states restrict the sale of some gasoline-ethanol blends, state law changes may be needed before E15 may be sold in those states. The Renewable Fuels Association (RFA) says it will now focus on these states.
Some states—such Iowa, Illinois and Kansas—are already prepared for E15, and sales of E15 could commence as soon as all parties are registered with EPA and are implementing the Misfueling Mitigation Plan approved by EPA. Still, the RFA says that additional challenges, including pending litigation and anti-ethanol posturing by some in Congress, make predicting the exact timeframe for the growth of E15 sales volumes hard to predict.
Harmful effects of ethanol on small engines
Ethanol attracts water and separates (phase separation) in fuel to create a corrosive mixture that settles on the bottom of fuel tanks. Over time, ethanol-blended gasoline can corrode metal fuel components and deteriorate plastic and rubber fuel system components. In addition, oxygen in ethanol-blended fuels causes gasoline to decay faster, leaving varnish and sludge deposits over time.
These and other ethanol-blended fuel-related issues may result in engines that will not start or that run poorly, and may even ruin engines and other fuel system components. In extreme circumstances, an engine running on phase-separated fuel may run out of control, posing serious danger to the operator.
The following symptoms may occur when using E15 fuel:
Softening, cracking, swelling, drying of rubber and plastic components
Corrosion of the metal fuel system components
Water absorption which leads to fuel becoming more corrosive
Phase separation, which can completely ruin engines and fuel systems
Shorter life of the fuel with higher amounts of oxygen
Leaner running, causing heat problems