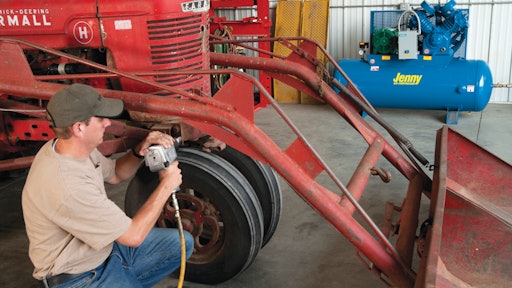 Many agree that the most important tool in the shop is the technician himself. However, what keeps a well-trained technician performing their best and providing high output are the tools at their disposal.
"The most important thing in the shop is the service technician," says Scott Fore, president at Heftee Industries. "It's critical to the operation and profitability of the service department that you have the very best technicians you can get and equip them with the tools they need to make money for you."
Air tools of the trade
The tools you need for the job vary depending on what pieces of equipment you specialize in. Air compressors power the air tools that save contractors time and fatigue when using the lightweight tool models.
Most air tools are light and stronger than their battery counterparts, allowing technicians to do more in less time with reduced fatigue. The tools also tend to have a longer life, making them and ideal fit for many shops. To power these tools, you need to find the air compressor that is right for your needs.
"Choose a compressor that meets the CFM requirements of your shop," says Dan Leiss of Jenny Products, manufacturer of compressors and generators. "You can calculate your CFM needs by totaling up the tools you run simultaneously. If you have 50 air tools but only run one at a time you don't need a compressor that has the ability to power all of them at once."
The Jenny Products website offers a lot of information on the different tipes of portable and stationary compressors as well as a tool for choosing the right compressor for your shop requirements (http://www.jennyproductsinc.com/howtochoose.html). Choosing the wrong compressor can lead to overhead in addition of time savings.
"If you have a postage stamp of a yard, you aren't going to buy a lawn tractor to mow it," explains Leiss. "If you get one that's larger than you need, then it sits in the back and becomes a utility."
Compressors can be easily split off to multiple workstations when "plumbed" along the wall and then from the wall to the work station with a hose.
Companies in this article