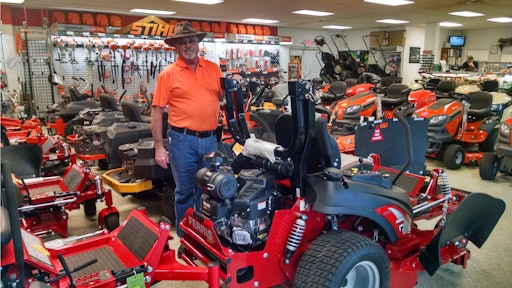 As a dealer who has been in business since 1973, Ronnie Lingerfelt of Athens Lawn & Garden in Athens, TN, has always been a carbureted engine guy. From Harleys to mowers, he always thought that if it wasn't carb, it wasn't worthy. In recent years, though, Ronnie has changed his tune and is now betting on EFI engines as the powerhouse of the future.
"EFI engines will follow the path of the zero-turn mower," Ronnie says. "When zero-turns came out, they weren't for everybody. Nowadays, they greatly outsell lawn tractors (in his business)."
Some of Ronnie's customers also showed initial reluctance to EFI technology. But once they saw and experienced the benefits, they were hooked.
"These engines are much more advanced and mean less headaches for the contractor," says Ronnie. "They have improved fuel economy, easy cold starts and reduced downtime. Once customers experience an EFI, they like them. I think most will continue to purchase EFI after that."
In his area specifically, which is mountainous, Ronnie says the EFI engines operate better than carbureted engines when at higher altitude levels and in changing atmospheric pressure changes.
Ronnie sells and services both Kohler and Briggs & Stratton Vanguard EFI engines. He says the new-to-market Briggs engines have performed well so far, and that learning from their predecessors may have helped them to enter the market more effectively.
"Like anything new, you have to get all the bugs out," explains Ronnie. "Briggs has learned from some of the things the other engine companies learned the hard way. They waited until all the bugs were out, and we haven't had issues with the Briggs EFI engines so far." Ronnie adds that the EFI engines on the market today from Kohler and Briggs are strong performers. Any kinks he experienced early on have been addressed.
Dealers invest in tools and training
Ronnie predicts that in the longer-term, most premium mowers will be powered by EFI technology. For now, as EFI takes a stronger hold on the market, dealers are forced to take action, investing time and money in tools and education. A contractor should be confident that the dealer servicing his EFI engine has a high level of competency.
"These engines are only being sold by dealers who are equipped to repair them," says Ronnie. "Dealers need to have their own computer system to diagnose and repair. You need more sophisticated technology, training and tools. We are large enough that we are doing that. I am afraid there are some smaller dealers where it will be a problem. The smaller dealers will have to either step up or move out."
Shade tree mechanics will have no place when it comes to EFI mowers, according to Ronnie. Unless they invest the money in the computer programs and training, they will be left to repair the remaining carbureted engines. For those dealers who do step up, once the systems are in place, it can be smooth sailing.
"Our staff has known the EFI was coming so they had to learn it," explains Ronnie. "Most everybody is scared of having to learn new technology. We send all of our service managers to service schools and they have learned it well—especially the younger generation. The younger generation is looking for new technology. It's a different world and EFI is definitely the future."
Before long, the future of Athens Lawn & Garden will be in the hands of that younger generation. Ronnie's 34-year-old son, Chad Lingerfelt, will soon take over. He is positioned to excel himself, with a strong knowledge of the market paired with some technological savvy.
Companies in this article