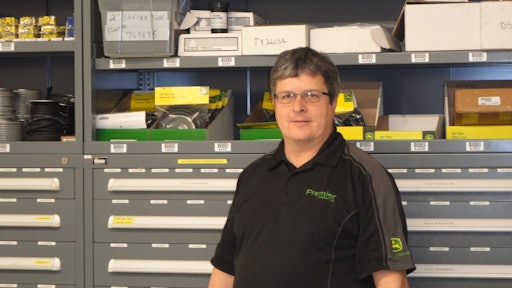 Brent Mitchell, territory sales manager for Stanley Storage & Workspace Systems
Premier Equipment Elmira, a John Deere dealer in Ontario, Canada, was looking to update its current facility into a more streamlined look that provided employees with more work space and more efficient storage. The decision was made to simply move to a new facility, a process that required the complete relocation of the dealership's parts, service and equipment departments.
The initial investment and potential downtime of a complete relocation—leading to lost sales and productivity—can be a daunting thought for any dealership owner or manager. A high-volume parts department with a large amount of inventory presents an especially challenging task. Undeterred, Leon Brubacher, Premier Equipment parts manager, forged ahead.
Choosing a cabinet supplier
After final building plans of the new dealership were complete, the first order of business was to design and outfit the interior with storage solutions that would save space and time, and be scalable with business growth. Having worked with Vidmar products in other locations, Brubacher knew he'd choose the storage cabinet manufacturer for the new location.
Brubacher was able to work directly with a Vidmar territory sales manager (TSM) on all of his project needs. From the onset of the project, Brubacher worked hand in hand with his TSM, Brent Mitchell, to understand his exact needs right down to drawer sizes. Having Mitchell to guide him through the planning process saved Brubacher a great deal of time.
"Vidmar's service and expertise made it easy for me to make decisions. Brent (Mitchell) provided surveys, drawings of our location, and storage solutions that fit our exact measurements," says Brubacher. "Once we assessed all of the options, it was clear that Vidmar was the best choice."
From design to installation
Vidmar's design process started before construction on the new building was even complete. Because of Vidmar's hands-on service, reps like Mitchell have the ability to lay out an entire parts department installation based only on engineering drawings.
The Premier Equipment Elmira project started with Mitchell drawing the planned cabinet installation into the new facility's blueprints in order for Brubacher to visualize the exact setup. The team established that the installation required flexibility to arrange drawers of various sizes, and the ability to custom-configure cabinet designs based on different departments' diverse needs and size requirements. Vidmar standard cabinets and overhead storage, along with Premier's existing shelving, were used to comprise the entire solution.
It's all in the preparation
The purchase of the cabinets was strategically made prior to the relocation. This allowed the cabinets to be pre-organized and inventoried before the move, a step that is critical to eliminate unnecessary downtime during the relocation.
The major disadvantage in using drawer and shelving combinations, rather than standalone cabinets, are that these units must be disassembled in order to move them and reassembled in the new location. Therefore, the units and inventory products are moved twice, rendering both the products and dealership inaccessible for a period of time. Any potential upfront savings can be lost in one or two days during the move, not to mention the inconvenience to customers who may be requiring parts during the move.
Vidmar's cabinets were pre-loaded with transferred inventory. Additionally, bin locations were updated, making the transition to the new facility very smooth.
"Ordering and pre-loading the cabinets before we moved was the key to a speedy and seamless move," explains Brubacher. "One person worked for about three months to do the re-binning, and then in one evening we moved and placed about 50 cabinets in the new location. It was so simple to pick up and move. We were done with the entire move in two days."
Not only did pre-loading the cabinets save time, but there were additional benefits as a byproduct of the decision to handle the move this way:
Inventory bin locations were all updated and corrected.
Inventory cycle counting was done while inventory was transferred.
The opportunity to purge dead stock eliminated unnecessary clutter.
Parts were always easily locatable throughout the move rather than strewn in a box.
The parts and service departments still functioned efficiently while the move was in process.
The end result was a professional, well-organized environment that consolidated inventory into a smaller footprint with fewer aisles. The new dealership provides ample room to grow, more efficient parts-picking due to less walking between aisles, and a tidier system of binning and labeling for larger products.
Special thanks to Brent Mitchell, territory sales manager for Stanley Storage & Workspace Systems, for helping create this article.