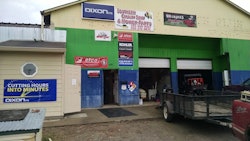 Compared to the average equipment dealer, Matt Thomas is a youngster. He's not a second- or third-generation dealer either. Perhaps it's that young, fresh approach that has allowed him to get to where he is today—and will allow him to reach his ultimate goal of being a serious seller/servicer of outdoor power equipment with a focus on professional landscape contractors.
Like the thousands of well-established dealers in business today, the 29-year-old Thomas is taking a familiar route. He started small—all by himself actually—repairing equipment. Then he started buying/repairing/selling used equipment. Then he started selling a modest offering of fast-moving parts. Then, spurred by customer requests, he started selling a modest offering of equipment, initially residential-grade chainsaws and string trimmers.
Now the dealership, Southern Chainsaw & Mower Parts in Henderson, NC, is approaching mid-level status. Thomas has four employees: two technicians and two in the office. Roughly 25% of the dealership's revenue comes from equipment sales, which now includes zero-turn mowers, a variety of handheld equipment, and aerators. The other three-quarters of revenue is split evenly between parts and service. Three-quarters of the dealership's business comes from everyday consumers, and the other 25% from landscape contractors.
"We want to treat all of our customers the same," Thomas says. "Still, our full-time contractor customers do get priority treatment on their repairs. That only makes sense because they need their equipment back right away. I have to earn their business, and fast turnaround is how I'm going to build relationships with these customers. I tell my employees, 'Our landscape contractor customers are their boss, not me.'"
From parts junkie to dealership owner
Thomas began developing a skillset in parts department management when he took a job with an auto dealership as a teenager. Selling and stocking parts, however, wasn't enough to satisfy his curiosity. He always wanted to know what each part did. It was this innate interest in mechanics that allowed Thomas to quickly pick up small engine repair when he grew tired of the auto parts business and began working for a small engine repair shop in town.
By virtue of a strange set of circumstances, Thomas ended up buying that business in the fall of 2007 at age 21. "My granddaddy helped me out so I could buy the business, basically for what the newer parts inventory was worth," Thomas recalls. "It was tough for a while. I saved every little penny I made so I could pay my rent and order new parts. The next March, I actually had to ask my granddad if he could cover my rent. I said that if it ever happened again, I'd just hang it up. But the next month (April 2008), things started really taking off. I was able to pay him back—for everything—come June."
In 2009, now with a year-plus under his belt, Thomas started buying/repairing/selling used equipment, namely chainsaws. More and more customers, though, were asking if he had any new ones. So Thomas worked with one of his distributors to start bringing in a few new models at a time (efco brand). They sold quickly. Next it was a few models of reconditioned Homelite string trimmers. They, too, sold quickly.
This easy-does-it approach continued for the next couple of years. One thing Thomas resisted was the urge to get into the homeowner mower business. With stiff competition coming from Lowe's, he simply saw no need—nor money—in going down that road.
By late-2011, though, Thomas had enough of a commercial customer base (for parts and service) that he saw an opportunity to ease into zero-turn mowers. In fact, it was one loyal commercial cutter in particular who helped get this ball rolling.
"He wanted to just do business with me, and needed to replace two of his mowers," Thomas tells. "He said that if I could get something comparable to the Hustler mowers he was looking to buy, and also beat the $21,000 price he'd have to pay for the two mowers, he'd buy from me. So I got a hold of my rep from Carswell Distributing. He said the same company making Hustler mowers also made these BigDog mowers.
"My rep got me set up with financing so I could bring in two BigDog Diablo models," Thomas continues. "I let the contractor try them out. He loved them, and they retailed for $9,500 each. So he bought the two mowers for $19,000. I got a check from the retail financing company (Sheffield), paid my floorplan finance company (GE, now Synchrony Financial), and put a nice little profit in my pocket. That was a really good feeling."
Southern Chainsaw & Mower Parts has gradually built up its zero-turn business since then, along with other product lines—all sourced from Carswell Distributing. "Now I have BigDog mowers, BOB-CAT mowers, a full Jonsered line, Little Wonder ... I am flat-out filled up in here; I have no more room."
Crazy, or the Walgreens of power equipment?
Like many dealers, Southern Chainsaw & Mower Parts built up a following of commercial cutters through reliable service. Thomas had another trick up his sleeve, though—a trick that retail powerhouses such as Walgreens use all the time.
"I knew we needed something that would make us stand out and get people to remember us and want to come into our store," Thomas relates. "I thought about what we could sell dirt cheap that we sell a lot of. I decided that was chainsaw chain and lawnmower blades.
"The big competitor I had on blades was Agri Supply in Garner (50 miles away). I looked at their prices. I knew I could beat them and still make a decent profit. I also knew that if I bought more blades from my distributor, the price I had to pay would be better and my profit would go up. So I got with my distributor (RBI Corp. based in Ashland, VA) for Oregon blades and told them what I was thinking about doing. My rep said, 'Matt, go for it. If it doesn't work out, you can always stop.'"
But it has worked out, and Thomas doesn't plan on stopping. "Some customers' jaws drop when they see our blade prices," Thomas relates. "The only advertising I did was one newspaper flyer; it was really all word of mouth. But it just skyrocketed."
So did the blood pressure of some other area dealers, as you might expect. Nobody likes getting into price wars. But this concept of velocity-based pricing, where fast-moving items are competitively priced at a lower gross margin, is something Thomas believes is necessary in today's world where online shopping is becoming more commonplace. "If my price isn't competitive, most of my customers will just go online and buy their blades," he points out.
One area Thomas is very hesitant to discount, however, is his service labor. He charges $72/hour, which puts him in the top 40% of power equipment dealers according to a fall 2014 survey of dealers subscribed to Green Industry Pros magazine.
"All of my suppliers have agreed to pay this rate when I'm doing warranty work," Thomas points out. "So if a customer asks why we charge that much, I tell them our price is what the book calls for. Furthermore, our labor rate is how our technicians make a living. We have a lot of overhead to cover, so we have to charge what we have to charge in order to do a good job and guarantee our repair labor the way we do."
To all servicing dealers, that's what it's really all about; providing expert technical service and charging a fair price for it. To the newer guys like Thomas, who are competing against both well-established brick-and-mortar dealerships and newly emerging online sellers, the retail side of the game sometimes calls for a little creativity.
Creativity aside, Thomas now realizes his growing dealership also calls for some operational efficiencies. He's expecting to computerize the dealership later this year and invest nearly $4,000 in a business management system called P.O.S. Linker. "We can afford to do this type of thing now," Thomas exclaims.
Truth be told, Thomas probably can't afford not to. With four employees and a continually expanding customer base, Southern Chainsaw & Mowers Parts is hoping to take that next step and become more of a sales-and-servicing dealer, as opposed to the "servicing with a little bit of sales" model it has now. It takes time. But at just 29, Thomas says he has nothing but time.
To help take that next step, Thomas is seriously thinking about opening a second store 50 miles to the east in Roanoke Rapids. Thomas went to high school there and knows the area well. It's a town of about the same size as Henderson, but a bit more upscale.
Thomas says his younger brother, Brian, would manage the existing Henderson store while Thomas focuses on getting Roanoke Rapids up and running. Thomas has been looking at potential sites for the new store, but nothing is set in stone just yet. But he's looking. And he's thinking—always thinking.
"I'm pretty sure that the way we've done things in Henderson would also work very well in a place like Roanoke Rapids," Thomas says. If things come together, he'll be finding out sooner than later.