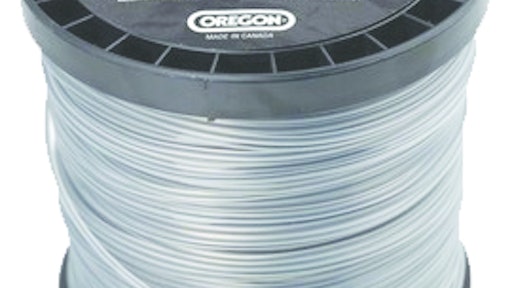 Time is money, and when commercial landscapers find themselves spending more and more time adjusting, replacing or repairing trimmer line, it starts to cost money! One of the easiest ways to keep a string trimmer performing starts with the trimmer line itself. Here are a few tips from the landscape part specialists at ProParts Direct.
Storage. Keep the line cool and out of the sun. A spool of line stored in direct sun runs the risk of UV rays breaking down the line, making it brittle. Commercial-grade line will stand up to rocks, weeds and other obstacles, but trimmer line baking in the sun will require more time and attention. The trimmer and especially the trimmer head suffer unnecessary wear when the user calls for more line with the bump feed.
Winding. Properly winding the trimmer head prevents snags, breaks and uneven line dispensing. Wound too tight—or even too loose—one side of the trimmer line will get stuck in the trimmer head. Trying to correct with a bump feed only dispenses line to one side, resulting in an imbalanced trimmer that won't perform. Evenly wrap the trimmer line on the head as straight as possible. Keeping the line smooth without over tightening will ensure the trimmer line dispenses evenly.
Throttle. Avoid running the trimmer at full throttle. A trimmer head that spins at full speed generates quite a bit of heat. Line in the trimmer head will melt and rejoin with itself in a process called line welding. Once the line has melted, the trimmer head has to be pulled apart in a time-consuming repair.
Cutting zone. Get more power and a cleaner cut when cutting closer to the end of the line. In other words, focus on making cuts as far away from the center of the trimmer head as possible. A more efficient cut means less wear on the trimmer and puts the line to use like it was designed.
Color might matter. Selecting the type of trimmer line is a personal preference. With a variety of shapes and sizes, there are numerous options to meet the needs of any operator and/or jobsite. Another consideration when buying trimmer line is its color. Green or darker-colored lines are popular choices because broken pieces disappear into the grass unlike a brighter-colored line.
Information courtesy of ProParts Direct, an online retailer of parts and equipment for professionals and homeowners that has been serving the lawn industry for over 75 years.