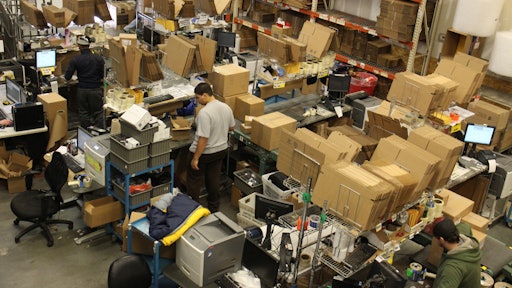 According to a CNBC article, online sales this past Cyber Monday were up 16%—surpassing even cyber-marketers' expectations and topping the $3 billion mark for the first time. The article also pointed out that, according to some retail data, in-store sales over the Black Friday weekend were down about 10%. Keep in mind that in-store activity was still enormous and that the Black Friday concept is still very much alive. But you cannot dispute the fact that more people are turning to their computers, phones and tablets to do their shopping.
That's also true when it comes to outdoor power equipment. It has to be true or there wouldn't be so many traditional brick-and-mortar dealerships that are now collectively selling millions of dollars' worth of parts online. Some are even selling millions of dollars' worth of equipment.
We talked to three such dealers. They continue to operate successful brick-and-mortar dealerships. They were also pioneers in the business of selling parts online, and continue to evolve their internet parts operations today.
How three pioneers got started
Replacement Commercial Parts Warehouse (rcpw.com). Sohar's All Season Mower Service in Macedonia, OH, originated in 1980. The dealership then established a mail-order business in 1992 before making its first venture onto the internet in 1994. A couple of years later, Sohar's launched a sister company called Replacement Commercial Parts Warehouse (RCPW).
"There was a lot of effort during those early years," says Vic Sohar, dealership founder and e-sales supervisor. The dealership actually started out with wholegoods (go-karts) in its mail-order business. "We didn't make much money at it, but it was a test," Sohar relates. "The manufacturer didn't like what we were doing, bumped our prices, and refused to drop-ship. So that was that. Then we started mail-order marketing of snowplow parts."
That was about the time Sohar began working on a database of snowplow and power equipment parts to put on the dealership's new website. He started with Tecumseh, and gradually added four or five more leading OEMs. "At first, everything was done by email," Sohar says. "People saw a part on our site and emailed us, and we'd respond to get their credit card information and ship the order. There were no online shopping carts back then. When the shopping cart came about in the late-90s, that's when things really took off."
ProParts Direct (propartsdirect.net). Dealers Bruce Yennaco and Joe Chevalier partnered in 2007, combining their two New Hampshire dealerships to create Turf Depot. They acquired two more dealerships in 2015. The duo also owns ProParts Direct. Operated out of the dealership's Salem, NH, location, ProParts mails roughly 18,000 printed catalogs a year nationally. Some of that catalog business has naturally migrated to the ProParts website.
"When we started in 1996, there weren't many dealers specifically trying to fill the commercial landscaper's needs," says Edward Proulx, marketing coordinator and e-commerce director for ProParts Direct and Turf Depot. "As we started to identify the market and what was important to the landscaper, the paperback catalog was instrumental in getting landscapers in the door and expanding our reach. Then, as every dealer was being pitched the idea that they had to be online in the late-90s, we started our first evolution of ProParts. Our site started out as a single page on our dealership's website, and evolved as the web evolved and our business grew."
Jacks Small Engines (jackssmallengines.com). After becoming the area's go-to guy for lawnmower and generator repairs while still working full-time at IBM, Jack Cumberland started a small retail/repair shop in 1990 called Jack's Small Engines & Generator Service in Jarrettsville, MD. Several years later, a severe drought hit the area. Jack thought to himself: It's gotta' be raining somewhere.
That was 1997—right when this new invention called the internet was starting to take shape. Jack said to his son John, "I think this internet thing is really going to be big someday." John agreed, and away they went. Jack is retired these days, but John continues to run both the dealership and online store.
"In 1997 when we got started, it was the very early stages of online commerce," says John Cumberland, who had just graduated college and was working as a web developer at the time. "We launched our site and listed some of our parts. Then our first order came in from Hawaii. A light bulb went on." By 2000 he left his full-time job and fully immersed himself in the family business.
Supply chain strain
In those early days of the late-90s, there was a lot of uncertainty for dealers stepping into the online arena. One thing they could expect was at least some degree of resistance from some suppliers.
"If dealers talked about selling something online in the mid-90s, there was huge pushback from OEMs," Sohar recalls. "Many wouldn't even sign me to sell their parts if I was going to try selling online." That attitude gradually started to change as online shopping became more commonplace around 2005.
Until that time, though, Sohar had to find a workaround. He established Replacement Commercial Parts Warehouse as a completely separate company, which then purchased parts from the dealership. Legally, there wasn't much a manufacturer could do about that. "But quite a few people hated me," Sohar says.
Quite honestly, Sohar adds, some distributors still don't see eye to eye with him yet today. But times have changed, and the reality of online shopping is just too real to ignore.
"The distributor model and concept of territory lines is being made outdated quickly as today's customers expect next-day shipping and low prices," Proulx chimes in. "This is a notion forced as an online standard by sites like Amazon and eBay. For a while, a lot of suppliers were on board with drop-ship, but have quickly reversed their tunes—selecting what type of parts are eligible for drop-ship, raising prices, and/or not offering residential drop-ship—as they've realized the support needed to pick and ship parts. In our industry, moving iron is still the game. Selling parts is just a byproduct."
But parts are an important byproduct, make no mistake. For every dollar a dealer or manufacturer makes in equipment sales, they'll likely sell 10 or 20 cents in parts. This is an opportunity that cannot—and will not—be neglected by the green industry's supply channel.
"Now a few manufacturers are starting to get into the online parts business," Proulx points out. "We'll see how this goes. But once they figure it out, I can see us directly competing with the OEMs we represent."
Sohar sees this as a more imminent threat. "Manufacturers have already taken some of the online parts business," he says.
Cyber commitment
Perhaps the manufacturers or distributors are the ones best suited to serve the online marketplace. After all, not every brick-and-mortar dealer can do what the likes of RCPW, Jacks, ProParts and a few others have done.
"It takes quite an investment to get into e-commerce," Cumberland says. First, website design and functionality—not to mention overall IT support—take on a critical level of importance. Second is the inventory. Jacks, for example, has several million dollars in parts inventory—along with a dedicated staff of several dozen to help manage it. Jacks even had to construct a new, dedicated 20,000-square-foot warehouse in 2009 to accommodate growth and adequately serve customers. Parts staff has also switched from a system of paper tickets to digital picking with bar-coded parts and mobile scanners.
RCPW runs its online operation out of the dealership. "We have a pretty big facility, though, and split the inventories apart," Sohar explains. "We have a team that strictly handles all of our internet sales, phone orders and mail orders. We run about 12 people in that department. During the heavy season in April and May, we might get up to around 16. We also have a full-time IT staff of four."
Up in New Hampshire, Proulx says ProParts Direct's catalog is still the driving force. "We continue to mail out around 18,000 copies a year," Proulx says. "Our customers still like to have a printed copy in their hand. Now we also offer a version of our catalog online. But that printed catalog drives customers to our website to make a purchase, and also reminds them that they can call in for better service. Some items are better ordered when speaking to a live person."
As mentioned earlier, ProParts Direct is operated out of the dealership's Salem, NH, location. "We use our existing parts staff which helps keep overhead low," Proulx says. Some of that staff is assigned to the online and mail orders. "We overall structure our shipping department to be capable of handling a large volume of orders," Proulx adds.
Still the servicing dealer advantage
In the world of online commerce, some assume that it's all about price. There is some degree of truth to that, but "lowest price" is not the be-all end-all.
"We offer MSRP pricing online and will match pricing in the dealership if asked," Proulx says. "Our in-dealership pricing is higher because the online customer is doing the work looking up the part, and they are responsible for the return if they order the wrong thing. In the dealership, we have trained parts personnel with years of experience. You must never be afraid to charge for your experience and service. That being said, we are never afraid to work with a customer and adjust accordingly when appropriate."
Sohar says the logistics involved in running a sizable online parts operation can be intense. He wants all requested items in stock, or at least readily available from a supplier so he can get his hands on something faster than his competition. "We've been doing this so long that we have distributors we work with all over the country," Sohar says. His policy is to stock a given part if it sells three times a year in the dealership. Online, though, the part must sell five times before Sohar stocks it.
"Service is still what sells," Sohar continues. "Anybody can sell parts online. But you have to service that customer. The technical service part of this is huge; having the part, explaining the part. Some companies just sell it and offer no support. That's not good because then it just becomes a price war."
Sohar says you have to build an online parts business the same way you build a successful brick-and-mortar dealership. "There are so many who have tried this over the years who aren't around anymore," Sohar tells. "They sold at really low prices. There's a lot that goes into this, though. I don't get people who offer free shipping. We buy a tremendous amount of inventory and get the best pricing, and we can't afford to give shipping away. There has to be more to it than that."
"We've seen many online competitors come and go over the years," Cumberland concurs. "But just like any business, you have to build it. Over time we've continued to adapt and build our website out. We added more and more parts. We've added parts diagrams and a parts lookup feature. We've added helpful how-to articles and videos. We add pictures and go through redesigns all of the time.
"The most important thing to have is great service," Cumberland continues. "There will always be someone cheaper; you're one click away from finding something cheaper online. But we want to offer more value than that. If you have a problem, we're going to take care of it. It's just like a normal, local dealership. People can drive around to other dealers, but they stick with people they can trust."
Cumberland says roughly 90% of Jacks Small Engines' revenue is now generated online. Still, the brick-and-mortar dealership is a very important part of the overall business. The two go hand in hand.
"First of all, having a strong local retail business gives you (the dealer) access to a given product line," Cumberland points out. "And you have to have a good knowledge base as a dealer because most of the time when a customer calls or comes into a dealership looking for a part, he has no idea what part number he's even looking for. You need to be able to help the customer." It is that same knowledge and understanding of what service means to the typical power equipment customer that helps a brick-and-mortar dealer who branches into the online game.
Once online and doing a decent volume there, the dealership can now benefit because it is probably able to carry a larger and/or more expansive parts inventory. "Our in-store fill rate is excellent, which is why we're now drawing more walk-in customers from a bigger area," Cumberland says. "We've become known as the dealership that will have just about anything you're looking for."
According to Cumberland, one thing to think about is that if you're a brick-and-mortar dealership and you break into internet sales, it could end up hurting you. "It's a whole different ballgame," Cumberland says. "It's demanding. We answer hundreds of emails that result in no sale. So it can distract you from your store business."
All three dealers featured in this article seem to have done a splendid job of balancing the needs of the brick-and-mortar dealership with the needs of a growing, evolving online parts business. It hasn't been easy, and new challenges loom on the horizon.
"We're all concerned about regulation and sales tax issues," Sohar shares. Additionally, online retail powerhouses like Amazon pose a threat. "If they see something that's really selling, they'll take you out of the game and start selling it themselves."
As you can see, dealers always end up competing against big boxes—even in the online world. The dealer's best weapons are still product knowledge and customer service. The trick is that customer service in the "gotta' have it now" online world is held to a whole new standard. Some think the dealer could use some help.
"One change that has to be made at the manufacturer and distributor level on some brands is the level of importance on parts and service," Proulx says. "For a part to be sitting on a dock or not picked because there is an order minimum is heart breaking. The end-customer does not care. The dealer spends a lot of resources in putting the part online, advertising it and getting the customer to order it. But then the dealer has to email the customer back because there was a $25 minimum order, and the dealer risks losing a customer and maybe getting a bad review.
"There are more than 5 million SKUs in this industry, making it impossible to stock everything," Proulx continues. "The rest of the world is moving quickly, but the parts end of the power equipment business is stuck in 1980. That is a major obstacle as an industry if we are to grow the parts business."
All of that aside, Proulx agrees with Sohar and says the bigger concern is Amazon. "A little Amazon rumor is that they are working on their own parts lookup program and are well into development," Proulx says. "I presume it's similar to how they did the automotive industry about 10 years ago. Once they launch it, the backing and resources Amazon has will be hard to compete against. But not all will be lost. Customer service is something we can all compete on, because customer service is not something you can get from a drone."