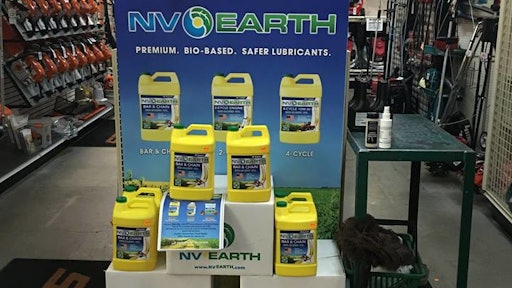 A leading Southern California landscape management firm has begun using bio-based lubricants to protect both its equipment and the environment.
Stay Green, based in Santa Clarita, CA, has over 350 employees and has been serving commercial clients throughout Southern California for the past 46 years. The family owned company has led the charge to lower carbon emissions and environmental impact by using recycled products, organic fertilizers, propane-based mowers and smart water management systems.
Stay Green has also begun using bio-based, high-performance lubricants from a company called Dynamic Green Products. Stay Green has been using both NV Earth two-cycle oil and bar & chain oil in its chainsaws, leaf blowers, string trimmers and hedge trimmers. The company buys the NV Earth products from distributor Ewing Irrigation & Landscape Supply.
"Our core values revolve around safety, environmental stewardship and lowering carbon emissions wherever possible," says Stay Green CEO Chris Angelo. "NV Earth lubricants offer a no-compromise addition to these values and further increase the safety for our employees and the community."
It adds up
After months of consideration and testing, Angelo and his team determined that NV Earth lubricants delivered outstanding protection and performance for Stay Green's outdoor power equipment. Upon implementation, Stay Green will immediately lower its overall emissions profile as NV Earth lubricants produce less exhaust and the manufacturing carbon footprint is 35-57% lower than conventional petroleum oils.
"You're always skeptical of new products and it was hard to believe a green oil could outperform conventional petroleum," said Stay Green Operations Manager Dee Sanders. "But seeing is believing, and all our testing pointed to one conclusion: There is no reason not to use them as they perform the same or better and it's the right thing to do in terms of sustainability. It really is a no-brainer for us to switch." 
Stay Green has proven that being socially responsible is good business and one of the many reasons why they are so respected by customers and the landscape services industry. "It's such an honor to work with a visionary company like Stay Green that puts their employees, their customers and the environment first," said Mark Hornberger, VP of Business Development for Dynamic Green Products. "They truly understand the long-term cost benefits and multiple advantages NV Earth lubricants provide to their bottom line."
Product availability
NV Earth outdoor power equipment lubricants are being launched across the nation and are currently being used by professional landscapers, golf courses, cities, schools, parks, fire, forestry and arborists.
The products can already be found at GreenThumb International, Citrus Heights Mower, JT Sales, Line Gear, Worldwide Management, AutoBeGreen, Amazon, A-OK power equipment, and 7Cs Maintenance. Furthermore, Dynamic Green Products will begin selling through Orgill's global dealer network and online starting January 2017, as well as through Ewing stores and online.
Dynamic Green Products is actively looking for additional regional and national distributors that currently participate in the outdoor power equipment, lawn care or general municipal sales markets. "In particular, we are seeking partners interested in distinguishing themselves from their competition and offering NV Earth as a flagship/lead line to their customers," Hornberger says.
The lineup of NV Earth OPE lubricants include:
Bar & Chain Oil-Ultimate biodegradable, over 600° F flash point and high tack
2 Cycle Air Cooled Oil-Reduced Emissions, Prevents Carbon Build-up and BioPreferred
4 Cycle 10W30 and 10W40 Oil-Superior Lubrication, Biodegradable and BioPreferred.