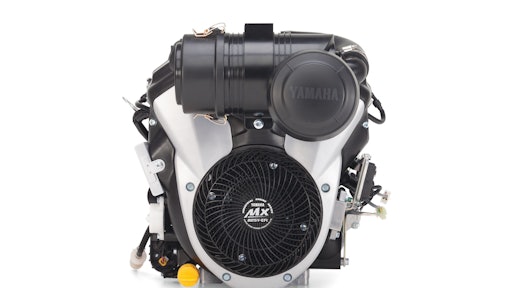 As pointed out in our story on battery-powered equipment, shipment statistics from the Outdoor Power Equipment Institute (OPEI) show that electric-powered string trimmers, hedgetrimmers and blowers now outpace gas-powered. That said, when it comes to things like chainsaws, lawnmowers and other larger equipment, gasoline engines are still leading the pack.
Gasoline engines have evolved quite a bit themselves. Leading manufacturers continue to develop new innovations to help contractors and even weekend warriors reduce fuel and oil usage, along with the overall time spent on engine maintenance and service.
Make way for a new engine player
Yamaha made big news this past fall when it introduced its first lawn and garden engine series. That news was followed up by the announcement that Yamaha would be acquiring Subaru Industrial Power Products, a deal which is expected to be closed by October. As part of the acquisition, technology relating to Subaru's EH65, EH72 and EH65V V-Twin Overhead Valve multi-purpose engines—used in large generators and lawnmowers—will be transferred to Yamaha.
"The lawn and garden market is a growing market, and is definitely a place Yamaha wants to be," says Derek Schoeberle, business planning manager for Yamaha's Outdoor Power Equipment Group.
More details on the Subaru acquisition should be available later this year as the deal evolves. In the meantime, Yamaha has been focused on launching its new three-model MXV-EFI Vertical V-Twin engine series into the market. This year you'll find the engines on select zero-turn mower models from Gravely and Bad Boy. Going forward, Yamaha is looking for its engines to be expanded into other manufacturers' lineups.
"This year our primary focus was definitely zero-turn mowers," says DJ Murdock, Yamaha's application and sales engineer. "But the MXV-EFI is just the first step in establishing a complete V-Twin lineup for lawn and garden."
While developing its MXV-EFI engines, Yamaha worked particularly closely with Gravely to gather insights into the needs of professional mower operators. Along with easier service access, Yamaha engineers focused on things like vibration and noise.
"We looked at the engine block size itself," Murdock adds. "Our MXV-EFI Series represents that kind of mid-range block size of 800 to 850cc because that seems to be the primary engine of choice for professional landscapers—and Yamaha wants to establish itself as a premium choice for that customer. This size engine, with EFI, gave us our best opportunity to enter into the lawn and garden market."
It's not so much the electronic fuel injection system that makes Yamaha's MXV-EFI Series unique. "We use a proven Delphi EFI system," Murdock points out. "For us, it's the engine design itself. We have a ground-up engine design specifically for the zero-turn market. We've designed our engines to fully utilize the potential that is offered by EFI. For example, we have a 75° V-bank that is much narrower, allowing easier access for maintenance. We also have a three-valve cylinder with hemispherical head shape."
Although new to the lawn and garden industry, Yamaha is off and running where product distribution is concerned. Yamaha has six U.S. distributors providing products, parts and support to an expansive network of servicing dealers. Bad Boy dealers will be working with those distributors. Additionally, Yamaha is working directly with Ariens/Gravely dealers. "That approach is somewhat new for the lawn and garden industry," Murdock points out. "We want to be the engine company that is easiest to do business with for these OEMs." (Note: Gravely sells directly to dealers and bypasses the distributor layer.)
Ongoing emphasis on EFI
One engine manufacturer that is not new to the lawn and garden space is Kawasaki. Its new engine for 2017, the FX850V-EFI, builds upon the company's more recent push into electronic fuel injection over the past couple of years.
"The new FX850V-EFI is available in 29.5 certified horsepower," says Troy Smith, Kawasaki's supervisor of applications engineering. "It shares some proven fuel-injection components with the FX730V-EFI, most notably the throttle-body ECU. This throttle-body ECU has been specifically designed for use across multiple engine sizes, but is specifically calibrated to each engine model and horsepower specified."
The FX730V-EFI (25.5 hp) was introduced in late 2015. Kawasaki's first EFI engine, the 25.5-hp FS730V-EFI, was introduced in late 2014. "OEMs have had a positive reaction in testing the EFI engines along with being very excited about the electronic governor control," Smith points out. "The e-governor allows OEMs to better design their machines for zero speed loss, which means the cut quality and blade tip speeds stays at its maximum potential. Also with the e-governor, ground speed is maintained through heavy cutting conditions."
Smith says Kawasaki's EFI system was designed for multiple engine sizes. "So we are working towards a complete lineup with additional engines coming out in the future. We will have EFIs available as the market calls for them and as landscapers realize their benefits."
Kohler has been answering the call for many years, now offering more than 30 EFI engine models. One of its new engines for 2017, the Aegis EFI, represents the company's first liquid-cooled EFI model.
"The liquid-cooled design integrated into the Aegis EFI translates into less wear and tear, fewer repairs and more power in a smaller frame," says Eric Hudak, Kohler's marketing manager for consumer ride and walk engines. The 30-hp Aegis EFI is ideal for heavy-duty applications including utility vehicles and construction equipment.
EFI is becoming so mainstream that Kohler is even helping to place the technology in the consumer mower market. Kohler's 7500 Series EFI is its first EFI engine for everyday consumers. "Consumers appreciate EFI technology because of the ease of starting," Hudak says. "The choke is eliminated and it starts just like their car. With our 7500 EFI, they can simply turn the key and go mow."
Easier servicing, and less of it
On the commercial side, operators are more interested in the fuel savings afforded by EFI because they are mowing all day long for several days straight. But one thing both pros and consumers are interested in is the reduced maintenance associated with EFI engines (i.e. no carburetor).
On the topic of reduced maintenance, Kohler has introduced another new product for 2017. This engine does not have EFI. What Kohler's 7000 Series Pro engine does have is a professional-grade cylindrical air filter for enhanced service intervals. The engine can be found on higher-end consumer-grade mowers, such as Hustler's Raptor SD, which are also often used for light-commercial duty.
"Consumers are spending a good deal of money on zero-turn mowers where this engine will be positioned, and they want to know that their investment will last," Hudak says. "This air filter helps protect that investment with increased air filtration capability. We've worked hard to make this feature affordable to consumers."
Honda Engines has also been focusing on air filtration. Its newly designed Cyclone Air Cleaner is now available on select Honda GX Series commercial engine models: the Honda GX160, GX200, GX270 and GX390. This filtration system provides a "cyclonic" action within the air filter cavity to separate the heavier airborne particles so the engine can breathe through the filter better. The user can then open the cyclone canister and shake out the particulates during maintenance cycles.
"Honda GX Cyclone Air Cleaner models can be found on most types of equipment that are subjected to environments where a lot of dust or particulates are in the air," says Michael Rickey, senior manager of engines and export sales for Honda Engines. "Some examples would be concrete cutting and polishing equipment. Normal air filter engine models may not operate well in these environments because the particulates tend to coat or 'plug' the standard-type filtration that exists. Many of our industrial OEMs such as Allen Engineering, Multiquip, Wacker, Whiteman and many of the OEMs that our engine distributors manage use these engine models on equipment that is exposed to high-particulate or high-dust environments."
Last year Briggs & Stratton Commercial Power introduced a five-step cyclonic debris management system for commercial mowers and other high-debris applications on its Commercial Series V-Twin engine line. This year the company has turned its attention to another important topic: lubrication.
The Vanguard Oil Guard System has been added to the Vanguard 810 and Big Block commercial engine series. Developed in conjunction with Ferris mowers, a Briggs & Stratton sister brand, Oil Guard is initially being offered on six models of Ferris commercial mowers for the 2017 season. The Vanguard Oil Guard System is expected to be available to other commercial mower manufacturers within the next couple of years.
"For the 2017 cutting season, though, we're focused on a successful user experience for Ferris customers who choose a unit equipped with Oil Guard," says Jim Cross, marketing manager for Briggs & Stratton Commercial Power.
Oil Guard allows landscape contractors to operate a commercial mower for 500 hours between oil changes. Additionally, oil changes are tool-less, faster, and overall more convenient. "With the EZ Drain tube and exclusive cartridge-style oil filter located at the top of the oil reservoir, performing an oil change on a unit featuring the Oil Guard system requires no tools or special skills," Cross explains.
"It's still important to check the oil level on a regular basis," Cross continues. "The potential to run a unit out of oil and cause a catastrophic failure is greatly reduced with Vanguard's Oil Guard system. But you still must maintain recommended oil levels."
As technology and innovations make engines and the equipment they power more efficient and productive, the operator still has to take responsibility for protecting his or her investment. Engine manufacturers are just making that a lot easier to do these days.