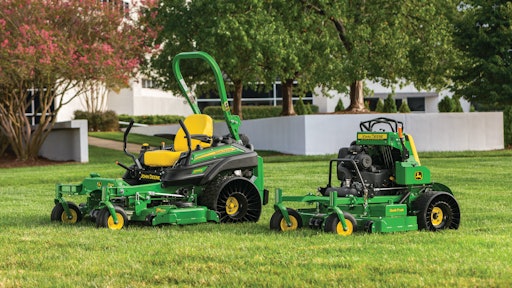 John Schlechter and his wife, Eleanor, founded Everglades Equipment Group in 1963. The John Deere dealership has since expanded from one to 17 locations across central and southern Florida. Now headed by their son Mike Schlechter, Everglades president and CEO, and his brothers, the company provides a wide range of equipment offerings and services to its customers.
While the dealership's initial focus was large agricultural equipment, over 60 percent of last year's sales came from outside the ag market. According to Josh Coffman, the commercial and consumer equipment coordinator, Everglades Equipment Group was able to diversify its customer base into other markets. "Between commercial turf, small ag and large property owners buying tractors, we've really been able to make a big impact on the entire market here in Florida—not just farming," he says.
Though Everglades Equipment Group sells more agricultural tractors than any other John Deere dealer in North America, Coffman estimates the dealer also ranks highly in sales of commercial mowers, Gator utility vehicles, compact construction equipment and compact utility tractors. But there wasn't always a drive to focus on sales outside of the ag market. When Coffman joined Everglades Equipment Group in 2011, he worked to change the mindset of the sales staff. He mentions that, as in most John Deere dealerships around the country, sales associates started selling non-agricultural equipment as an entry-level task, with the goal of working their way up to ag sales.
"The main thing I wanted to instill in our people is there is an untapped customer base out there. We changed the culture to say that everybody's a good customer, and showed the dollar and cents value of why everybody can be a good customer," says Coffman. "We try to appeal to everyone." Once the mindset shifted, Everglades Equipment Group aimed to provide its services to a wider range of customers, such as landscape contractors.
Coffman believes that offering different styles of equipment for different customer bases keeps business steady. "There's a push for more dynamic equipment, more smart equipment, more creature comforts and things like that," he says. "But I actually see a  big opportunity for more basic equipment on the other end of that spectrum. I think the manufacturers that go to that concept of having two ends of the spectrum to choose from [basic and advanced] are going to be more successful."
Everglades Equipment Group experienced most of its growth by acquiring existing John Deere dealerships, but its most recent location openings in Clearwater and Brooksville are "dealerships we built from the ground up," says Coffman. The company realized there was a gap in coverage in those areas after looking at overall market opportunities.
A Large Parts Offering across 17 Locations
Starting in the mid-1960s, founder John Schlechter built the foundation of Everglades Equipment Group by obtaining and maintaining an enormous parts collection that brought customers from hundreds of miles away. Customer service was a focus for the dealer from the beginning and remains so today. Store and site managers are empowered to make decisions that can advance business and improve customer service. "They have been given the green light, and in turn, that philosophy paid us back in spades with lots of loyal customers coming back time and time again," Coffman admits.
Easy access to and availability of parts not only helps keep customers productive by maintaining equipment uptime, but also provides a profitable service for Everglades. "Schlechter spent a ton of money to have a huge [inventory] with all of the parts he needed to keep customer equipment up and running. He tells stories about people coming from hundreds of miles away to buy from him because they knew he would have the part they needed. That reputation has been carried throughout our organization throughout the years to make sure we are providing what our customers need," explains Coffman.
"If customers are not up and running and being productive, then they're not coming back and buying from us," he continues. "They bought a machine from us that needs to work every day. And if, for some reason, it can't do that, then they are not going to be as successful. We look at it as trying to partner with customers to help them become more successful, which in turn, helps us become more successful."
In order to provide customers with access to any parts they need, Everglades Equipment Group uses a traffic system to find and transfer parts between locations. "We can't have every single item in stock at every single store, so we try to have a cross-section of equipment between regions. For example, it's much quicker to get a part from a neighboring store the next day than it would be to try to get it from John Deere at an expedited freight rate," Coffman suggests. Keeping up a centralized database and exchanging parts between stores allows customers to get the parts they need faster.
Quality Employee Training Leads to Quality Customer Service
Having a large offering of parts available is only valuable if Everglades Equipment Group can provide the service for them and the equipment they compose. Coffman notes, however, that in recent years, it is getting more difficult to find quality service technicians: "It seems like there's not as many folks that want to work with their hands—specifically service technicians. That has been a real challenge for us."
And while Everglades' customer base varies widely, the focus of the dealer is to offer the best service to every kind of customer it does business with through several facets. "I think a couple of the biggest things that we pride ourselves on is the relationships that we have with our customers through providing for their needs," according to Coffman, and the other is the depth of equipment offerings it carries to keep customers satisfied. "The majority of what we sell is John Deere, but the other big lines we carry are STIHL and Honda."
He credits the dealer's relationship with John Deere, STIHL and Honda as part of its providing excellent customer service. "We look at it similarly to how we look at our relationship with our customers—as being partners," explains Coffman. For example, John Deere, STIHL and Honda send representatives to corporate meetings to discuss Everglades Equipment Group's future alignments. "We inform them of challenges and struggles that we have, and in turn, they give us different pilot program opportunities to see if a change they are thinking about making may work, and we work together to make sure it does."
In an effort to provide the best service, Everglades Equipment Group also created its own training program for technicians. "We take some folks that may be a little more inexperienced than others would hire and put them through a nine-week training program," Coffman says. He describes the program, headed up by a retired service manager, as an accelerated, hands-on program, cramming a year and a half of material into nine short weeks: "One of our [former] expert service managers is heading up that entire training process. He's showing [recruits], front to back, the way to go through all of our processes, and then all of the mechanic processes of diagnosing equipment failures and how to file a warranty, and all of the kinds of things we expect our technicians to do."
Everglades Equipment Group's strategy helps it to not only train employees in its philosophy, but also help it retain its service technicians. "We feel like that these people are not falling out of the sky, so we've got to take the ones that we get and turn them into what we want them to be," Coffman summarizes.
At the Beck and Call of Customers
Another aspect of staff training Everglades Equipment focuses on is how to provide the best customer service, including communication, and even more specifically, inbound call training. "We are still doing some inbound phone call recordings and training our staff on the proper way to talk with customers. The view that we have from the top down is: If we don't take care of our customers, somebody else will," Coffman notes.
In that effort to train employees to provide excellent customer service quickly and efficiently, Everglades Equipment Group is also piloting an overflow call system to make sure its customers are being heard and responded to as soon as possible. "We don't want to let any call go unanswered," Coffman says. "Customer service and experience is a big deal, and we want to provide the top experience in this industry."
Problems can even sometimes be prevented by John Deere's JDLink telematics, which sends experts alerts when equipment is encountering a problem out in the field, sometimes before the customer even realizes it. For example, Coffman explains, "Our technicians can call and say, 'Hey, I'm seeing that the operator of Tractor 27 seems to be riding the clutch. If he's doing that, you're going to have a transmission failure in another 50 hours. Please talk to him and tell him to stop immediately. And if that's not what's happening, let's get a technician out there because something is not right and it's going to cause a bigger problem.'"
Coffman adds that the customers find this service very valuable and Everglades Equipment Group hopes to expand this type of service over the next several years. It's these kinds of forward-thinking services and customer service strategies that are going to keep Everglades Equipment Group successful in the future.
Prioritizing Work/Life Balance for Success
Regardless of the type of customer Everglades Equipment Group serves, it is all about simplifying the selling and servicing of equipment, so customers attain a better work/life balance. Simplifying, taking care of equipment headaches and helping customers save time is something Coffman believes everyone can identify with and benefit from.
"All of us want to do things other than work. Yes, I love what I do, but I love my kids and my wife more. I want to be home with them. So if I can help customers get through all of the stuff they want to do, so they can do the stuff they really want to do, that's the key. All of our people have that same mindset. We're helping customers solve problems in their daily work life so they can enjoy their home life," Coffman admits.
"And that transcends products. The mindset of that is, 'Enjoy the quality of life and this equipment can help you do that. Get to the things that you really love.'"   
Angie Mellor is a freelance writer and editor in La Crosse, Wisconsin.