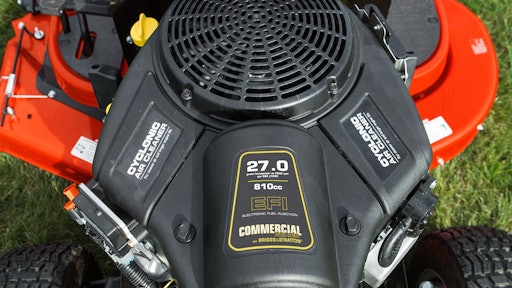 Consistent and reliable starting, smart load-sensing technology, fuel protection and fuel savings are hallmarks of the new 27-gross hp Briggs & Stratton Commercial Series Engine with electronic fuel injection (EFI) now available on Simplicity's Prestige garden tractor. EFI brings several added benefits to a garden tractor model already known for power, performance and reliability.
"The new Commercial Series V-twin engine with EFI provides more reliable starting," said Ryan Fredrickson, product manager for consumer rides, Briggs & Stratton Turf & Consumer Products. "Hot or cold, regardless of conditions, the addition of EFI offers car-like starting. And because it uses a closed fuel system, EFI helps preserve the fuel, preventing it from going bad and reducing starting issues.
"This new engine option also provides load sensing to deliver the necessary power—whether you are mowing on hills or in thick, wet grass—to optimize cut quality," he commented.
Importantly, the Commercial Series V-twin engine with EFI can save the operator up to 15 percent in fuel costs, compared to a standard carbureted engine.
The new engine option is featured on one 2WD and one 4WD Prestige model. Both offer a Free Floating™ mower deck with full-width rollers, a Quick Hitch™ deck removal system, power steering, tilt wheel, cruise control and a hydraulic attachment lift.
The 2WD model has a fabricated mower deck with limited lifetime warranty, Automatic Controlled Traction™, differential lock and an SCS™ Suspension Comfort System, which includes front and rear suspension, a high0speed transmission and an ergonomic mesh seat.