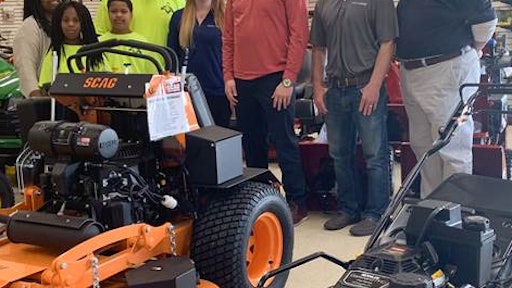 Landeros Reid, owner of L&L Lawn Service in Blue Springs, Mo., woke up on Saturday, November 30 to discover his work trailer was gone. A surveillance camera captured footage of a truck backing up and connecting the trailer in the dark of night. Within minutes, the trailer was gone.
The trailer was later recovered thanks to a community-wide effort and extensive social media posting; however, nearly $25,000 in landscaping equipment was stolen. The theft of Mr. Reid's equipment touched the heart of the community and prompted a story to on a local Kansas City television station.
"Word travels fast," said TJ Landrum, vice president-marketing for KOHLER Engines. "One of our associates saw the story and asked if we could help. Once we learned about Mr. Reid's ordeal, we immediately jumped on board."
Representatives from KOHLER Engines worked with Medart, Inc., a distributor of engines and outdoor power equipment based in Arnold, Mo., to address Mr. Reid's needs. After several conversations, Kohler agreed to donate a 52" SCAG V-RideÔ II mower that features a KOHLER Command PRO EFI 25-hp engine and a Toro TurfMasterÒ HDX mower powered by a KOHLER Command PRO CV200 engine. Medart is contributing additional hand-held equipment. Mr. Reid was presented the equipment on December 19 at Lawn & Leisure in Lee's Summit, Mo.
"Landscapers are at the heart of our business," Landrum stated. "We felt it was important to help one of our own. We hope the donation gets Mr. Reid back on his feet as quickly as possible."