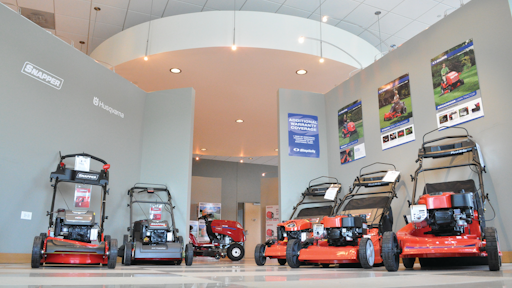 A company started in Jon Hoch's basement 10 years ago has ballooned into an award-winning internet seller of outdoor power equipment. In fact, the company did around $87.8 million in sales in 2011 (according to Inc. Magazine)—a huge increase from the $21.5 million it did in 2008.
Now Power Equipment Direct (PED) is setting its sights on the commercial market. Do dealers need to worry?
Not at all, Hoch assures. "When it comes to professional-grade equipment, the dealer is vitally important," Hoch says. "The contractor expects his equipment to be maintained at the highest level; they can't work with any downtime whatsoever."
Plus, Hoch adds, this higher-grade equipment does require a certain amount of "tire kicking" before the typical contractor is comfortable in making a purchase.
Finally, the dealer plays a critical role when it comes to service. "We (PED) need the dealers as much as everybody else does," Hoch points out.
New business model loops dealers in on commercial sales. PED has launched a new initiative this year. PED Product Ads are designed to convert highly targeted traffic on PED's sites into paying customers. So, for products which PED doesn't sell—such as commercial-grade riding mowers—a PED Product Ad would drive site visitors to a manufacturer's local dealer network via PED's dealer locator.
"We just introduced this concept to commercial equipment manufacturers at this past fall's GIE+EXPO," Hoch says. "In years past, most of the major commercial manufacturers didn't want to work with us. But now they're like, 'Finally someone came up with a solution on how to use the web to actually help the dealer instead of hurt the dealer.'"
But is residential already lost? Most dealers are primarily concerned about commercial sales, according to Hoch, as opposed to the smaller-dollar homeowner sales. While that is certainly true in many instances, a large percentage of the industry's servicing dealers still count on selling a fair amount of homeowner equipment.
The question is: How long can that business model continue for dealers as more everyday consumers turn to the internet to shop, and tighter and tighter margins are making it harder for the average dealer to survive on modest levels of equipment sales?
"The residential portion of a dealer's business came under fire a long time ago with the big box stores," Hoch reminds. "Dealers have managed through it and recognize that when it comes to residential, service is still an important end of it. Commercial equipment is still not in the box stores, on the other hand. You'll start to see it on our sites, but it will be in a format that will benefit the local dealer."
Speaking of service. For all of the products it sells, PED directs its customers to manufacturer dealer locators in order to locate service centers (dealers) for any future repairs that need to be done.
Product Experts, such as "Todd" for mowers, are also on staff to assist customers with basic questions and in locating service centers. "Todd actually has a background in landscaping," Hoch tells. "We also send our Product Experts to manufacturer training classes. Also, manufacturers will also send trainers to our facility for additional training."
For more on PED and the products/brands it sells, visit Power Equipment Direct.