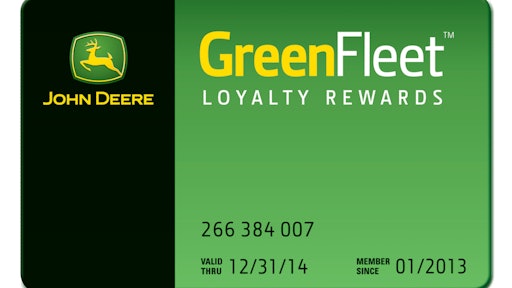 Recently, John Deere announced a new customer loyalty program called the GreenFleet Loyalty Rewards program. The program is designed to further encourage loyalty from customers while offering them many benefits to help them better manage their business.
"At John Deere we're pretty fortunate that we have a lot of loyal customers and this program is really our way of thanking them for that loyalty," says Steve Wilhelmi, tactical marketing manager for John Deere Commercial Mowing. "It's much more than just a perks program, it's really a program that offers deeper value to our customers and helps them to manage their fleets and become more profitable in their businesses."
Program benefits
Wilhelmi explains that the program is both a loyalty rewards and discount program rolled into one, designed to alleviate some of the cost and hassle associated with equipment management. The GreenFleet Loyalty Rewards program offers members many benefits. Those benefits fall into four major categories: equipment discounts, parts and workshop tools discounts, special financing through John Deere financial and exclusive email offers.
"Every good loyalty program is based off of discounts," says Wilhelmi. "Customers will realize pretty significant savings on a wide variety of John Deere equipment, parts and workshop discounts."
Equipment discounts
Products eligible for discounts include: mowers, compact tractors, commercial worksite products, commercial worksite attachments, garden tractors, utility vehicles and more. The amount of the discount received varies by what membership level the customer has reached. One example Wilhelmi gave, was a discount of up to $800 off the price of a Z-track mower.
There are five different product categories and a variety of eligible models within those categories that can earn a discount. The level of discount relates to the total number of units purchased. There are three levels:
Level one – 2 to 4 units
Level two – 5 to 7 units
Level three – 8 or more units
Visit johndeere.com/greenfleet or click on the image to the left for more information on the equipment discount. Customers who purchase equipment through GreenFleet are also eligible for points in the John Deere Landscapes Partner Program.
Parts and workshop discounts
The GreenFleet Loyalty Rewards program offers members a 10% discount on all John Deere OEM parts as well Sunbelt aftermarket parts for all makes. Members also receive a 10% discount on workshop products, including but not limited to: air tools, hand tools, power tools, compressors, generators and pressure washers.
"It's just another way customers can manage and reduce their costs," explains Wilhelmi. "This coupled with some of the parts solutions we offer—next day parts guarantee, parts onsite, and extended parts financing—really presents a great package for the customer to help reduce costs."
Financing offers
In terms of financing, customers have access to special financing through John Deere Financial. According to Wilhelmi, with some of the GreenFleet exclusive offers, customers can typically get better rates and terms than when financing through other conventional lenders.
"We realize equipment payments are one of the key monthly expenses that our customers have," explains Wilhelmi. "So while there is a focus on the equipment discounts in the program, these financing options can help lower those payments with access to solutions that John Deere financial can provide."
More exclusive offers
The exclusive offers portion of the GreenFleet Loyalty Rewards program also offers members a lot exclusive opportunities, information and discounts. When a GreenFleet member activates their card at johndeere.com/greenfleet, their email is set up to receive these special offers and alerts. Emails include exclusive offers on financing and extended warranties, maintenance tips, and information on industry trends.
GreenFleet membership is based on qualification. Active membership starts with the purchase of two qualifying products. Once that initial qualification is met, members are automatically enrolled for four years. Membership is renewed with additional purchases. The more equipment purchased, the greater the benefits received.
You can view the complete details of the Green Fleet Loyalty program at johndeere.com/greenfleet.
Companies in this article