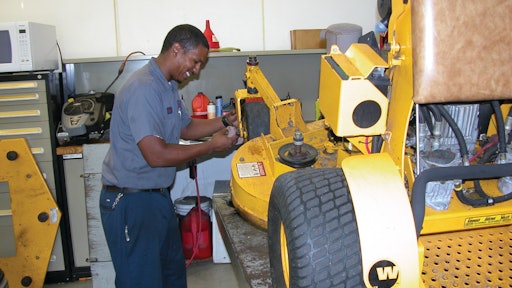 Now that mowing season is well under way, the last thing you want is for your mower to experience downtime. The following tips will help you keep your mower running in tip-top shape.
Check the operator's manual to see what might need to be greased. Keeping the right parts greased is an important step in extending the life of a mower.
Check the air filter (inner and outer) and change it if necessary. Never use compressed air to clean a filter.
Depending on how many hours the mower has been running, consider changing the fuel filter.
Check and, if necessary, change the spark plugs.
Verify oil changes are being performed at the proper intervals. Never, under any circumstances, exceed the manufacturer's recommendations of more than 100 hours.
Blow the debris off the unit:
Remove the belt deck belt shields and blow off all foreign material.
Blow the grass off the areas around the pumps and wheel motors (overheated oil leads to shorter component life).
Blow through the openings in and around the console or remove the console mounting screws to get debris out of this area.
Check for loose hardware.
Verify torque on wheel motor castle nut and tire mounting lug nuts.
This maintenance tip was provided by David Martin, Exmark customer service manager. Remember to always consult your owner's manual for proper maintenance as it relates to your specific make and model of equipment.