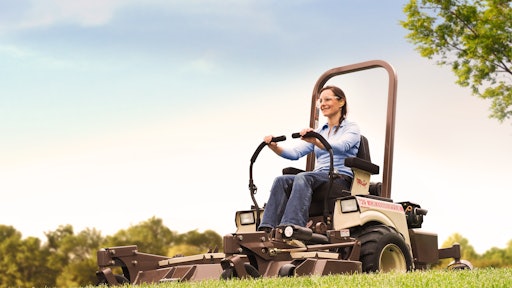 For nearly 50 years, The Grasshopper Company has been delivering made-in-America groundskeeping innovations from a tiny town in southern Kansas. Despite the challenges of a limited labor pool (the population of Moundridge, Kansas, is less than 2,000), company leadership wouldn't have it any other way.
"We compete with ag manufacturers, advanced manufacturing companies and refineries in the area for the same employees," says Brian Schoenthaler, marketing coordinator for Grasshopper. "As our company continues to invest in technology to improve and streamline the manufacturing process, we also invest in training our employees to improve their skill sets. This cultivates loyalty and trust."
Those loyal Grasshopper employees do the city of Moundridge proud. In July of last year, Grasshopper was selected to represent the state of Kansas at the Made in America Product Showcase at the White House. And earlier that summer, Grasshopper was awarded an exclusive multi-year contract to supply mowing equipment, parts and service to registered public-sector entities through the OMNIA Partners.
In 2014, Grasshopper was elected Company of the Year by Chapter 52 of the Society of Manufacturing Engineers. The organization was impressed with how efficiently the company operates, along with the durability and versatility of its products. A couple of years prior, Grasshopper was recognized for its commitment to the environment when it earned a Pollution Prevention Award from the Kansas Department of Health and Environment.
"We effectively reduced our raw steel consumption by more than 300 tons per year, with a net zero ratio, through the use of high-efficiency laser cutting, welding and robotic technologies, and by reusing and recycling scrap material," Schoenthaler points out. "These awards and accolades serve to confirm the pride and workmanship that every Grasshopper employee puts forth every day."
Grasshopper was also recognized for its outstanding dealer support through the Equipment Dealers Association (EDA) Dealer's Choice Awards. Dealer members of the nationwide association rate their manufacturer partners in numerous categories. Grasshopper scored as the top outdoor power equipment manufacturer in both 2015 and 2016, and maintained its gold level status in 2017 and 2018.
An Idea Sparked South of the Border
Grasshopper is led by second-generation company president Stan Guyer. He is joined by his brother, Duane, who serves as the chief financial officer. Duane's son, Trent, is the vice president of marketing, whereas Stan's son, Nathan, is the production manager. It's a classic example of a privately held and family-owned Midwestern manufacturing company.
While Grasshopper is nearing its 50th anniversary in 2019, parent company Moridge Manufacturing is celebrating its 60th this year. Moridge was in business roughly seven years when the idea for an innovative new product emerged.
"Inspiration for Grasshopper was influenced, at least in part, by a visit to Chapultepec Park in Mexico City," Schoenthaler says. Also known as Bosque de Chapultepec, the park's name means "hill of the grasshopper." In 1965, Dr. Nancy Becker designed the original logo for the first Grasshopper mower prototype by simply spelling out the word grasshopper in the shape of a grasshopper body. Development of the prototype continued until the mower was officially introduced in 1969.
Roughly 70 zero-turn riding mower models are available today; Grasshopper does not manufacture stand-on or walk-behind mowers. The company also offers a diverse lineup of mower implements, ranging from aerators and dethatchers to sprayers, brooms, snow blowers and blades.
Leading out Front on Diesel
According to Schoenthaler, Grasshopper introduced many industry-first innovations, including dual swing-away steering levers (1973), diesel-powered zero-turn mowers (1983), the Ultimate Operator Station for increased comfort (1994), the PowerFold electric deck lift for a FrontMount mower (2004) and the HighLift 15B hopper (2014).
Schoenthaler says Grasshopper also became the first manufacturer to offer FrontMount and MidMount zero-turn riding mowers in 2000. The company continues to emphasize both configurations today.
FrontMount mowers give operators a panoramic view that lets them monitor trimming from a natural seated position. FrontMounts also have the ability to reach under low-hanging obstacles, which reduces the need for secondary trimming, and can get in and out of tight spaces more nimbly. Finally, FrontMounts have a more even front-to-rear weight distribution that provides a lighter footprint and improved traction.
Year-round versatility is another factor that's driving FrontMount popularity. "The zero-turn tractor can be turned into a year-round grounds maintenance machine by easily replacing the cutting deck with a selection of nine implements," Schoenthaler explains. "Many operators report they can do the same jobs in as little as one-quarter of the time using their Grasshopper system."
Schoenthaler points out that Grasshopper offers many MidMount mower models as well. "There is a wide selection of power plants, deck sizes and features that are also found on our MidMount mowers," he adds. "Mixing a fleet of FrontMount and MidMount models is easy thanks to the commonality of parts across both models."
For Grasshopper, it's all about providing options, versatility and consistency. Regardless of whether it's a FrontMount or MidMount mower, all decks have the ability to discharge, mulch or collect, while featuring the same rugged construction. Rear-discharge decks are also available.
Grasshopper offers both MidMounts and FrontMounts with diesel engines. As previously mentioned, Grasshopper first introduced a diesel-powered mower in 1983. The company continues to emphasize this fuel source today.
"Diesel is a good alternative for rural customers who are operating diesel tractors and trucks," Schoenthaler says. "Diesel is also relevant for landscapers. If they are running diesel in their trucks, skid steers or compact tractors, the commonality of fuel is the right choice for them. Government and other institutions are also good candidates for diesel is commonly used."
Grasshopper does not offer propane-powered mowers, although it did back in the 1970s and '80s. Testing and data analysis prompted the company to shift toward diesel. Fuel availability was also an important factor in Grasshopper's decision to double down on diesel.
Schoenthaler says diesel is sometimes perceived to be bad for the environment. In actuality, a mower burning clean diesel is more ecologically efficient than a mower burning gasoline or propane, he states.
"Considering the same engine size or displacement, the greenhouse gases produced per hour by Grasshopper's diesel mowers are actually less than those of their gasoline- or propane-powered counterparts," Schoenthaler says. "All Grasshopper diesel mowers are Tier 4 Final-compliant and require no exhaust after-treatments."
Diesel engines also produce more torque, Schoenthaler adds. Coupled with an efficient deck design, diesel mowers can deliver a manicured cut at faster speeds while using less fuel per hour. Operators should also look at net cost savings. "Our diesel mowers burn as little as 1 gallon per hour compared to 1.65 for gasoline and 1.8 for propane," Schoenthaler says.
Also think about the time it takes to complete a mowing job. "If it takes 70 minutes for a gasoline-powered mower to cut a property that only takes a diesel-powered mower 60 minutes, that's a 16 percent increase in time. The gasoline-powered mower would actually burn 1.92 gallons of gasoline to do the same job that the diesel mower could do with only 1 gallon of fuel. Plus, this extra 10 minutes, spread out over an eight- to 11-hour day, would also allow an operator to pick up extra jobs and add more revenue to the bottom line each day."
For more information on Grasshopper, please visit www.greenindustrypros.com/10155935.