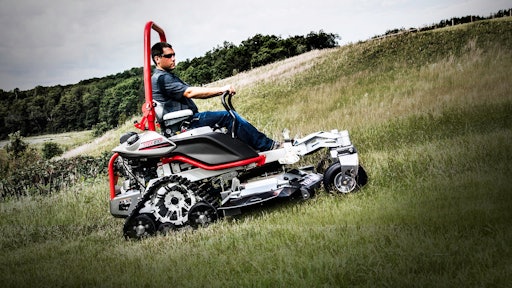 Altoz is pleased to announce that its TRX—the power equipment industry's first tracked zero-turn mower—began shipping to dealers in late February.
The TRX turned heads in October when it was introduced to the trade at GIE+EXPO and received a 2016 Pro Tool Innovation Award (PTIA), recognizing best-in-class products for innovation, power and value. And, it's not just media — the TRX unveiling video on Altoz's Facebook page received over 3 million views within days of being posted.
Check out the TRX mower: www.greenindustrypros.com/12267392
TRX provides patent-pending technology for commercial use on sloped, wet and untamed terrain. Equipped with rear-mounted tracks and torsional suspension system, the TRX allows lawn care professionals, utility companies and municipalities to maintain places they simply can't effectively or safely cut with a traditional zero-turn mower.
"Watching the excitement build for the TRX starting in October followed by the overwhelming interest we saw on Facebook has been really gratifying. Now we're hearing that dealers are selling out within days of receiving their first TRX deliveries," commented Dennis Brazier, Altoz founder and CEO.