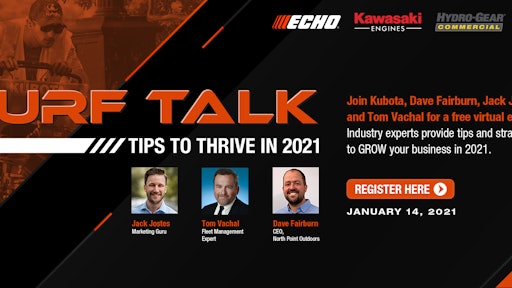 Registration is open for a free virtual event for commercial landscapers hosted by Kubota Tractor Corporation.
The free Turf Talk virtual event is intended to help commercial landscapers learn tips tips and strategies from industry leaders on upping their game during these uncertain times.
Learn tips from turf industry experts to help you navigate into the year ahead with confidence, improve your online presence, find out what's new in commercial turf equipment, and register for a chance to win prizes from Kubota and industry event partners.
Learn Best Practices for marketing and growing your business in 2021
Improve Your Online Presence with the latest digital marketing tactics
Increase Sales with the latest digital marketing strategies proven to work in the landscape industry
What's New in commercial turf equipment, fleet programs & finance offers
Win a One-On-One commercial landscaping sales & marketing strategy session
Kubota will host keynote speaker, Jack Jostes, who will give turf industry marketing tips, along with Tom Vachal who will discuss fleet management tips plus a case study highlighting North Point Outdoors and how they've implemented fleet and marketing strategies to grow their customer base.
In addition, there will be highlights from other partners including Echo, Hydro-gear and Kawasaki. Register by the early bird deadline of January 6 to automatically enter to win prize packs from Kubota and its partners and a grand prize of a one-on-one marketing consultation with Jack Jostes. This event is free and open to all turf and landscape professionals.
To register visit: https://www.kubotausa.com/gie-virtual-commercial.