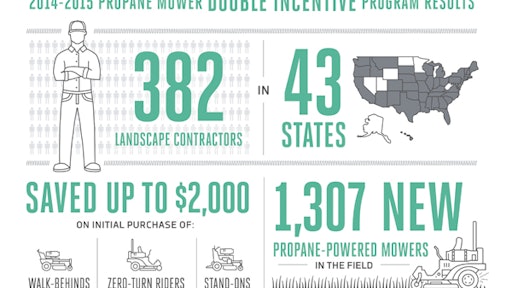 The Propane Education & Research Council approved 1,307 incentive applications during a six-month stretch ending March 31 in which it doubled its Propane Mower Incentive Program allotments for new propane mower purchases and qualified conversions.
Since 2012 when the program launched, 2,941 applications have been received by PERC. In other words, the number of applications nearly doubled in just the past six months.
During the double incentive period of the past six months, landscape contractors could receive incentives of $2,000 for each new propane mower purchase, and $1,000 for every qualified conversion.
"The Mower Incentive Program is designed to assist landscape contractors with the upfront equipment costs associated with converting their fleets to propane," said Jeremy Wishart, deputy director of business development at PERC. "Propane can lower operating costs and reduce emissions compared to traditional fuels, so it's exciting to see so many contractors wanting to take advantages of those benefits too."
The 1,307 applications during the double incentive period were submitted by 382 landscape contractors located in 43 states. Almost one-third of the incentive applications were sought in March alone.
More incentives still out there. While the double incentive period ended March 31, contractors can still receive a $1,000 incentive for a new propane mower, and $500 for a qualified conversion. Contractors can apply for the Propane Mower Incentive Program at propane.com/mowerincentive.
"Since 2012, the Propane Mower Incentive Program has helped get almost 3,000 commercial propane mowers out into the field that may otherwise be powered by a less sustainable fuel source," Wishart said. "That's an incredible accomplishment, and we look forward to continuing this successful program into the future."