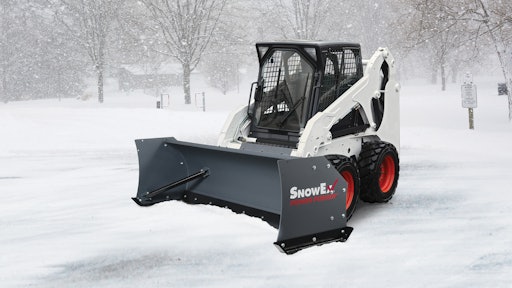 SnowEx

SnowEx has introduced its POWER PUSHER TE snow pushers for skid-steers, wheel loaders, backhoes and tractors. Available in 8- and 10-foot-wide models with large carrying capacities, the snow pushers feature steel trip-edges to deliver cleaner scrapes and help operators get down to the pavement. The steel trip-edges on the POWER PUSHER TE models use four extension springs along with two outer double ribs at the trip springs to handle heavy-duty loads and stresses. The framing and 63-degree angle of attack are specially engineered for maximum scraping performance. Additional features include:
Six vertical support ribs maximize bucket impact strength and structural integrity, while 10-gauge steel moldboards offer superior strength.
Side support posts to help prevent bending from hitting curbs or other accidental impact.
Coated with high-quality industrial paint that is both salt- and UV-resistant to protect against corrosion and other environmental effects.
Interchangeable attachments allow a single POWER PUSHER TE model to attach to any compatible skid-steer, wheel loader, backhoe or tractor. This feature allows users to utilize the same pusher plow across various types of equipment in their fleets.
Accessories include a top-mounted, rubber back-drag edge for pulling snow away from loading docks, doors and other tight spaces. High-wear shoes are also available, allowing the pushers to more easily slide along the surface in fast working conditions.
For more information on the new SnowEx POWER PUSHER TE plows will be available on www.snowexproducts.com.
Request More Information
Fill out the form below to request more information about
SnowEx POWER PUSHER TE snow pushers