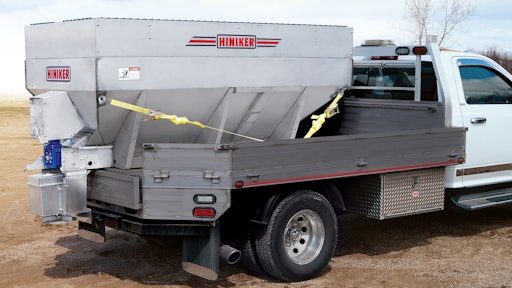 Hiniker introduces its 975 dual-motor electric salt and sand spreader with a large 4-cubic-yard capacity. According to the company, the 975 is additionally highlighted by:
An efficient 5.75-inch-diameter auger conveyor system to provide positive delivery control without material carry-back into the truck bed.  
Two electric motors that provide independent variable-speed control of the auger and the spinner for precise rate and pattern control.
Blast control for quick, extra-dense applications and a reverse switch to clear jams quickly and easily.
A convenient tip-up spinner assembly to facilitate unloading unused material and trailer hitch access.
Reduced maintenance needs since there's no conveyor chain, fewer bearings and 12-volt electrical motor power.
Request More Information
Fill out the form below to request more information about
Salt and Sand Spreader Provides Precise Rate and Pattern Control