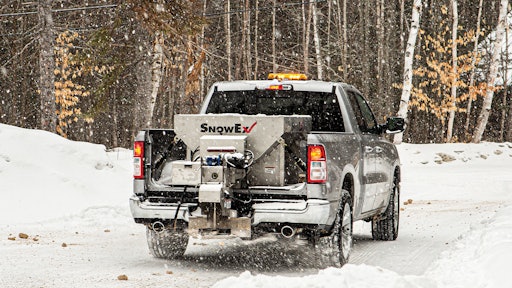 SnowEx expanded its offering of HELIXX hopper spreaders with the addition of a 0.7 cubic yard stainless steel spreader sized for popular half-ton and light-duty trucks and a 0.35 cubic yard spreader designed to fit UTVs and compact trucks. Both models are built with many of the same features of the larger SnowEx stainless steel hopper spreaders with the advanced corkscrew HELLIXX delivery system.
0.35 cubic yard stainless steel hopper spreader has a 3-foot-long hopper and delivers a spreading width of up to 20 feet
0.7 cubic yard stainless steel hopper spreader offers a 5-foot long hopper and up to 30 feet of spreading width.
Both models have dual variable speed controls.
Accessories for both included extension collars to add height to hopper walls and increase capacity more than 70 percent. Other available accessories include a tarp covers, spill guards, inverted "V" kits for materials susceptible to compacting, vibrator kits, work light kits, strobe light kits, and ratchet strap kits.
Pre-wet and direct application kits are available for the HELIXX 0.7 cubic yard hopper with two 25 gallon pre-wet tanks, pump and spray kit.
Request More Information
Fill out the form below to request more information about
SnowEx HELIXX Light-Duty Trucks and UTV Stainless Steel Hoppers