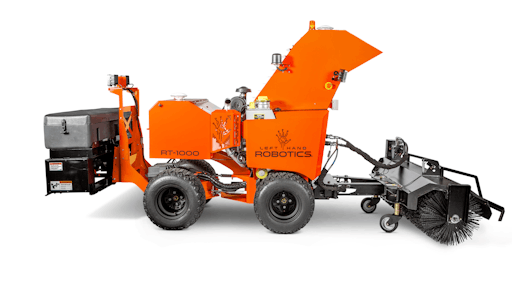 Left Hand Robotics first introduced its autonomous snow clearing robot in 2017. Since then it has been expanding the presence of its machines into the market and the applications in which the machine can be used.
As such, the company has introduced a new attachment for the autonomous machine enabling large area autonomous mowing. "So far in the United States no other company [is offering] a gasoline-powered large area mower that we know of," says Mike Ott, CTO of Left Hand Robotics.
He notes that while smaller battery-powered robots similar to a Roomba have been available for several years, nothing yet has entered the market like what Left Hand Robotics now offers. "What we've done is basically taken our autonomous platform that we started out with for snow clearing and launched the ability do mowing with the machine," says Ott.
Automatic detection eases change of operation
Ott says that from the beginning, the RT-1000 autonomous robot for turf and snow—as the machine is now called—was designed with the ability to support different front and rear attachments. Adding an attachment for large area mowing allows the machine to now be used in places such as sports complexes, sod farms, city parks, large corporate lawns and more. "That's a major market improvement for us because there are people out there looking for that kind of equipment," he says.
The main benefit to enabling use of additional attachments is the autonomous machine can now be used all year long. It can go from snow clearing to mowing simply by changing the attachment at the front of the machine. "Eighty percent or more of the investment cost is now used 12 months out of the year," says Ott.
All of the technology resides within the tractor—the autonomous navigation, obstacle detection, etc.—so there is a common platform no matter what type of application the machine is being used in. Once it detects a different attachment has been added, software changes occur which ensure the machine operates accordingly.
When an attachment is added to the tractor, it is able to recognize what type of attachment it is based on the electrical connections that are made. If a snow clearing broom is added, the software can assume the machine is being used in winter conditions and therefore immediately use a blend of Left Hand Robotics' obstacle detection sensors which are tailored for use in snow.
Radar and LIDAR sensors are included on every machine; it's just how the software blends feedback from those two different sensors which changes based on the attachment placed on the autonomous machine, says Ott.
"What our software does is dynamically change the blend of sensors we're using for obstacle detection because in the wintertime when you're brooming snow you have to rely more heavily on radar to see through the snow cloud," he explains. "But in the summertime, we rely more heavily on LIDAR for obstacle detection."
Radar is best for snow conditions because its radio waves have the ability to "see" through the snow cloud created by the broom as it clears snow or during a heavy snowfall. Currently available Lidar sensors, on the other hand, use light waves to "see" which are not able to detect objects that might be beyond the snow cloud, explains Ott. "Newer Lidar sensors are hitting the market now at a price point that we can tolerate that do give us better capabilities to detect objects even behind the snow cloud we generate with the broom, and our engineers are constantly evaluating those newer sensors to ensure we are using the best possible technology," he says.
Updates and future developments
While the RT-1000 is much the same as the original design, some technology improvements have been made in conjunction with the introduction to the market of more advanced technologies.
One area has been to increase the dead reckoning capabilities which equates to the machine's ability to drive for distances even if the cellular or GPS signal is lost. This is achieved by sensing the positions and speeds of the wheels. Ott says this has helped increase the machine's range when operating under trees, canopies or near tall buildings which have historically hampered GPS signal quality.
The company is also getting ready to roll out additional attachments. For snow clearing applications, some customers require a V-blade as a means of moving snow. A V-blade has been developed and is currently being tested with the machine before making it available to customers.
There's also some other R&D work the company is undertaking for possible other use cases for the machine which it hopes to launch in the near future.
Ott says autonomous equipment like the RT-1000 is growing in interest and acceptance, especially as a way of addressing labor shortages in the lawn and landscape, and other similar industries. Being able to operate several autonomous machines at a job site allows more work to be done by fewer people, and for those people to possibly focus on other tasks.
And while electrification is also a topic of interest in the industry, for now it's not feasible for the company's machine. "Electrification is not anytime soon going to work for snow clearing," he says. This is because batteries don't like cold weather and don't have the range necessary for snow removal applications without needing to stop in the midst of the work to recharge for several hours, which would hinder productivity.
"These machines, for snow clearing, having to be able to run continuously for days on end," says Ott. "And right now battery technology is just not there."
So as long as the RT-1000 is intended to be a dual-purpose machine—with one of those purposes being snow clearing—pure electric is not on the short-term horizon. However, Ott says hybrid electric machines are something the company is looking at as a possibility. It would likely consist of a smaller internal combustion engine, elimination of hydraulic components, and use of electric motors everywhere. "That is in the realm of possibility, even for snow clearing," he says.
This would help with the "green" push many are making to move away from hydraulics in the lawn and landscape industry to eliminate leaks that could potentially cause damage or contamination. "We understand that and can see it coming into view on our radar," says Ott. "But for right now there are already so many challenges in this area to tackle, the navigation and obstacle detection specifically, that trying to master another kind of powertrain technology would be difficult for us."
He notes that it's already a leap for many of the customers that would be using this type of equipment to move to autonomous machines. "And then if you also at the same time are trying to get them to make that leap from internal combustion and hydraulics to full electric, it's [something] that a lot of them just aren't yet comfortable with.
"That was another aspect which guided us away from launching a purely electric machine from the very beginning," says Ott. "We already have a steep adoption curve with autonomy."
For now, Left Hand Robotics is focusing on expanding use of its current product in the market and launching its dealer network across North America.