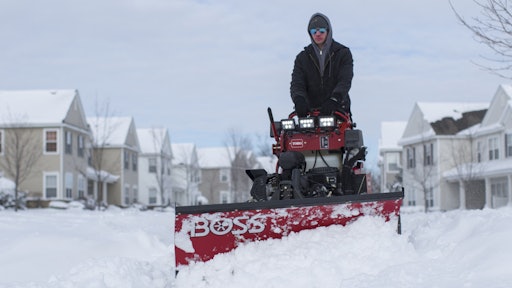 Due to the positive response to the Toro GrandStand Multi Force stand-on mower, Toro is now introducing a snow-only Multi Force model. The snow-only model is designed to give snow-focused contractors access to the snow-clearing capabilities of the Multi Force without having to purchase the mowing deck.
The snow-only model is built on the same GrandStand Multi Force platform and features the same easy-to-use controls as current GrandStand Multi Force models. The unit also comes equipped with the Flex-Ride operator platform designed to reduce operator fatigue and contributes to higher productivity throughout the day. The Flex-Ride operator platform is self-compensating to accommodate operators of different sizes.
The snow-only Multi Force can be equipped with a 5-foot Boss snowplow attachment. Snow-only models also come standard with winter tires and have optional light and flasher kits to increase visibility in challenging conditions.
"By creating a dedicated snow-only Multi Force unit, we are able to better serve the snow and ice management market with this versatile and innovative machine," said Chris Hannan, Toro senior marketing manager. "As we continue to gather feedback from end-users, customers can expect to see additional capabilities in the coming years."
The GrandStand Multi Force also provides operators with enhanced visibility for a higher quality of work, and great traction on slopes and other challenging areas. The GrandStand Multi Force also allows the operator to easily mount and dismount to remove obstacles in the unit's path.