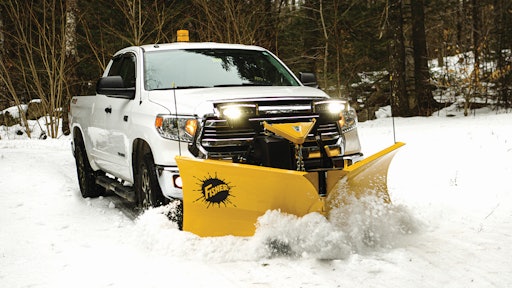 Fisher Engineering
V-plows are the most universal and tend to be the highest price point plowing tool because they can quickly morph from a v-plow to a straight blade with a button's push, allowing the operator to customize the plow based on application.
Hinged at the middle and using hydraulic controls to adjust the blade from v-mode, to straight mode to scoop mode, a single plow can push, haul and stack snow with ease.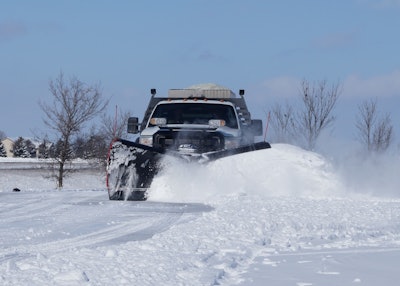 "V-plows offer all the functionality of a straight blade while providing key capabilities that straight blades can't," says Scott Moorman, director of Snow and Ice Equipment at Buyers Products. "As we've seen with the huge storms this year, sometimes it's impossible to keep up with the storm. When that happens, straight blades can struggle to get a foothold. A V-plow in vee position, however, can easily break a trail though the deep snow. Once the path is started you can swap to straight blade mode for more traditional windrowing."
In addition, he says scoop mode lets you move snow around much more accurately, which can be key for efficiently clearing parking lots and driveways.
"People who use our SnowDogg V-plows, from the lighter weight VMDII all the way to our new 10-1/2-foot VXXII, love the flexibility and versatility a V-plow provides," Moorman says.
Matt Morrison, director of sales and marketing at Hiniker adds that the V-plow has a much larger capacity and can plow through deeper, denser snow. They are most often used in the scoop (wings forward) position to move and clear snow from parking lots.
If you only have one plow, you may want to go with V-plow, which the manufacturers and contractors define as the swiss army knife of plows.
V-plows allow you to easily change from one mode to the other from the comfort of your cab depending on the conditions:
V-Mode – easily break through deep, hard packed snow
Angle – Windrow on either side of the vehicle
Scoop – increased snow stacking and hauling capacity by 30%
Straight – back drag and windrow in large, open spaces
"A V-plow can do everything a straight blade can do, but it doesn't work the other way around," says Tyler Jones, product manager at Fisher Engineering. "If it only snows every so often, then there may not be as much focus on efficiency and more emphasis on cost and simplicity of design."
Admittedly, operation of a V-plow is not as straight forward as a straight blade.
"The operation of a V-plow can take a little while to get used to if you've been using a straight blade, but with modern handheld controllers it doesn't take long to get the hang of it," Moorman says. "With buttons for scoop, vee, individual wing, and straight blade action the additional functionality will become second nature super quickly. You'll never want to go back."
Selecting the right plow
Regardless of brand, the most important factor in selecting a plow is finding a reliable dealer in your area. Also, you should do some research on the manufacturer and reliability of the products in winter.
Moorman notes that aside from asking your dealer's opinion of the plows, look at the construction and features of the different plows available, and decide what's important to you. "Look for things like 304 stainless steel blades, double-acting angle cylinders that can provide better back dragging capabilities, and rugged frames that can take a beating without breaking.," he says.
Secondly, depending on what type of truck you have will determine what type of plow you can put on that truck. Different vehicle platforms have different electrical capacities, which contributes to which plows are compatible with your vehicle.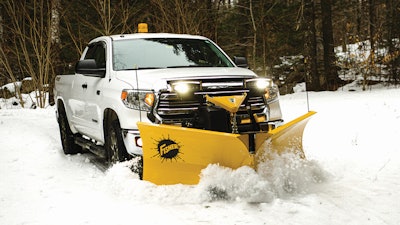 "Plow manufacturers factor this in when they make plow recommendations per vehicle," Jones says. "Manufacturers often have online tools that allow you to look at the compatible plows for your vehicle."
In addition, Morrison says contractors should consider why types of plowing they are going to be doing be it residential and mostly driveways or commercial where they need to plow long stretches. V-plows are well-suited for parking lots with various obstacles or cities and tight areas where space is limited, and you need the ability to stack snow high.
Lastly, he says plow functions and accessories need to be considered.
A contractor can get by with a straight blade in just about any plowing circumstance because it moves snow from point A to point B. But it's not always the most efficient choice. In fact, V-plows can reportedly cut plow time by up to 30% on certain properties.
"Standard features are also important, but not all standard features provide the same value to each user," Jones says. "Factors to consider when shopping for a plow are the cost of ownership, identifying which parts are wear items, and the replacement part cost. Also, electrical components such as modules, lights, and controllers should be included in replacement costs. A new plow may be priced competitively among brands, but dealer support and ownership cost are important to pay attention to."
What to look for
If you decide that a V-plow is the right plow for you, there are a few other things you should look for.
"There are a lot of factors that should be looked at when purchasing any plow, but many of them come down to personal preference," Moorman says.
First is trip-edge design. "In the case of V-plows, most use a trip edge design rather than the full trip system that's more common in straight blades," he says. A V-plow can be configured a few different ways (straight, V, angled, scoop), so it's important that the plow can continue to trip should it hit an obstacle. This is important regardless of which configuration you're using.
A trip edge provides the smoothest operation over obstacles, but the ride is a little bumpier in the cab. For example, if you're in the scoop or V position and don't have a trip-edge blade, Moorman says the blade will likely "jump up" when you hit an obstacle, causing you to lose your load. Plus, the impact left from the inability to "trip" will likely be transferred more to your truck, resulting in possible truck damage and operator discomfort, or even injury.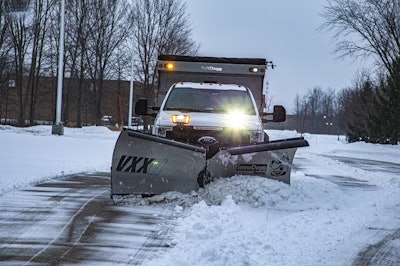 He says there are also features that are brand-specific that can tip the scales in one direction or another. All SnowDogg plows, for example, include a patented floating A-frame feature that ensures the plow scrapes clean in any position even if the truck mount is high or the cutting edges are worn. "You won't get that anywhere else, so be sure when you're researching to look for the standout features of each plow you're considering." Moorman says.
General ease of operation is another consideration. Morrison notes that Hiniker has a two-button and toggle control, compared to many others with up to 11 buttons to operate. Moorman says when Buyers Products designed its V-plow controllers, ergonomics and ease-of-use were at the forefront.
The attachment mechanism is another consideration. You want a system that is fast and easy to use. Versatility is something else to think about. Morrison says Hiniker has a quick hitch mount that allows you to disconnect the plow in seconds.
There are obviously a host of other things you should compare when selecting a V-plow, including blade width and height, hydraulics, electrical system, and controls. You can also choose between steel and poly moldboard.
Yes, you have choices. More contractors are choosing V-plows than ever before—and on certain properties, it's proven to be the right choice.
Companies in this article