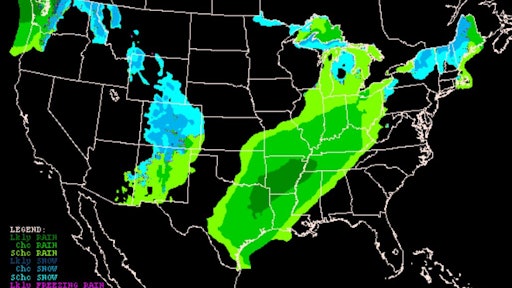 NOAA
The National Weather Service (NWS) and several national weather media outlets are reporting a "potentially disruptive storm" that could affect travel during the Thanksgiving holiday week, Nov. 22-28, 2021. Meanwhile AAA is predicting a boost in Thanksgiving travel, expecting roads to be almost as busy as they were before the COVID-19 pandemic began.

"It's beginning to look more like a normal holiday travel season, compared to what we saw last year," says Debbie Haas, vice president of travel for AAA – The Auto Club Group. "Now that U.S. borders are open, vaccinations are readily available, and new health and safety guidelines are in place, travel is once again high on the list for Americans who are ready to reunite with their loved ones for the holidays."
With 6.4 million more Americans traveling this Thanksgiving -- the highest single-year increase since 2005 -- people should prepare for the roads and airports to be noticeably more crowded than last year's holiday.
The Accredited Snow Contractors Association (ASCA) is notifying followers on Facebook to watch the storm and to ready their snow removal operations.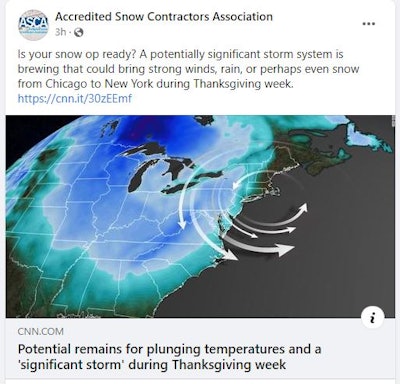 NWS is expecting the storm to impact travel early next week in central and eastern parts of the country. Meteorologists aren't completely certain whether that will include heavy snow or rain. The storm is, for now, expected to create heavy snow in Minnesota, Wisconsin and Michigan and snow squalls in Indiana, Michigan, Ohio, West Virginia, Pennsylvania, Maryland and New York state from Nov. 22-24.
"We could be looking at a huge mess and a real wrench in holiday travel," AccuWeather chief meteorologist Jon Porter told USA Today.
Watch the NOAA NWS Weather Prediction Center's video on its winter storm severity index:
According to NOAA, "a Pacific upper ridge moving into the West/Plains during the first part of the calendar week will support an amplifying eastern U.S. trough (elongated area of lower air pressure) whose axis should reach near the East Coast by early Tuesday. It is still up for debate where one or more embedded lows may close off over the Great Lakes or southern Canada early in the week but there is a more common theme of an upper low over or just offshore New England by Wednesday. Thereafter, how quickly the upper low departs will depend on the strength and westward extent of North Atlantic upper ridging."
As for temperatures, NOAA is expecting well below normal in parts of New England, with 10-15 degrees below normal for most parts and some pockets of 15-20 degrees below normal.
"The evolution aloft and potentially complex surface low pressure/frontal evolution may bring a heavy rain threat to northern New England in the warm sector and a period of well below normal temperatures, brisk to strong winds, and lake effect/terrain enhanced snow behind the strong cold front," according to the NOAA forecast.
Along the West Coast, NOAA is reporting, "the combination of a Pacific shortwave reaching the West by Tuesday and an opening upper low initially southwest of California should yield a positively tilted upper trough aligned from the Northern Plains into northwestern Mexico by Thanksgiving. These features and energy rounding the upstream ridge may produce periods of precipitation over the Pacific Northwest while rain may expand/intensify along and north of the western Gulf Coast on Thanksgiving as Gulf moisture interacts with a Plains front."
Weather models are predicting an upper low system to develop sometime between Sunday and Tuesday, reaching the New England coast by late Tuesday or Wednesday.
"Precipitation (mostly rain) will develop along and east of the Mississippi Valley on Sunday. Most rain should be light to moderate, but locally more intense activity may be possible over parts of the Ohio/Tennessee valleys. As the front and possible waves head into New England, recent trends have lowered precipitation totals somewhat over western/southern areas but maintain the potential for some heavy rainfall over Maine, aided by Atlantic inflow. Snow is still most likely in the cold air behind the system, to the lee (side away from the wind) of the Great Lakes and along westward-facing terrain from the central Appalachians northeastward. There is still enough uncertainty in system evolution to allow for other possibilities regarding precipitation types and amounts. Meanwhile confidence is higher in a period of brisk to strong winds from the Upper Midwest through the East Sunday into Tuesday and then possibly lingering over the Northeast thereafter. Across the northern tier the combination of low temperatures and wind would produce cold wind chills," according to NOAA.
The Pacific Northwest to the Rockies will likely see "mostly light to perhaps locally moderate precipitation during the first half of next week with a shortwave/cold front arriving from the Pacific," according to NOAA. "The combination of this energy aloft and the opening/progression of the upper low southwest of California may spread some moisture into other parts of the West by Tuesday/Wednesday, but still with modest confidence for precipitation coverage/amounts. Around Thanksgiving the western front may reach far enough into the Plains to begin interacting with Gulf moisture to produce an expanding area of rain along and north of the western Gulf Coast. Some of this rain may become heavy."