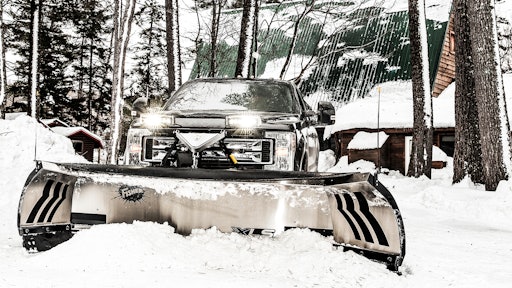 Fisher Engineering
Preseason snowplow inspections are a standard best practice in the snow and ice industry. That's because to be successful in this line of work, you need to detect any problems or issues with your equipment or vehicle as early as possible. Peak times will create longer waits for any repairs, parts or maintenance needed, so it's better to be proactive with your winter equipment preparation and maintenance.
Think of it this way: When you take care of your equipment at the beginning of the season, it takes better care of you in season. The following are a few helpful tips to set you up for success this winter.
Preseason plow inspection
Don't let simple mistakes or equipment breakdowns cost you downtime this season. As a reminder, before performing any service, it's important to review your manufacturer's owner's manual for proper safety guidelines and procedures.
Mounting and alignment
Ensure your plow is installed correctly and securely mounted on your vehicle. Test to make sure the control and the plow are working in sync (moving it up, down and side to side). Finally, inspect all mounting points and fasteners for proper torque and verify that cotter pins are in place (if required).
Lighting
Check your headlamps and adjust for proper alignment to allow safe illumination distance. One way to do this is to park on a level surface with the plow raised and the headlamps illuminated toward a white screen or garage door. Mark the horizontal and vertical centerline of the snowplow headlamps and the vertical centerline of the vehicle on the screen. Position the top edge of the high-intensity zone of the snowplow's lower beam below the horizontal centerline, and align the left edge of the high-intensity zone with the vertical centerline for each snowplow headlamp. Lastly, torque the fasteners to secure them in place.
Electrical components
Clean, tighten and apply dielectric grease to all electrical connections, wires and plugs to prevent corrosion. Make sure to perform a function check on both your equipment and accessories to ensure everything works properly.
Fluid and grease
Check the fluid levels in your hydraulic system and look for any leaks or cracked/damaged hoses. If you didn't perform annual service at the end of last winter (including a hydraulic fluid change), you may want to do that before starting a new season. Lubricate all grease fittings and any other pivot point recommended in your owner's manual with grease optimized for cold, wet, and dirty environments.
Replacement parts
Visually inspect the cutting edge, shoes, hydraulic hoses, and any other parts that may be prone to wear and tear. It's important to replace any worn or damaged parts, repainting as necessary to protect exposed metal from rust and corrosion. When deciding between OEM parts and generic will-fit models, weigh all of the pros and cons to determine the ultimate cost to your business. Keep in mind that OEM parts are more dependable, are covered under warranty and are designed specifically with your equipment in mind.
Emergency kit
Lastly, take inventory of your emergency supplies and make sure you have everything you'll need for the first weather event. This should include a first aid kit, basic tool kit, hydraulic fluid, extra hoses, coils, solenoids, fittings and common replacement parts. A shovel, flashlight and additional warm clothing may also come in handy.
Preseason vehicle inspection
To endure tough winter conditions, a plowing vehicle needs to withstand the strain from both the plow and the harsh weather. A good way to keep your vehicle dependable and ready to go this winter is to follow these basic care tips for a smooth operation this season.
Test windshield wipers, heater, auxiliary lights, and backup camera (if required).
Make sure all fluids are topped off including engine oil, brake fluid, transmission fluid, radiator fluid and windshield washer fluid.

Check

that tires have the correct amount of pressure and sufficient tread depth.
Inspect and test the vehicle battery and charging system. Replace or repair components as needed.
Complete regular service on the vehicle based on manufacturer recommendations at appropriate intervals (oil changes, tire rotation, vehicle recalls, etc.)
If you're plowing commercially, it's a good idea to start the season with a fresh set of brake pads.
Pro Tip: If required, make sure your vehicle has the proper ballast for your plow setup. Check that the front gross axle weight rating (FGAWR) is not overloaded and that the truck's horizontal Cg is within OEM certification range for Federal Motor Vehicle Safety Standards (FMVSS) 105.
Ongoing maintenance
There's no substitute for proper routine/ongoing maintenance. Like any machine, a regular "tune up" can keep your plow and vehicle running at optimal performance all season long. These following steps should be checked on a regular basis, and each time before you head out on the road to start plowing:
Ensure a functional truck battery
Run through the plow's functions
Inspect all fasteners for proper torque

Check

hydraulic fluid levels
Visually inspect plugs, shoes, hydraulic hoses, cutting edge and wiring
Test headlamps and adjust for proper alignment
Make sure electrical plugs have dielectric grease
Run through emergency supplies, including a shovel, emergency parts kit (hydraulic fluid, motor relay, extra hose, coil, fittings), basic tool kit and flashlight
Checklists like these can help prepare you for just about anything that winter can throw at you. Remember, if you incur any damages following a job or weather event; be sure to get those issues fixed before the next storm. It'll help save time, money and a whole lot of headache when you're out working in the middle of the night.